The January 6 Committee's Audience
It was yuuuge! And nobody saw it!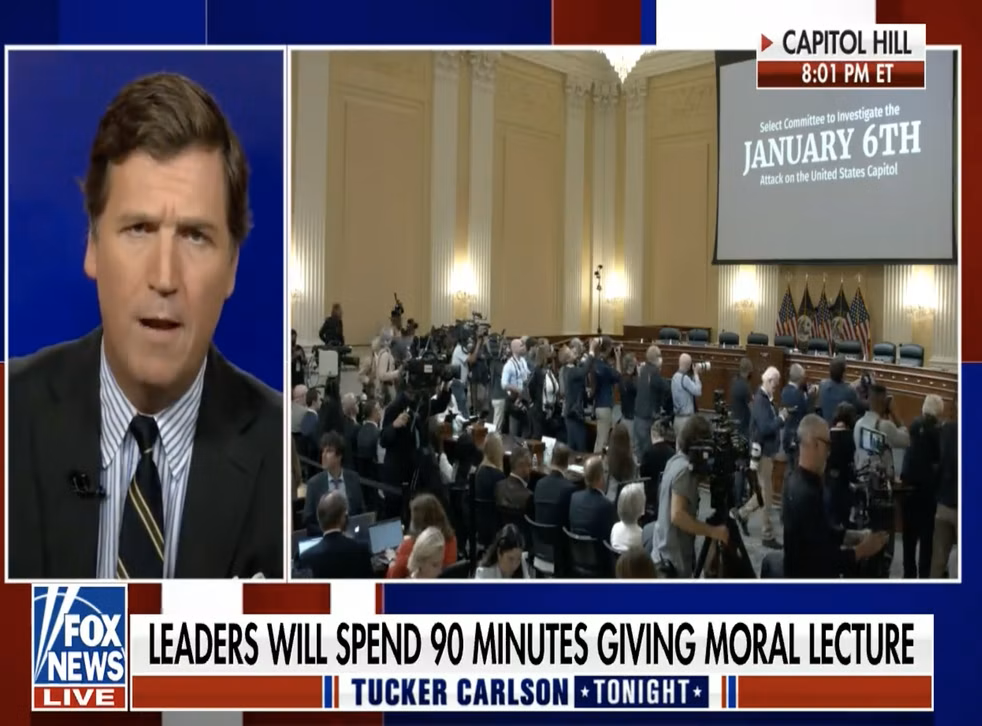 The competing headlines on this are both amusing and frustrating.
At Least 20 Million Watched Jan. 6 Hearing
The number is in the ballpark of big television events like a "Sunday Night Football" game.
Nearly 19 million watched the first Jan. 6 hearing in prime time
The ratings suggest a quantifiable success for committee members hoping to engage the public in their investigation
Broadcast Networks' Jan 6 Hearings Drew Smaller Audiences than Nightly Newscasts Last Week
Resistance Porn Ratings Fail: Jan. 6 Committee Hearing Crushed by 'Young Sheldon' Rerun
What's amusing is that all of the headlines accurately portray what happened.
Because the programming was on most of the broadcast and cable news channels, its combined audience was quite large: close to 20 million folks, comparable to the biggest broadcast in any given week.
But more people watch the ABC, NBC, or CBS nightly newscasts—combined—on any given weeknight. About 1.6 times as many.
And, looking at CBS's share alone, more people would have watched a rerun of Young Sheldon than tuned into their coverage of the event.
But, as Steven Taylor has been shouting from the rooftops since before he was a regular here, the live audience for political events really doesn't matter all that much. It's the soundbytes, stupid. Hell, I'm a political junkie who has maintained a political junkie website for just short of two decades and I didn't watch it. What matters is what plays on the various news and talking heads programming people watch, how much of it sticks, and whether any minds are changed.
I've been skeptical since the outset that anyone who believes against all evidence that Donald Trump won the election is persuadable. Indeed, as time has gone on, I'm surer than ever that they're not.
CNN's Brian Stelter breaks down the coverage:
More than 20 million TV viewers tuned in to Thursday's prime-time presentation about the January 6 attack, and it reached a far larger number through all manner of social and old-school media.

According to early Nielsen estimates, nine of the channels that carried the hearing averaged a combined 19 million viewers during the two-hour hearing. This data doesn't count every TV channel, however, or most web streaming, so the true total is larger.

Big live events are sliced and diced in dozens of different ways across radio, TV and the internet, so every attempt to measure total audience is inherently incomplete.
The early numbers are respectable, given the fragmented state of TV, but other widely-carried political events have garnered bigger audiences lately. President Biden's State of the Union address in March averaged 38 million viewers across sixteen channels.
Great context. But here's what's really interesting to me:
Fox News carried Biden's address, and about 6.9 million people watched it on that channel, but not the hearing.

Tucker Carlson's loyal fans stayed with him Thursday while he made a show of ignoring the revelations about the assault on democracy. Carlson averaged about 3.3 million viewers, which is an ordinary night for him. Notably, though, Carlson did not take any commercial breaks, which might have tempted some of his viewers to sample the hearing on another channel.

While Carlson's ratings reflect the fact that a segment of right-wing viewers were not interested in consuming the hearing, other audiences were.

Between 8 and 10 p.m. Eastern, roughly 5 million people watched the hearing on ABC; 3.6 million on NBC; and 3.4 million on CBS.

On cable, more than 4.3 million watched on MSNBC and more than 2.7 million watched on CNN, between three and four times the typical prime-time audience for the channels.

Fox Business Network, which offered hearing coverage instead of Fox News, netted barely 200,000 viewers.

The right-wing channel Newsmax, which did show most of the hearing, had fewer than 150,000 viewers.
So, not shockingly, the most ardent Republican-leaning news consumers mostly eschewed the live coverage. And they had their sound bytes and analysis filtered by people deliberately downplaying the revelations. That's obviously not a path to changing their minds.
Regardless, I've come to believe that we owe it to posterity to accurately and thoroughly document what happened on January 6 and the surrounding time period. Whether it'll have any impact, I haven't a clue. At some point, we've got to get back to being entitled to our own opinions but not our own facts. That day does not seem close at hand.