The Latest Crazy Solution To the Debt Ceiling: IOU's
Welcome to the latest crazy scheme to avoid reality.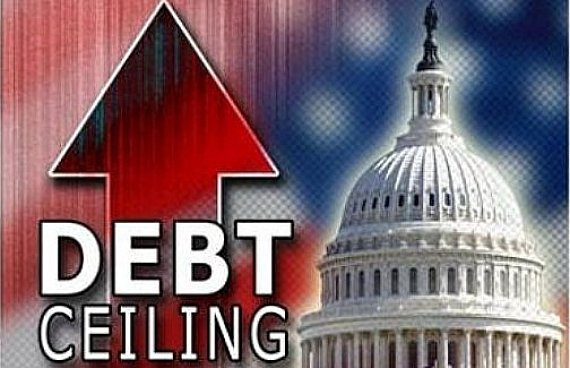 The impending debt ceiling crisis, which we'll reach by some time in mid-February unless Congress and the President are able to reach a deal to extend the debt ceiling, has already led to a couple bizarre banana republic like plans by which the President could avert the crisis without having to worry about Congress. One argument says that the 14th Amendment authorizes the President to create new debt despite the fact that the law doesn't authorize it. As I noted the other day, though, it seems fairly clear that the legal arguments advanced in favor of this plan are a stretch at best, and that any debt that would be created would be of legally questionable status at the very least. Another argument says that the President can authorize the minting of a Trillion Dollar Coin, or several such coins, to authorize the Federal Government to spend money despite its inability to borrow. As I've noted, that strategy is of dubious legal merit and would have economic implications nearly as bad as failing to raise the debt ceiling itself. Now, someone's come out with yet another idea, and this one just demonstrates how absurd the political conversation in Washington has become:
The $1 trillion platinum coin seems too wacky; the 14th amendment too risky. But could IOU's be the solution to an impasse on raising the nation's borrowing limit?

Yes, and President Obama should publicly adopt the idea, Edward Kleinbard, a University of Southern California law professor and former chief of staff to Congress's Joint Committee on Taxation, argues in a Thursday New York Times op-ed. If lawmakers can't reach an agreement before the nation hits its debt ceiling–which could happen as soon as next month–then Obama should have a backup plan of issuing IOU's in place, Kleinbard argues.

"[Obama] should threaten to issue scrip—'registered warrants'—to existing claims holders (other than those who own actual government debt) in lieu of money. Recipients of these I.O.U.'s could include federal employees, defense contractors, Medicare service providers, Social Security recipients and others."

Kleinbard is hardly the first to propose the idea. Slate's Matt Yglesias suggested it in early December. And New York Times Op-Ed columnist and Nobel Prize winner Paul Krugman argued for such IOU's on Monday, though he called them "Moral Obligation Coupons." In Krugman and Kleinbard, the idea has found two prominent proponents.

The appeal of the IOU, or scrip, lies in the fact that though it closely resembles debt, it isn't, Kleinbard argues.

"It would merely be a formal acknowledgment of a pre-existing monetary claim against the United States that the Treasury was not currently able to pay," Kleinbard argues. "The president could therefore establish a scrip program by executive order without piling a constitutional crisis on top of a fiscal one."
The idea behind the IOUs, of course, is that the idea that people to whom the government owes money, such as contractors and vendors, will accept them based on the idea that they know that they'll get paid eventually. There are, however, several problems with this argument. First of all, an IOU from the Federal Government does nothing to help a vendor, contractor, or other government creditor who relies upon the revenue he receives from this particular client to meet payroll, pay the rent, and meet other business expenses. He can't deposit those IOU's in the bank, he can't use them to pay his own debts, and his employees would laugh in his face if he tried to give them his own "IOU" for the salary that he owes them. Paying these types of government debts with IOUs would do nothing to avert the economic impact of failing to raise the debt ceiling. Second,  there's the question of who exactly would get these IOUs. Even if we get to the point where the debt ceiling has not been raised, there will still be revenue flowing in to the Treasury and at least some of the bills will be paid in actual cash. How, exactly, would the Administration decide who gets real money and who gets the phony IOUs. Obviously, interest on the debt would have to be paid in cash but, beyond that, what criteria would there be for deciding who gets favorable treatment? When California did this in 2009 because of their own budget crisis, IOUs ended up going to people getting government assistance for one reason or another, among other groups. Would the Federal Government do the same thing? Finally, even if the IOU scam worked at the start because government creditors believed that the crisis would be short-lived, that acceptance would not last long if we ended up having some kind of an extended crisis. At that point, you'd have a large number of creditors who, either out of pique or simply economic necessity, would be demanding payment in actual money instead of phony IOUs.
All of these debt ceiling avoidance schemes — the 14th Amendment theory, the Platinum Coin Trick, and now the IOU Scam — have the same thing in common, they all involve a denial of basic reality and the idea that all we need to do is engage in some magic trickery to avoid dealing with the consequences of our fiscal problems. I agree with those who say that not raising the debt ceiling is an insane idea, but it's also true that this nation is facing a serious of short and long term fiscal problems that need to be dealt with. Some of have suggested that the entire idea of a statutory debt ceiling should be eliminated, and while this idea has some merit reality tells us that Congress is not going to give up this check on Executive Branch power any time soon. That means that the two political branches of government need to work together within the bounds of the law as it actually exists rather than relying upon pie in the sky fantasies about platinum coins or IOUs. That's the only way we're going to solve our problems.
In many cases, these problems have come into being because the basic political institutions in Washington have broken down. Republicans refuse to consider even minor tax rate increases to be an acceptable option and have engaged in a pattern of obstruction based on that bizarre orthodoxy. In the Senate, Democrats led by Harry Reid have rejected any idea of passing Federal Budgets using the mechanisms of regular order, including Conference Committees, and have failed to pass a budget resolution as required by law for more than 1,350 days now. Over at the White House, the President is claiming that he's not going to negotiate with the GOP at all over the impending debt ceiling crisis, a position which seems to me to be entirely irresponsible under the circumstances. There really aren't any innocent parties involved here, and neither party is serious about dealing with our problems now rather than waiting until we have no choice and the pain will be much greater.  Nothing we can do — not an fantastical interpretation of the 14th Amendment, not games with platinum coins, and not phony IOUs — is going to avoid that. The sooner we realize it, the better.