The Platinum Coin Boondoggle
Could a coin like this solve the looming debt ceiling crisis?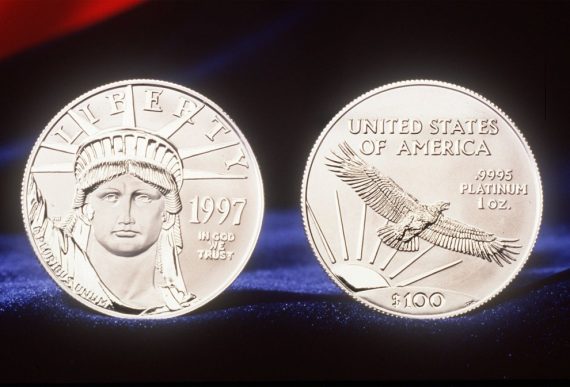 With another debt ceiling crisis approaching and the two sides in Washington seemingly further apart than they were the last time we dealt with this issue in August 2011, discussion is already beginning about ways that the President could possibly get around any Congressional intransigence on the issue. One suggestion, which we heard back during the summer 2011 debacle involves the argument that the President would be authorized by Section 4 of the 14th Amendment, which states that the public debt of the United States shall not be questioned, to issue new debt. As I noted at the time this argument was made, there were serious Constitutional and practical problems with this proposal. Constitutionally, it seems clear that all Section 4 really means, at most, is that the United States could not default on the debt and that the President would be authorized to take action to prevent that, it does not appear to be authorization to issue new debt as it's proponents complain. Practically, if new debt was issued under Section 4, it's quite likely that such debt would be considered legally questionable at best, which would likely mean that borrowers would demand higher interest rates to compensate for the risk that the bonds they purchased could be declared invalid. In the end, the White House rejected the 14th Amendment option and appears unlikely to pick up that argument this time around.
Instead of old Constitutional arguments, though, some people are making the argument that the Administration could mint it's way out of a debt ceiling crisis with just a little bit of platinum:
What if the threat of a voluntary default by the United States could be erased by simply turning one tiny scrap of platinum into a coin?

That's right. No debt ceiling problem. No bickering in Congress. No market jitters. The only thing needed is for the Treasury Department to mint a platinum coin with a face value of $1 trillion.

Of course, this is not going to happen. Creating money out of thin air is hardly a solution. It could lead to even more concerns from those worried about inflation. Critics of the Federal Reserve's monetary easing programs would likely be apoplectic if the Treasury Department trumped Ben Bernanke's "helicopter drop" by minting a trillion more new dollars.

The influential New York Times columnist Paul Krugman has already dubbed the talk a"gimmick." But here is why some people think this bizarre strategy could work.

(…)

If Congress does not act to raise the debt ceiling, the U.S. will default on its debts. Not good. But this is where the platinum coin comes in. Normally, the Federal Reserve is charged with issuing currency. But U.S. law, specifically 31 USC § 5112, also grants Treasury permission to "mint and issue platinum bullion coins and proof platinum coins."

This section of law was meant to allow for the printing of commemorative coins and the like. But the Treasury Secretary has the authority to mint these coins in any denomination he or she sees fit.

With a $1 trillion coin in hand, Treasury could deposit the money into Fed accounts, and pay its debts in that manner, instead of relying on bond issuance.

And none of this requires Congressional consent. Talk about an elegant solution.
The idea has gained some enthusiasm from some denizens on Twitter as well as Congressman Jerrold Nadler. Additionally, as of yesterday, there's a petition on the White House's web site calling for the minting of a trillion dollar coin for the purposes described above.
If you look at the statute, the argument that the proponents put forward does seem to be somewhat persuasive from a legal point of view. There appear to be very few limitations on the Treasury Department's authority to mint platinum coins, for one thing. When you dig down deeper, though, it seems clear that the argument, while creative, doesn't really measure up when it comes to legal sufficiency:
No particular restrictions were placed on the design or issuance of platinum coins, but this paragraph was plainly intended to apply to bullion and commemorative issues for coin collectors. That's all.

There is, apparently, a widespread belief that courts will uphold a literal, hypertechnical reading of legislative language regardless of its obvious intent, but I'm quite certain this isn't true. Courts are expected to rule based on the most sensible interpretation of a law, not its most tortured possible construction. I don't think there's even a remote chance that any court in the country would uphold a Treasury reading of this law that used it as a pretense for minting a $1 trillion coin.
I tend to agree. While Court's are primarily guided by the language of a statute, they also pay close attention to what Congress intended when they passed the law they are charged with reviewing. In this particular case, it is clear that the law in question was intended to authorized the Treasury to create commemerative coins made of platinum and sell them to the general collectors market, not that these coins would be circulated among the general public or used to pay the legal obligations of the United States in the manner that those advocating this strategy have suggested.  Former Delaware Congressman Mike Castle, who cosponsored the bill in question agrees:
When I told Castle — who, following a defeat by tea party activist Christine O'Donnell in the 2010 Republican Senate primary, became a partner in the lobbying division of DLA Piper — about the platinum coin solution for the debt ceiling, he was baffled. "That was never the intent of anything that I drafted or that anyone who worked with me drafted…It seems to me that whatever's being proposed here is a stretch beyond anything we were trying to do," he said, audibly astonished.

A day later, he called back. "I want to give it my seal of approval," he said, adding quickly, "Just kidding." The plan, he said, is an irresponsible run-around that would undermine the federal government's credibility. The plan is "so far-fetched and so black helicopter-ish a type of methodology of trying to resolve something like this that I think the public would totally scoff at it…It would be an artificial way of trying to create money and I think everybody will see that." It would be better, Castle argues, for the government to actually raise the debt ceiling using normal measures while cutting the deficit.

So the platinum coin plan plainly goes against the legislative intent of the Commemorative Coin Authorization and Reform Act of 1995, as described by its author.
What this all suggests, at the very least, is that if the President were to take this action, it's legality would be questionable at best. Just as with the 14th Amendment solution, this would create a high degree of legal uncertainty regarding the finances of the Federal Government to such an extent that it would likely offset any positive benefits that the proponents of this idea seem to think we'd see .
Beyond the legal problems, there's another serious problem with the idea of simply creation a trillion, or more, dollars out of thin air:
If government decides it magically has $2 trillion worth of coins (that just happen to be made ofplatinum) this would immediately create $2 trillion worth of inflation. The coins would be deposited at the Fed, into the Treasury Department's account to spend. Money has been created out of thin air here, backed by nothing but arbitrarily denominated coins. The government buys goods and services with this money, and pays federal workers with it (as usual). But in this hypothetical scenario the government is not borrowing any money any more (because it has the money to spend), so the investors who would have loaned that $2 trillion to the government by buying Treasury bonds will have to use that money elsewhere in the economy. This means money has been printed and spent, while the $2 trillion that would have been borrowed and used in its place continues to exist. Simply put, that is going to be inflationary.

Perhaps Dr. Gagnon (who has more than two decades at the Federal Reserve and Treasury Department) does not fear the inflation that would result from $2 trillion more being printed and sent into circulation. But he would be sorely mistaken if so. Where quantitative easing has injected hundreds of billions into bank balance sheets (where it has largely remained, thus having only indirect inflationary impact by driving up stock and commodities prices), this coin plan would drop all that new money in circulation right into Main St., driving up prices for everyone.
Some advocates of the Platinum Coin option have argued that the move would not be inflationary because the coin would be deposited with the Federal Reserve rather than circulated among the general populace. However, as noted above, that ignores the fact that the coin(s) would serve as the basis for expanding the credit of the United States or the purpose of paying ongoing obligations. All of that money would most necessarily be infused into the general economy while, at the same time, the funds that would have been used to buy the T-Bills that would have been issued to pay those bills in the ordinary course of the Federal Government's business would end up being utilized in other manners. That's a classic increase in the supply of money without anything to back it's value, and that, my friends, is what inflation actually is.
National Journal's Matthew Cooper makes a final point regarding the political danger of a move like this:
As bad as the House behavior has been, using a small legal provision meant to please numismatists to leverage the nation's debts seems, um, risky. The only analogy I can think of is the Court-packing mess of the 1930s when President Roosevelt, faced with a cranky Supreme Court that overturned his social-welfare programs and those in the states, tried to enlarge the size of the Court to fill it with more sympathetic appointees. After an outcry, the president backed down. But FDR at least tried to make the change by proposing a statute and forcing a Senate debate. (The bill never cleared the chamber.)

Minting the coins would seem even more imperious. After all, the Supreme Court in the 1930s was knocking down state minimum-wage laws and other expressions of the popular will. FDR had some momentum behind him. But President Obama would look despotic if he embraced this tactic. (Imagine all the pictures of King Obama on a coin.)

Is it a useful negotiating tool, at least? Perhaps, but unlikely. Yes, the Supreme Court did seem to respond to court packing, going on to uphold a minimum-wage law similar to one it previously struck down. But the House GOP would likely see such a move as an idle threat, and merely brandishing it might make Obama look more delusional than strong.
In the end, the President still holds most of the cards in this confrontation with Congress. There's no need for him to engage in this dubious, dangerous, and foolhardy stunt.