The MAGA Disconnect
They're angry and yet having a good time.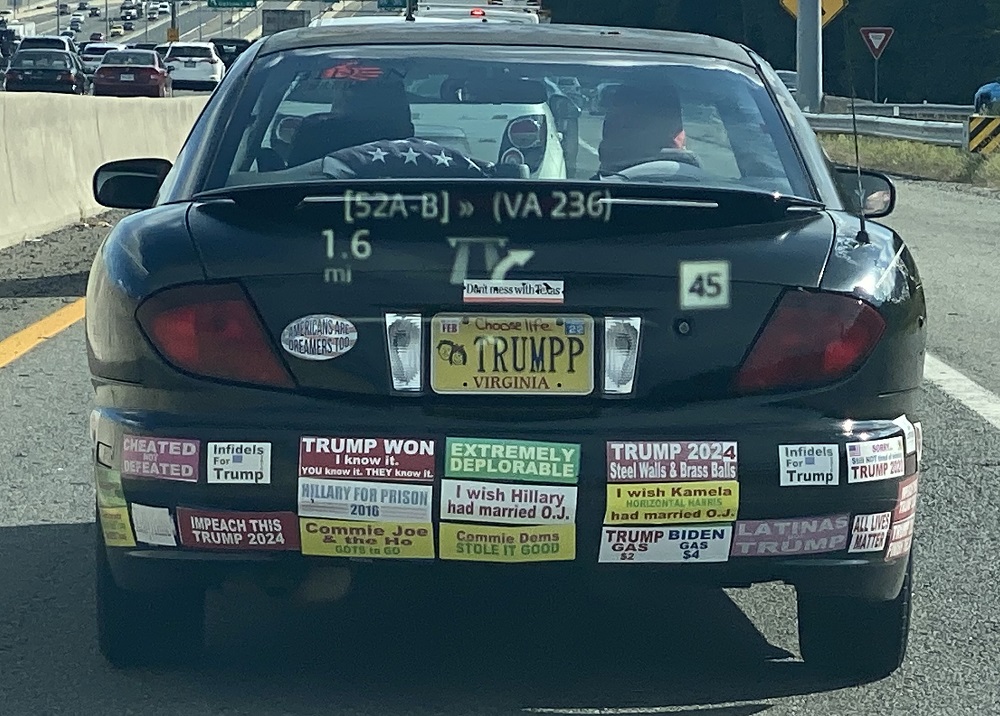 In his NYT column "The Rage and Joy of MAGA America," David French puts describes something that I've sensed but never quite been able to put my finger on before now. It's worth reading in full but here's a taste:
Or go to a Southeastern Conference football game. The "Let's Go Brandon" (or sometimes, just "[expletive] Joe Biden") chant that arises from the student section isn't delivered with clenched fists and furious anger, but rather through smiles and laughs. The frat bros are having a great time. The consistent message from Trumpland of all ages is something like this: "They're the worst, and we're awesome. Let's party, and let's fight."

Why do none of your arguments against Trump penetrate this mind-set? The Trumpists have an easy answer: You're horrible, and no one should listen to horrible people. Why were Trumpists so vulnerable to insane stolen-election theories? Because they know that you're horrible and that horrible people are capable of anything, including stealing an election.

At the same time, their own joy and camaraderie insulate them against external critiques that focus on their anger and cruelty. Such charges ring hollow to Trump supporters, who can see firsthand the internal friendliness and good cheer that they experience when they get together with one another. They don't feel angry — at least not most of the time. They are good, likable people who've just been provoked by a distant and alien "left" that many of them have never meaningfully encountered firsthand.

Indeed, while countless gallons of ink have been spilled analyzing the MAGA movement's rage, far too little has been spilled discussing its joy.

Once you understand both dynamics, however, so much about the present moment makes clearer sense, including the dynamics of the Republican primary. Ron DeSantis, for example, channels all the rage of Trumpism and none of the joy.

[…]

If you're deemed to be one of those people who is trying to "destroy our country and our family," then you don't see joy, only fury.

Trump's fans, by contrast, don't understand the effects of that fury because they mainly experience the joy. For them, the MAGA community is kind and welcoming. For them, supporting Trump is fun. Moreover, the MAGA movement is heavily clustered in the South, and Southerners see themselves as the nicest people in America. It feels false to them to be called "mean" or "cruel." Cruel? No chance. In their minds, they're the same people they've always been — it's just that they finally understand how bad you are. And by "you," again, they often mean the caricatures of people they've never met.
For those not familiar with him, French has had an interesting career: Harvard-trained lawyer for conservative causes, Army Reserve judge advocate with an Iraq War deployment, National Review staff writer, and devout anti-Trumper. Like me, he was a longtime Republican who thought Trump anathema to everything the party ostensibly stood from the moment he came down the elevator. Unlike me, French is deeply religious (of the evangelical variety) and therefore had a much harder time simply voting for the Democratic nominee.
Both of us have more exposure to ordinary Trump voters than the average OTB commenter. In my case, it's mostly through my Facebook connection to high school classmates and those with whom I served in the Army 30-plus years ago. In his case, he still lives among them in suburban Nashville.
His column captures a disconnect I've never really been able to explain: how people who I know to be fundamentally decent could continue to support a man so vile. I think he's right: they just don't see it that way. I've identified the fear and anger—they see their very way of life as under attack by some hazily defined Other—but have not really connected it to the camaraderie that being part of a movement that said Other hates so much inspires.
This frame better explains the Let's Go Brandon phenomenon and its endurance. While I view it as hateful vulgarity that those folks would have been ashamed of not all that long ago, they experience it as a fun bonding experience akin to "Go to hell, Ole Miss!" or "Na na na na, na na na na, hey hey, hey, goodbye."
French's explanation for DeSantis' failure to catch on on the campaign trail makes sense, too. To us, he's a more efficient, competent version of Trump. If the cruelty is indeed the point, then DeSantis should be soaring. But the rage without the joy just isn't selling.