The Nationalization of American Politics
Local issues barely matter in Congressional races anymore.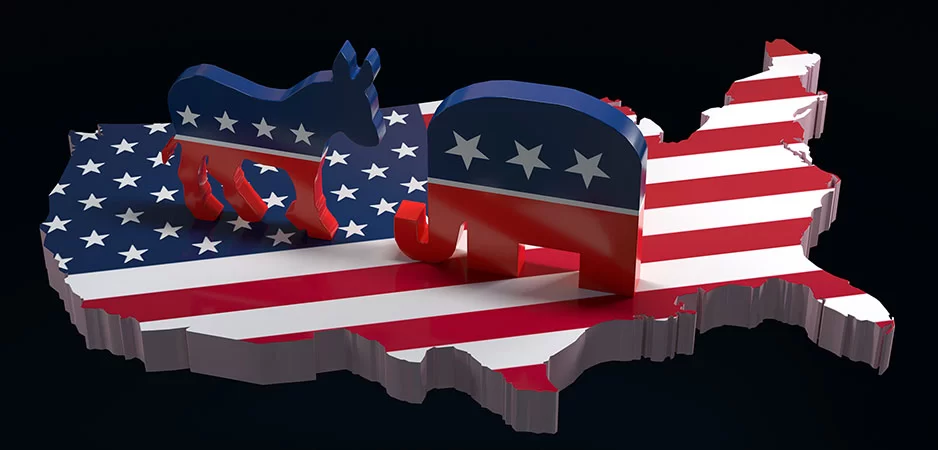 NPR's Danielle Kurtzleben reports "Voters everywhere are talking about the same issues. Here's why that matters." After the obligatory anecdote, she gets to it:
"A nationalized politics is one in which the same kinds of issues are resonant nationwide," says Daniel Hopkins, a political science professor at the University of Pennsylvania, and the author of The Increasingly United States, a book about the nationalization of U.S. politics — the way that national-level political narratives end up trumping local- and state-level concerns. For example, topics that have often played large roles in local and regional politics in Iowa – agriculture, trade, and education — rarely came up in conversations with voters, or in campaign speeches.

Both parties see this district as potentially pivotal in winning the House, and the race will be hard-fought — the Cook Political Report currently lists it as "Lean Republican." Close races at a time when Congress is closely divided can further prompt voters to think nationally, Hopkins says.

"You know, if you think back, at least one branch of Congress has been up for grabs or has actually changed hands in basically every election since 2000," he said.

One sign of nationalization is when candidates symbolically invoke politicians from elsewhere.
This is followed by examples of candidates doing just that to set up this:
In a nationalized political ecosystem, each party has its own system of symbols and language. Even knowledgeable voters in Iowa may not know a lot of specifics about Warren or Jordan's politics, but they only need to know enough to know that Warren is unapologetically progressive, or that Jordan is pugilistic and conservative.
This is followed by a plot twist:
Often the nationalization of politics is cast as bad for voters and democracy as a whole, for a number of reasons. One is that it flattens geographical representation, meaning regional issues like agriculture and economic development get less attention.

Another is that it reduces the importance of candidate quality and qualifications, making party the most important factor; one basic measure of nationalization is the decline of split-ticket voting.

That means elections become referenda on party leadership — for example, Donald Trump or Joe Biden or Nancy Pelosi. In fact, the relentless, vitriolic focus within the Republican Party on Pelosi as a villain is now receiving renewed scrutiny in light of the recent violent attack on her husband.
As it should. But, while the level of vitriol—and, certainly, the implied threat of violence has risen—the Speaker of the House has been a fixture of national campaign ads going back at least to Newt Gingrich's tenure. Indeed, I found this TIME report from 1994 when investigating a claim that death threats against Pelosi were unique:
Incoming House Speaker Newt Gingrich will "reluctantly" take advice to be shuttled around town in a government vehicle, after Capitol police sources reported death threats against him since Republicans took control of Congress Nov. 8. Gary Abrecht, the federal police department's chief, wrote Gingrich Dec. 19, urging him "in the strongest terms" to always use a secure vehicle driven by trained security personnel. A Gingrich spokesman today denied a New York Daily News report that his boss would ride in an armored car, but said he would accept a vehicle like a minivan, "the sort of car that shuttles kids to soccer games across America." BTW: Outgoing Speaker Thomas Foley, who had similar security arrangements, also received death threats during his tenure.
But, again, a difference in degree can become a difference in kind. Our politics has become more nationalized and even nastier than it was then.
All of these things can come together to feed into increasing partisan sorting and polarization.

But it's not necessarily unreasonable for voters to latch onto national-level issues. Many Americans are understandably worried about democracy at a time when lies about who won the 2020 presidential election are widespread. Similarly, many do fear — or hope for — a federal abortion ban.

All of which means that candidates have additional reason to feed into the cycle of nationalization.

"It's not that voters are rational or irrational; it's that our current highly nationalized political system has us in a groove where we focus on a set of symbolic, emotionally fraught, easily available and accessible issues that are prominent and resonant across the country," Hopkins said.
I have a longer post planned for when I have more time expanding on this particular point. But the nature of our current sorting is that local issues just don't matter much in electing Congress and the President because the differences between the two parties is now a chasm.
Local issues haven't entirely disappeared — they're still one way to show constituents that you're doing your job. At that coffee shop in Panora, [Rep. Cindy] Axne [the Democratic incumbent for the Des Moine, Iowa area] highlighted how the recent infrastructure bill would benefit the region: "We're getting $5 billion here in Iowa for infrastructure, and that money can be used for our bus system, our 'trolley system' as we call it for so many people in southwest Iowa, which is truly a lifeline for many of them."
But the infrastructure bill likely only passed because Biden beat Trump and Democrats has a modest House majority and a technical majority in the Senate.