The Odd French Reaction To The Arrest Of Dominique Strauss-Kahn
Some French politicians and intellectuals seem offended that Dominique Strauss-Kahn is being treated like a common criminal.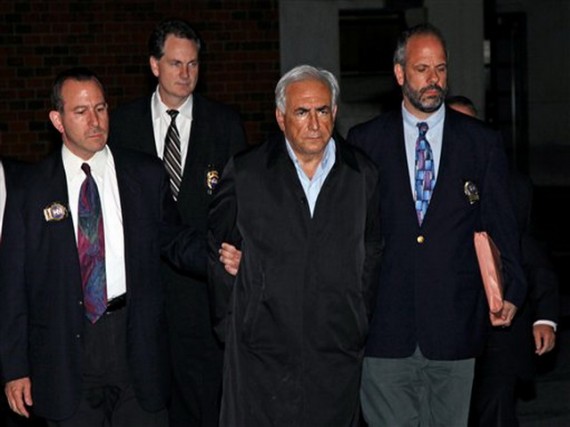 The weekend arrest of I.M.F. head Dominique Strauss-Kahn has prompted some odd reactions from some quarters of French politics and culture:
Many in France are embarrassed and  ashamed at the arrest of IMF big shot Dominique Strauss-Kahn, a prominent French socialist seen as the most likely candidate to defeat center-right President Nicolas Sarkozy.

But what's got some French lefties really upset is that New York's police put the accused sex offender through a traditional "perp walk" – paraded before TV cameras in handcuffs just like, well, a common criminal suspect!

Eva Joly, leader of the French Green Party, called the perp walk a "violent image." And she had some harsh words for America's justice system —  complaining it "doesn't distinguish between the director of the I.M.F. and any other suspect."
Of course, the "perp walk" is something that is almost totally unique to New York City, and perhaps some high-profile Federal cases. William Safire explained it back in 1986:
Perp walk burst into print in November 1986; Newsweek reported that Charles Hynes, the New York prosecutor, "refused to parade defendants before cameras in the now-traditional 'perp walk' that many prosecutors use to please the TV stations." The columnist Nat Hentoff, journalism's foremost defender of civil liberties, wrote that same month in criticism of publicity-seeking prosecutors who "put defendants through what is called in the trade a 'perp walk'" after alerting camera crews of the parade of supposed malefactors. "Under such circumstances, even Mother Teresa would look extremely suspicious, especially if her hands were cuffed behind her back."

Robert Morgenthau, Manhattan's district attorney, informs me that the phrase dates back to the

mid-70's, when he and the TV reporter Gabe Pressman often clashed over the interests of the press and the public versus the rights of the accused. "Gabe said, 'We need pictures to report your cases,' and I said, 'You're breaking my heart,'" recalls the crusty D.A. "But Rudy Giuliani, when he was a prosecutor, was the master of the perp walk."
It is, in other words, as much a public relations stunt as anything else and, as Safire notes later in that piece, "has come under fire from a minority determined to defend the principle of the presumption of innocence and the rights of those indicted to a trial before an unprejudiced jury."
So, perhaps the French commentators have a point here, although I'd say that Strauss-Kahn shouldn't be treated any differently than any other criminal defendant. The truly odd part about the French reaction, though, are the people who seem to be defending DSK's conduct, consider this piece from French journalist Bernard Henri-Levy:
I do not know—but, on the other hand, it would be nice to know, and without delay—how a chambermaid could have walked in alone, contrary to the habitual practice of most of New York's grand hotels of sending a "cleaning brigade" of two people, into the room of one of the most closely watched figures on the planet.

And I do not want to enter into considerations of dime-store psychology that claims to penetrate the mind of the subject, observing, for example, that the number of the room (2806) corresponds to the date of the opening of the Socialist Party primaries in France (06.28), in which he is the uncontested favorite, thereby concluding that this is all a Freudian slip, a subconsciously deliberate mistake, and blah blah blah.

(…)

What I know as well is that nothing, no earthly law, should also allow another woman, his wife, admirable in her love and courage, to be exposed to the slime of a public opinion drunk on salacious gossip and driven by who knows what obscure vengeance.

And what I know even more is that the Strauss-Kahn I know, who has been my friend for 20 years and who will remain my friend, bears no resemblance to this monster, this caveman, this insatiable and malevolent beast now being described nearly everywhere. Charming, seductive, yes, certainly; a friend to women and, first of all, to his own woman, naturally, but this brutal and violent individual, this wild animal, this primate, obviously no, it's absurd.

This morning, I hold it against the American judge who, by delivering him to the crowd of photo hounds, pretended to take him for a subject of justice like any other.
Now Henri-Levy is certainly entitled to stand by his friend, but the mindless conspiracy theorizing he engages in is simply absurd, and the obvious outrage he has over the fact that the NYPD dared to treat Strauss-Kahn like they would treat a street-corner drug dealer (which I don't believe is true, but more on that below) belies a sense of elitism that Americans would find troublesome to say the least. I don't know about France, but here we're all supposed to be equal before the law.
Finally, I would dare say that the idea that Henri-Levy was treated like any other Defendant is absurd. I would bet that the moment the NYPD and the Manhattan District Attorney realized who the accused attacker was, they made certain they had their evidence in a row in a manner they wouldn't do for some street corner drug dealer. In fact, I wouldn't be surprised if there had been a few surreptitious phone calls traded with the Department of Justice and State Department because of the international political implications sure to follow from dragging off an airplane the head of the IMF and a likely candidate for the French Presidency (just imagine if something similar happened to a contender for the U.S. Presidency on a trip abroad). None of that would have happened if DSK wasn't who he was.