The Ongoing Mystery of Sinema
Her price to sign on to the Inflation Reduction Act was, well, odd.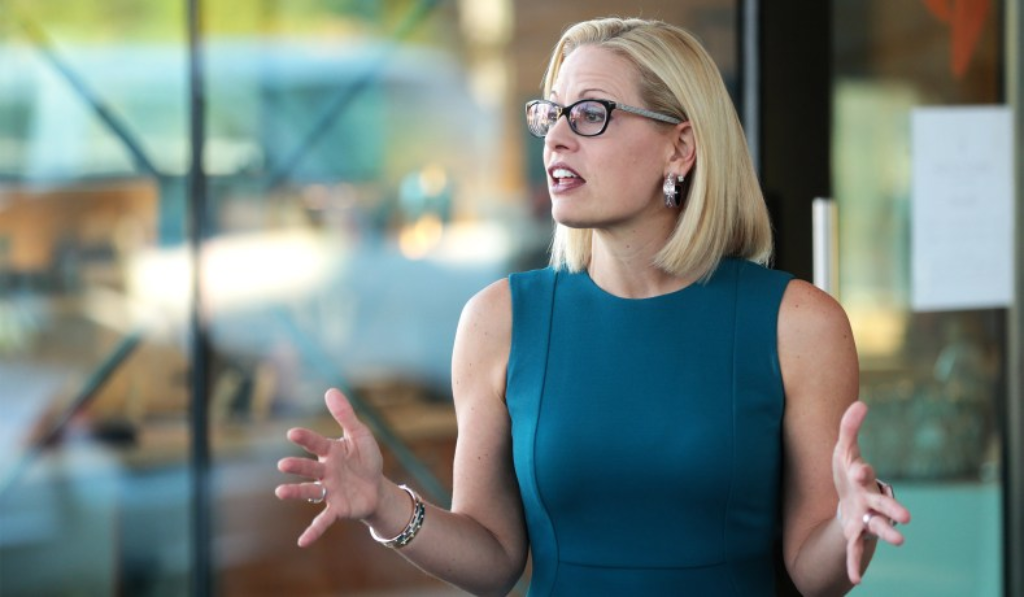 Via the NYT: Sinema Agrees to Climate and Tax Deal, Clearing the Way for Votes.
To win Ms. Sinema's support, Democratic leaders agreed to drop a $14 billion tax increase on some wealthy hedge fund managers and private equity executives that she had opposed, change the structure of a 15 percent minimum tax on corporations, and include drought money to benefit Arizona.

[…]

Ms. Sinema insisted on the removal of a provision that would have limited the preferential tax treatment of income earned by some wealthy hedge fund managers and private equity executives. Democrats instead added a new 1 percent excise tax that companies would have to pay on the amount of stock that they repurchase, said one Democratic official, who disclosed details of the plan on the condition of anonymity.

[…]

Democrats also agreed to a request by Ms. Sinema to include billions of dollars to combat droughts, according to officials briefed on the emerging plan, something that is crucial to Arizona as it suffers from a devastating megadrought. They were expected to restructure the 15 percent minimum tax on corporations to make it less burdensome on manufacturers. Earlier this week, business leaders in Arizona appealed directly to Ms. Sinema to simplify that proposal, which was included in part because she had resisted increasing tax rates as part of the plan.
The horse-trading for a state-centric need (the drought relief) is classic legislative activity that makes a ton of sense. But (and I know I am far from the first to make this observation), the insistence on taking out the carried interest rule is just, well, weird. (Although suggestions that it is linked to campaign contributions make it potentially classic legislative activity of another sort).
And this wasn't the first time she made such a move (as the NYT's Dealbook newsletter noted, A Tax Loophole's Powerful Defender).
She helped prevent a similar measure from being included in the Build Back Better bill last year. But there appears to be little public record of Sinema discussing why she supports special tax treatment for carried interest. According to a search of the Congressional Record, Sinema has apparently never uttered the phrase "carried interest" in a public legislative session.
All of this continues to be odd behavior from a Senator who emerged into politics via the Green Party. Yes, her state is purple, but as I wrote a while back, her behavior does not seem to comport to some strategy of moderation. Indeed, she seems to be doing a really good job of annoying her own base back in AZ.
I suppose the cynical interpretation is the correct one: she is looking to figure out what her post-Senate life will look like and making friends with hedge fund managers is perhaps a good strategy. I have a hard time seeing her re-nominated with the Democratic Party at the moment.
And before anyone proffers party-switching theories, not only in the current climate is that likely a strategically bad idea (after all, why would Republican primary voters want a reject Democrat when they can have one of their own*–not to mention nominating her would likely mobilize AZ Democrats to come to the polls to vote against her, not for her), but handing Biden a big legislative win is not the way to curry favor for some future GOP-ward flip.
Now, could I see her going full right-wing media type at some point? Sure.
But one thing is for certain, she is one of the oddest members the Senate has seen in a while. Manchin, which whom she has been paired of late in the press, is far easier to understand than she is.
---
*If we assume that the AZ GOP primary base is mostly MAGA, I am having a hard time seeing them going all-in on the former Green Party, bisexual Sinema, especially, as noted above she voted more than once to give Biden big legislative victories, despite all of her weird opposition. Remember that any 50-50 vote that went the D's way required Sinema's vote. She also twice voted to convict Trump in his impeachment trials. Party switching is not a long-term solution for her. Maybe, maybe she does it to finish out her term if the GOP wins a majority in the Chamber in 2022 or 2024. But is it is not something that is going to get her a second term.