The Polls Are Skewed!
Survey research is not without flaws. But we dismiss it at our peril.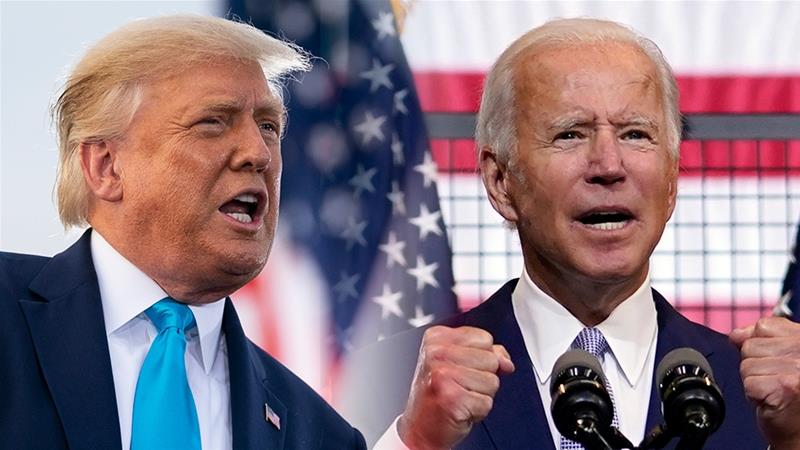 In the comments section of Sunday's post on the NYT/Siena poll showing former President Donald Trump leading President Joe Biden in five of six key swing states and in various other fora, I saw quite a few smart folks arguing that the poll was some sort of manufactured click-bait designed to further an anti-Biden narrative. LGM's Paul Campos pushes back, hard:
One thing people really need to get over is the conspiratorial nonsense that something like this poll is some sort of dishonest attempt to make Biden look bad and Trump look good. Polls have their limitations to put it mildly, but high quality professional efforts like this one do provide a useful high level look at what voters are thinking about a year out from the next presidential election. And what an extremely large percentage of the American public is thinking is certifiably insane
This is followed by calling out some man on the street quotes from the piece with withering commentary. While I don't see much value at critiquing the thinking of randos' musing about politics, I agree with him that average Americans seem to place too much emphasis in their Presidential voting decisions on matters over which Presidents have very little control and under-weigh those things actually within the powers of the office.
In the comments on Sunday's post, @Andy argued that "the focus of elites (and most of the people here on this blog) is different from most Americans." He points to the Gallup "Most Important Problem" survey, which shows the economy in general (16%), the high cost of living/inflation (9%), the government/poor leadership (18%), and immigration (13%) as the issues most Americans identify. Conversely, hot-button social issues like race relations (3%), guns (3%), abortion (1%), and LGBT rights (1%) are simply not big priorities, leading Andy to conclude "the left wing of the Democratic party is out of step on these issues with the majority of Americans."
While I would argue that the dominant wing of the GOP is further out of step with the general public on many of these issues, I would agree that Trump and other prominent Republicans are definitely hammering the "most important" issues harder than Biden and the Democrats. And it seems to be working, at least for now: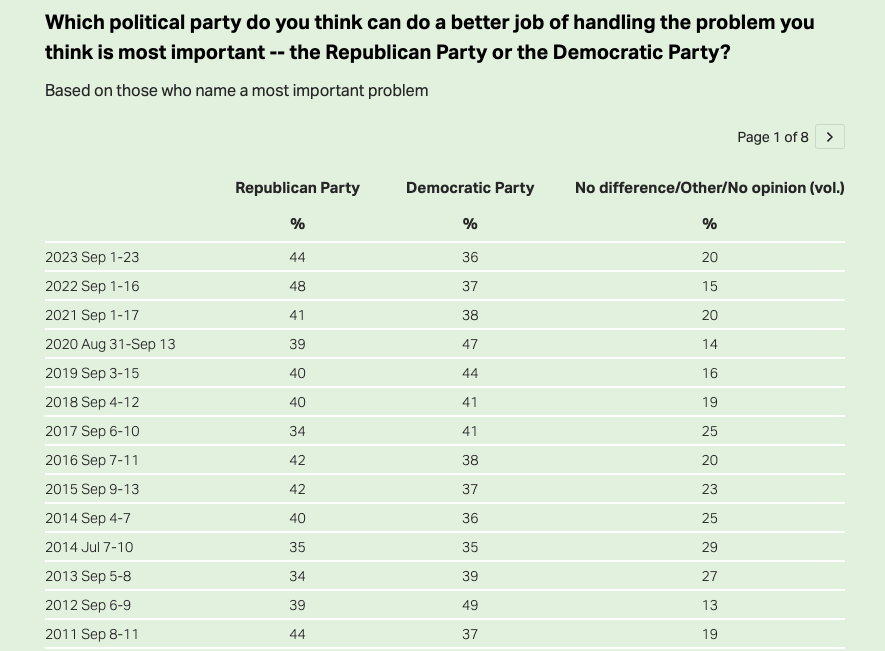 That Gallup polls "most important problem" monthly and "best party" roughly annually is rather odd. Regardless, the Republicans were leading rather widely on this in September.
It's noteworthy that they were leading by a slightly larger margin in September 2022 and went on to underperform in the midterms. Then again, I'm not sure that comparison is useful. Senatorial races, in particular, are rather idiosyncratic because they often feature candidates who are untested at the statewide level (indeed, often first-time political candidates). Trump and Biden are much more established brands.
There are plenty of reasons to question the value of opinion polls conducted for the purposes of generating horse race coverage, let alone those conducted a year out from the election. Among other things, it has gotten harder than ever get an accurate sample of respondents, requiring pollsters to weigh their sample results based on past results. More importantly, they can skew the outcomes by creating a sense of inevitability or, worse, fuel conspiracy theories in races where the outcome didn't match the polling.
But I agree with Campos that there is no conspiracy by the major media outlets to make Biden look bad and prop up Trump. Given how closely it matches other polls, I think it gives us a reasonable view of where the American public is at a moment in time.
Biden is unpopular even within the context of a polarized environment where roughly 40% of the populace will be against him no matter what. Democrats, including key demographics (women, Blacks, Hispanics, the youth) who typically heavily skew toward the party, are less than enthusiastic about another Biden term. That's borne out in poll after poll and focus group after focus group. And it's worth knowing.
Does it mean Trump is likely to win next November. Not at all. Indeed, if I had to bet, I'd bet Biden is re-elected rather comfortably. But we should absolutely be aware that Trump could win and that a huge chunk of the population,* for a whole variety of reasons, are simply don't see Trump in the same way that the posters and most of the commentators here do.
_________________
*Based on eight years of polling and the results of two national elections, I'd put his floor at 45%.