One Year Out
Looking ahead to November 5, 2024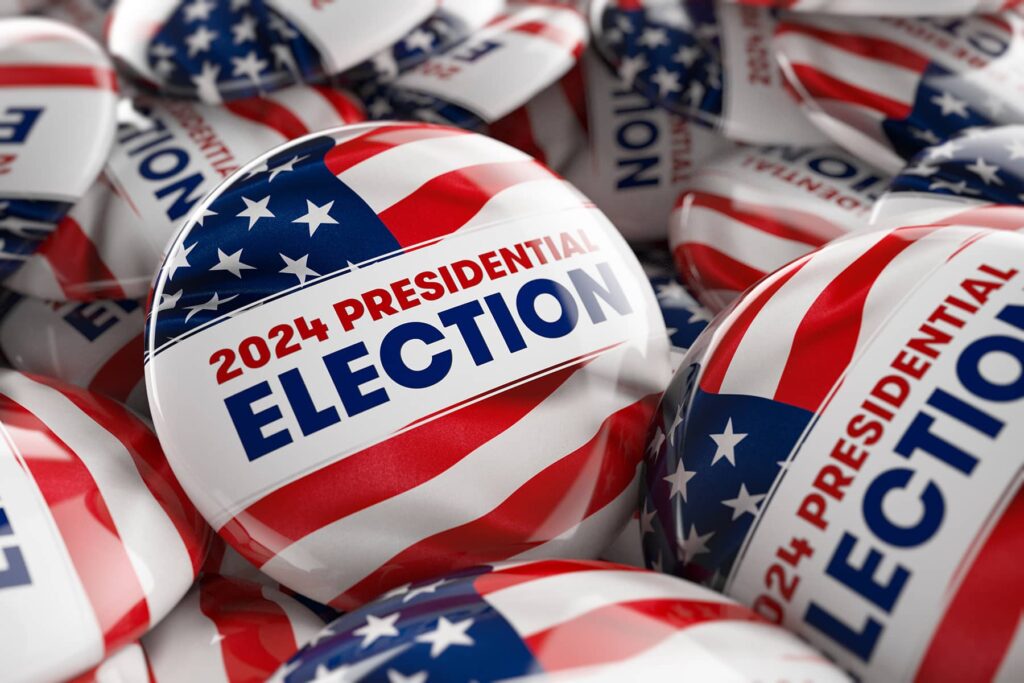 To the extent the concept of Election Day still matters in the era of early voting, we're exactly a year away from the 2024 election. Obviously, a lot can happen. Not only is there a considerably higher chance than normal that one or both of the likely candidates will die or be incapacitated by then, there's an exponentially higher probability that one of them will be a convicted felon.
Remarkably, the criminal who was arguably the worst President in American history and who tried to steal the least election has to be considered a slight favorite at this point.
NYT ("Trump Leads in 5 Critical States as Voters Blast Biden, Times/Siena Poll Finds"):
President Biden is trailing Donald J. Trump in five of the six most important battleground states one year before the 2024 election, suffering from enormous doubts about his age and deep dissatisfaction over his handling of the economy and a host of other issues, new polls by The New York Times and Siena College have found.

The results show Mr. Biden losing to Mr. Trump, his likeliest Republican rival, by margins of three to 10 percentage points among registered voters in Arizona, Georgia, Michigan, Nevada and Pennsylvania. Mr. Biden is ahead only in Wisconsin, by two percentage points, the poll found.
The requisite graphic:

Acknowledging all the caveats about polling this far out, this is simply remarkable. Trump is leading if five of six "swing" states Biden won three years ago.
Across the six battlegrounds — all of which Mr. Biden carried in 2020 — the president trails by an average of 48 to 44 percent.

Discontent pulsates throughout the Times/Siena poll, with a majority of voters saying Mr. Biden's policies have personally hurt them. The survey also reveals the extent to which the multiracial and multigenerational coalition that elected Mr. Biden is fraying. Demographic groups that backed Mr. Biden by landslide margins in 2020 are now far more closely contested, as two-thirds of the electorate sees the country moving in the wrong direction.

Voters under 30 favor Mr. Biden by only a single percentage point, his lead among Hispanic voters is down to single digits and his advantage in urban areas is half of Mr. Trump's edge in rural regions. And while women still favored Mr. Biden, men preferred Mr. Trump by twice as large a margin, reversing the gender advantage that had fueled so many Democratic gains in recent years.

Black voters — long a bulwark for Democrats and for Mr. Biden — are now registering 22 percent support in these states for Mr. Trump, a level unseen in presidential politics for a Republican in modern times.

Add it all together, and Mr. Trump leads by 10 points in Nevada, six in Georgia, five in Arizona, five in Michigan and four in Pennsylvania. Mr. Biden held a 2-point edge in Wisconsin.

In a remarkable sign of a gradual racial realignment between the two parties, the more diverse the swing state, the farther Mr. Biden was behind, and he led only in the whitest of the six.
Honestly, these results are so baffling that I would dismiss this as a bad poll. Young voters care more about abortion and LGBTQ rights than older people, so how can they be trending GOP? Trump is widely perceived as a racist, so why would Blacks be swinging in his direction?
Alas, it's consistent with what we're seeing in pretty much every poll. And the reasons are the ones we've been seeing for months:
Mr. Biden and Mr. Trump are both deeply — and similarly — unpopular, according to the poll. But voters who overwhelmingly said the nation was on the wrong track are taking out their frustrations on the president.

"The world is falling apart under Biden," said Spencer Weiss, a 53-year-old electrical substation specialist in Bloomsburg, Pa., who supported Mr. Biden in 2020 but is now backing Mr. Trump, albeit with some reservations. "I would much rather see somebody that I feel can be a positive role-model leader for the country. But at least I think Trump has his wits about him."

Mr. Biden still has a year to turn the situation around. Economic indicators are up even if voters do not agree with them. Mr. Trump remains polarizing. And Mr. Biden's well-funded campaign will aim to shore up his demographic weak spots. The president's advisers have repeatedly noted that Democrats successfully limited the party's losses in 2022 despite Mr. Biden's poor approval ratings at the time.

Still, the survey shows how Mr. Biden begins the next year at a deficit even though Mr. Trump has been indicted on criminal charges four times and faces trial in 2024. If the results in the poll were the same next November, Mr. Trump would be poised to win more than 300 Electoral College votes, far above the 270 needed to take the White House.

Another ominous sign for Democrats is that voters across all income levels felt that Mr. Biden's policies had hurt them personally, while they credited Mr. Trump's policies for helping them. The results were mirror opposites: Voters gave Mr. Trump a 17-point advantage for having helped them and Mr. Biden a 18-point disadvantage for having hurt them.

For Mr. Biden, who turns 81 later this month, being the oldest president in American history stands out as a glaring liability. An overwhelming 71 percent said he was "too old" to be an effective president — an opinion shared across every demographic and geographic group in the poll, including a remarkable 54 percent of Mr. Biden's own supporters.

In contrast, only 19 percent of supporters of Mr. Trump, who is 77, viewed him as too old, and 39 percent of the electorate overall.

Concerns about the president's advancing age and mental acuity — 62 percent also said Mr. Biden does not have the "mental sharpness" to be effective — are just the start of a sweeping set of Biden weaknesses in the survey results.
Acknowledging that Biden is very old and that I'm uncomfortable with that, one would think it would be canceled out by Trump being nearly as old and demonstrably less fit. And constantly saying crazy shit. But . . . not so much.
And the economy isn't a set of top-level numbers but a sense of how people feel about their situation. Gas prices are finally coming down but the cost of housing, food, transportation, video streaming services and so many other things that are highly visible to voters are up—a trend likely to continue.
Voters, by a 59 percent to 37 percent margin, said they better trusted Mr. Trump over Mr. Biden on the economy, the largest gap of any issue. The preference for Mr. Trump on economic matters spanned the electorate, among both men and women, those with college degrees and those without them, every age range and every income level.

That result is especially problematic for Mr. Biden because nearly twice as many voters said economic issues would determine their 2024 vote compared with social issues, such as abortion or guns. And those economic voters favored Mr. Trump by a landslide 60 percent to 32 percent.

The findings come after Mr. Biden's campaign has run millions of dollars in ads promoting his record, and as the president continues to tour the country to brag about the state of the economy. "Folks, Bidenomics is just another way of saying the American dream!" Mr. Biden declared on Wednesday on a trip to Minnesota.

Voters clearly disagree. Only 2 percent of voters said the economy was excellent.

Voters under 30 — a group that strongly voted for Mr. Biden in 2020 — said they trusted Mr. Trump more on the economy by an extraordinary 28 percentage-point margin after years of inflation and now high interest rates that have made mortgages far less affordable. Less than one percent of poll respondents under 30 rated the current economy as excellent, including zero poll respondents in that age group in three states: Arizona, Nevada and Wisconsin.

"I actually had high hopes for Biden," said Jahmerry Henry, a 25-year-old who packages liquor in Albany, Ga. "You can't be worse than Trump. But then as the years go by, things happen with inflation, the war going on in Ukraine, recently Israel and I guess our borders are not secure at all."

Now Mr. Henry plans to back Mr. Trump.

"I don't see anything that he has done to benefit us," said Patricia Flores, 39, of Reno, Nev., who voted for Mr. Biden in 2020 but won't support him again in 2024.
I have no idea how representative a handful of cherry-picked quotes from random yahoos are. But they do seem consistent with the top-line polling.
In 2020, Mr. Biden's path to victory had been rebuilding the so-called blue wall in the Rust Belt states of Michigan, Wisconsin and Pennsylvania, and then expanding the map in the diversifying Sun Belt states of Arizona and Georgia.

The poll shows that Mr. Biden is notably stronger in the industrial northern states than in the more diverse Sun Belt.

And his vulnerabilities stretch across an expansive set of issues.

Voters preferred Mr. Trump over Mr. Biden on immigration by 12 points, on national security by 12 points and on the Israeli-Palestinian conflict by 11 points. And though a 58 percent majority supported more economic and military aid to Ukraine — which aligns with Mr. Biden's policy — that did not seem to benefit the president on broader questions of fitness to handle foreign affairs.

"I don't think he's the right guy to go toe to toe with these other world leaders that don't respect him or fear him," said Travis Waterman, 33, who worked in home restoration in Phoenix. He voted for Mr. Biden in 2020 but sees him as "weak" now and prefers Mr. Trump.

The gender gap on national security was enormous. Men preferred Mr. Trump 62 percent to 33 percent; women preferred Mr. Biden 47 to 46 percent.
But even that's bad news: the gender gap is typically much wider in favor of Democrats; 47-46 is within the margin of error.
Mr. Biden's strongest issue was abortion, where voters trusted him over Mr. Trump by nine percentage points. Mr. Biden also maintained the trust of voters by an even slimmer margin of three points over Mr. Trump on the more amorphous handling of "democracy."
But how strong an issue is abortion at the presidential level* now? It was huge when Roe was in danger but it's unlikely a re-elected Biden would be able to appoint enough liberals to reverse Dobbs.
Democracy, on the other hand, would seem to be an issue of concern.
Mr. Biden has survived poor showings in polls before. In fact, in October 2022 in the run-up to the midterm elections, the president's job approval rating was nearly the same as it is now. His party still managed to lose fewer seats than expected in the House and gained one seat in the Senate, in part by painting Republican candidates as extremists.
And many of them actually were. But voters are already wildly familiar with Trump, who has been in the center of the political stage since 2015. He spent four years as President!
One would think the four ongoing criminal trials would matter. But I think they're already baked in, as is January 6. Unless he's in prison or somehow ineligible to be elected, it's not obvious why those who don't already think Trump unfit are going to change their minds.
Today, the degree to which voters are turned off by Mr. Trump's personality and bombast — which has been the glue helping keep together a fractious Democratic coalition for years — appears to have waned. Only 46 percent of voters said Mr. Biden had the proper temperament to be president, barely higher than the 43 percent who said the same of Mr. Trump. That said, Mr. Trump will be more in the spotlight in 2024, including his criminal trials, a growing presence that could remind voters why they were repelled by him in the first place.

Maybe!

I constantly remind myself that most people just aren't paying attention. I'm sure a whole lot of people were barely following the January 6 hearings, for example. But I'm just not convinced that attitudes on Trump are shiftable at this point.

A related WSJ report ("The 2024 Election Rematch Americans Are Dreading Looks Likely") reinforces my perspective.

A year before the 2024 election, a divided nation is stuck in a political loop: President Trump's weaknesses helped deliver President Biden to the White House, and now the incumbent's vulnerabilities could lead his predecessor to a comeback.

Biden, the nation's oldest president at age 80, is poised to reclaim the party's nomination, yet he has been dogged with questions about his age, frustration over his handling of the economy and anxiety about two wars. Trump, 77, has a comfortable lead as he seeks the Republican nomination for a third time, even as many moderate and independent voters are repelled by his repeated efforts to overturn the 2020 elections results and the many criminal indictments he faces.

The two are likely headed for a general election rematch that will unfold against a backdrop of discontent, pitting two unpopular candidates against each other on inflation, abortion and America's role in an unstable world. Given the narrowly divided electorate, the outcome will hinge on a small slice of voters spread across a half dozen or so states, with the possibility of multiple independent or third-party candidates scrambling the results.

Rep. Don Bacon, a Nebraska Republican who represents a closely divided Omaha-based district, said he believed that in 2020, "a lot of people didn't vote for Joe Biden, they voted for Donald Trump or against Donald Trump."

This time around, he said, "I think the same issues that challenged Trump in our district are still there. People don't like the name-calling, they want order." But he added: "The difference this time is people are unhappy with Joe Biden's performance."
Gallup polling trends would seem too support this view: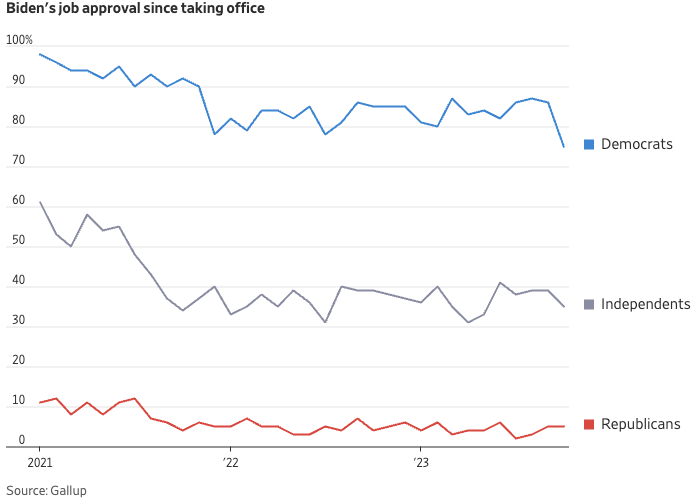 There's quite a bit more to the WSJ article but it mostly just reinforces points already made.
________________
*It's obviously much more salient at the state level, where laws that are more or less restrictive have real impact.