The Proud Boys Heard Trump Loud and Clear
They are standing by as ordered.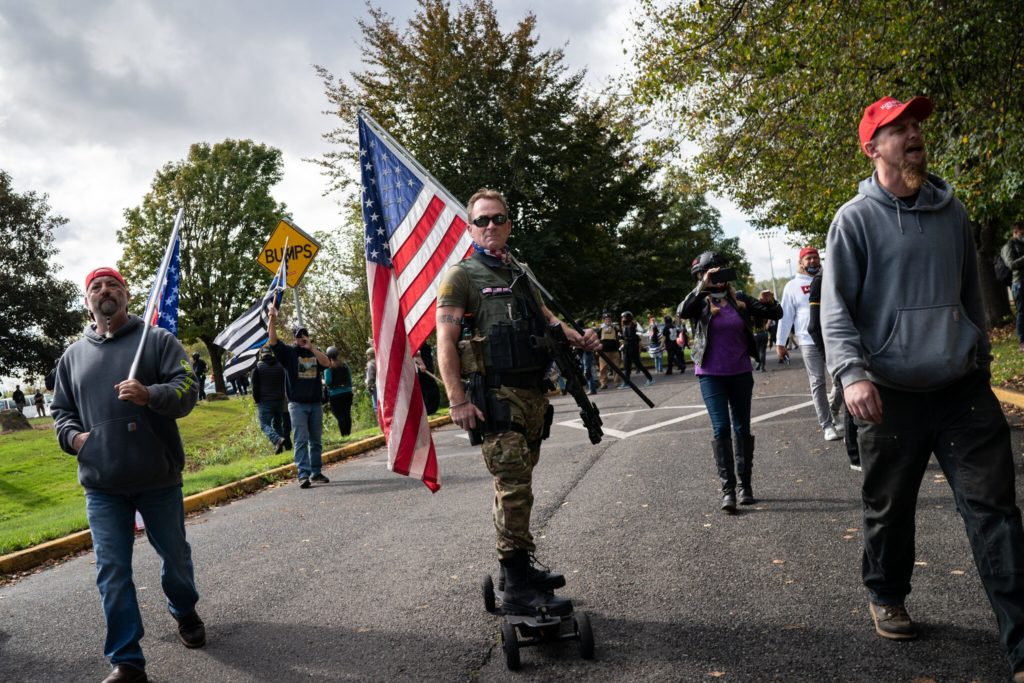 Three days after the 9/11 terrorist attacks, President George W. Bush visited workers at Ground Zero and had one of the iconic moments of his tenure in office:
Someone in the crowd shouted that he couldn't hear the president, and Bush replied with the words that made history.

"I can hear you!" he declared. "The rest of the world hears you! And the people – and the people who knocked these buildings down will hear all of us soon."
Whatever one might think of Bush and his later responses to that crisis and others, it was a moment of national healing.
Contrast that with the ugliest moment from an ugly debate last night.
Trump was asked by debate moderator Chris Wallace to disavow white supremacy during a part of the debate focused on race. Wallace asked whether Trump would urge white supremacist groups that inflamed violence at nationwide protests to "stand down."

Trump said to "give me a name" when asked to denounce a specific group, and former Vice President Joe Biden called out the Proud Boys.

But Trump did not denounce any far-right or white supremacist groups, and he then pivoted to talk about antifa.

"Proud Boys, stand back and stand by, but I'll tell you what, somebody's got to do something about antifa and the left, because this is not a right-wing problem. This is a left-wing problem," Trump said.
As loathe as I am to assign strategic thinking to this President, this doesn't come across as his typical word salad. He's sending a clear message to his most violent and loathsome supporters. And they heard him just fine.
NYT ("Proud Boys celebrate Trump's 'stand by' remark about them at the debate"):
Asked whether he condemned white supremacists and military groups, Mr. Trump demurred and then said, "Proud Boys — stand back and stand by."

Within minutes, members of the group were posting in private social media channels, calling the president's comments "historic." In one channel dedicated to the Proud Boys on Telegram, a private messaging app, group members called the president's comment a tacit endorsement of their violent tactics.

In another message, a member commented that the group was already seeing a spike in "new recruits."
The Daily Beast ("Far-Right Proud Boys Rally After Trump's Debate Defense: 'Fuck Them Up'"):
Outside of the debate, Proud Boys leader Joe Biggs saw Trump's remarks as permission to "fuck" up the group's foes.

"Trump basically said to go fuck them up!" Biggs wrote on Parler, an alternative social media network that courts conservatives. "This makes me so happy."

Other Proud Boys leaders posted on Parler and Telegram, another social network popular with far-right figures banned, that they would follow Trump's request to "stand down and stand by."

"I will stand down sir!!!" Proud Boys national chairman Enrique Tarrio wrote on Parler. "Standing by sir. So Proud of my guys right now."

In an interview with The Daily Beast, Tarrio predicted that "stand back, stand by," would become a Proud Boys slogan. Earlier Proud Boys mottos have included "The West Is the Best" and "Fuck Around and Find Out," a warning to the group's perceived enemies.

"I think this 'stand back, stand by" thing will be another Proud Boy saying," Tarrio said.

Daryl Johnson, a former Department of Homeland Security intelligence analyst who in 2009 warned of the growing threat of far-right militias, told The Daily Beast that "within the context of Trump's statements which insinuate future voter fraud, a rigged election, etc., [it] sounds like a subtle endorsement of future use violence by the Proud Boys. Again, another statement by the president that fans the flames of fear and seems to support violent far right groups, rather than condemn them."
Granting that these people don't need a lot of encouragement to be violent, the fact that they immediately understood these words as a call to action rather than a rebuke speaks volumes.
The President now claims that he's never heard of the Proud Boys and was indeed calling for them to "stand down and let law enforcement do their work." But he's long out of benefit of the doubt, especially on this subject.
CNN's Chris Cillizza explains "Why it's impossible to believe Trump simply misspoke about the Proud Boys."
* In February 2016, CNN's Jake Tapper asked Trump, then a candidate for the Republican nomination, whether he would flatly reject the support of white supremacist groups and, in particular, former longtime KKK leader David Duke. "Just so you understand, I don't know anything about David Duke, OK?," Trump responded, adding: "I don't know anything about what you're even talking about with white supremacy or white supremacists. So I don't know. I don't know — did he endorse me, or what's going on? Because I know nothing about David Duke; I know nothing about white supremacists." Trump's comment sparked a massive controversy; Florida Sen. Marco Rubio, who was competing against Trump for the nomination at the time, said Trump's inability and unwillingness to distance himself from Duke made him unelectable. The following day, in an appearance on the "Today," show Trump blamed a "bad earpiece" for his answers (or lack thereof).

* In August 2017, in the wake of a white supremacist march in Charlottesville, Virginia, that left a counter-protester dead, Trump insisted that "many sides" were to blame for the violence. Days later, he doubled down on that sentiment, saying that "there is blame on both sides," and adding: "What about the 'alt-left' that came charging at, as you say, the 'alt-right,' do they have any semblance of guilt? What about the fact they came charging with clubs in hands, swinging clubs, do they have any problem? I think they do."

And then there are the literally dozens of times in which Trump has made either outright racist claims or sought to weaponize race for his own political benefit.

There was the time in 2019 when he tweeted that four congresswomen of color should "go back and help fix the totally broken and crime infested places from which they came." (Three members of "The Squad" were born in the United States; the fourth, Minnesota Rep. Ilhan Omar, is a naturalized American citizen.) Or the time he mocked the intelligence of LeBron James and CNN anchor Don Lemon. Or the time when questioned why the United States was accepting immigrants from "s—hole" countries in Africa. Or his pushing of a conspiracy theory that Barack Obama wasn't born in the United States despite ample evidence to the contrary. Or the lawsuit the federal government filed against him and his father in the 1970s for racial discrimination in housing rentals.

There's more. Much more. But the point here is clear: Donald Trump has a very long history of avoiding direct condemnation of white supremacist and other hate groups while simultaneously saying and doing things that any neutral observer would be forced to conclude are racist.In short: Trump's baffling comment about the Proud Boys, which the group immediately embraced as a not-so-subtle call to action, don't land in a vacuum.
Trump spews so much nonsense that it's easy to dismiss any particular statement as a gaffe. But he's been so incredibly consistent on this particular issue that he meaning is crystal clear.