The Racist New York Lawyer And Internet Vigilantism: How Far Is Too Far?
New York attorney Aaron Schlossberg found himself on the receiving end of an Internet firestorm this week. His case raises some interesting questions about Internet vigilantism.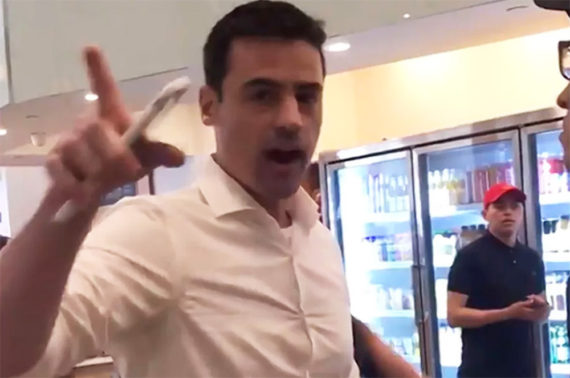 In addition to all the other news this week, the media has been tossing around the case of a New York attorney named Aaron Schlossberg who was captured on a smartphone video going into a racist, hate-filled rant against a customer and manager at a coffee shop near his Manhattan office because they were speaking Spanish to each other. At first, the identity of the man in the video was unknown, but it didn't take long for Internet sleuths to figure out that it was, in fact, Schlossberg, whose office is located near the coffee shop in question. The video, which you can watch here as well as any other number of places across the Internet, is about what you'd expect and doesn't really require any further comment beyond what obviously comes to mind when viewing it. Indeed, at this point, the story isn't so much what Schlossberg said to these two women, which is apparently consistent with other behavior that has also been caught on video, as it is what happened as the story became viral.
As Molly Roberts notes at The Washington Post, the swiftness and severeness with which the Internet outrage mob descended on Schlossberg was quite sudden:
It's hard not to shudder with schadenfreude at seeing someone so obviously despicable answer for what he has done. The Yelp listing for Schlossberg's law firm was flooded with negative reviews (and labeled a "Spanish restaurant"), and now local officials have filed a complaint with the state court disciplinary system. But this man and his mass judging are also part of a trend, and it's worth asking where that trend is taking us — as well as how we got here in the first place.

Internet vigilantism has been around for a while, whether it's hacktivism from groups like Anonymous or doxxing by netizens who reveal private information about some enemy or another they've made online. But after last summer's violence in Charlottesville, tactics migrated from the corners of the Web to its center. Accounts such as @YesYoureRacist posted photos of white supremacist demonstrators on Twitter and asked followers for help identifying, and they got results.

Just not always the ones they were looking for. The post-Charlottesville outings provoked more controversy than this week's takedown because they affected not only the men targeted (at least one was fired, and one was disowned by his family) but for innocent parties, too. An egregious example was a professor who runs a wound-healing research laboratory who had nothing at all to do with neo-Nazis. He was more than 1,000 miles away when the protests took place, but his beard and build were enough to mislead online observers. The debacle harked back to crowdsourced attempts to catch the Boston Marathon bombers immediately after the attack that cast multiple darker-skinned Americans as mass killers based on little more than conjecture.

(…)

Of course, catching a reprehensible viral racist is different from making a totally innocent individual's private life public simply because of who he or she is — LGBT, or Muslim, or, in the case of Gamergate, a woman. There's also a difference between linking to someone's website and scrounging up sensitive information such as a credit card number. And between naming someone so you can sic harassers on her and exposing someone so that elected representatives can kick off official processes, the kind that Schlossberg now faces.

But although the lines may seem clear in a case like that of the viral racist, they blur awfully easily. And if the new norm is to track down those who break our moral codes whenever possible, we won't always manage it as cleanly as those who wrote up this week's profile in infamy. (Shaun King of the Intercept, a writer as well as an activist, led the charge.)

Networks such as Twitter give people a power they've never had before at a time when those they've been told to rely on seem so often to fall short. For every racist in a restaurant whom the online masses excoriate, many more whistle through their days unperturbed. No one has managed to change that yet, so now some everyday folks have taken it into their own hands. Still, it's important to remember the risks. Those who spearhead these missions ought to take care that the wisdom of the crowd doesn't turn into mob rule.
This isn't the first example of social media being used to "take down" someone who says or does something offensive, and it's unlikely to be the last.
Back in 2013, a woman named Justine Sacco, who worked as a Public Relations executive for an Internet firm, posted a quick note on Twitter that said "Going to Africa. Hoping I don't get AIDS. Just kidding. I'm white!." The tweet in question was posted as Sacco was boarding her plane for South Africa at Heathrow Airport and, before she had even landed, the tweet had literally gone around the world and led her employer to fire her before she even got off the plane.
Another woman named Lindsey Stone caused a similar controversy back in 2012 when she posted a photograph of her making an obscene gesture near the site of the Tomb of the Unknowns at Arlington National Cemetary. Stone worked at a non-profit back in her hometown and lost her job because of the incident. Speaking about the incident three years later, Stone revealed that she was still dealing with the consequences of that incident.
One final example of the power of viral responses to offensive action can be found in the case of Breanna Mitchell, an American teenager. Mitchell found herself on the receiving end of a massive social media attack when she posted a selfie she took while standing outside the entrance to the Auschwitz concentration camp. Mitchell later claimed that she had learned about World War II from her father, who had apparently died several months earlier, and that she was smiling because she had made a trip they had talked about taking many times. While she didn't lose a job like Sacco or Stone, Mitchell was the target of a rather fierce tweetstorm that lasted for several days at least and, at least for a time, caused her to lock her Twitter account. Judging from the cover photo on her Twitter page, though, it doesn't appear as though she's learned much of a lesson about how to conduct oneself online. (By way of disclosure, I should confess that I was among those who jumped on Mitchell on Twitter when the photograph went viral. I don't recall exactly what I said, but I'm pretty sure it wasn't kind.)
In all of these cases, of course, it goes without saying that what the people on the receiving end of the social media-driven onslaught did was offensive and stupid. The same is true of what Schlossberg did in the video that went viral this week, as well as the video of a previous incident where he went off on a similar racist rant. As such, it's hard to feel sorry for any of them, and one can certainly understand why, in the case of Sacco and Stone, their employer terminated them given the fact that both of them were in Public Relations positions and had demonstrated, to say the least, a complete lack of understanding of how their actions would be interpreted by the public and how that might reflect on their employer. Additionally, as I have said repeatedly in other contexts in the past, while people have the freedom to speak they do not have the right to be free from the consequences of that speech.
Notwithstanding that, though, Roberts does raise some interesting questions that I don't think we've really come to terms with in this new age of the Internet and social media. People did and said stupid things in the past and, outside of their immediate communities perhaps, didn't suffer nearly the kind of blowback that can come from just one post on Twitter, Facebook, Instagram, or any of the other social media sites. In today's day and age, one bad tweet, or as Schlossberg found out, one racist rant in a coffee shop, can go around the world in an instant and the reaction can be swift and severe. I'm not defending what Schlossberg did, of course, nor am I defending Sacco, Stone, or Mitchell. They all acted inappropriately and it's hard to feel sorry for them. That being said, I think Roberts raises some questions that we ought to be asking ourselves.
For better or worse, social media is likely to remain a part of our culture and technology for the foreseeable future. Companies and services like Twitter, Facebook, and Instagram likely won't be the same in ten (or fewer) years as they are today, but the basic premise will still be the same, and the extent to which people are sharing even the most mundane aspects of their life is only likely to increase, especially as the current generation of kids and teenagers, for whom these services and others such as Snapchat are second nature, becomes older. Given that, perhaps we need to rethink the extent to which we hold people responsible for something stupid they posted on Twitter at 1:00 am five years ago, or those pictures from Spring Break in Mexico that went up in Instagram. Sometimes, people do things that deserve to be called out, but where does the line begin and end, and what constitutes a reasonable punishment? Should we really be demanding that someone be fired over one stupid Tweet, for example, or threatening boycotts of a business that doesn't immediately terminate someone who posted something stupid and offensive on Facebook? In Schlossberg's case, he's been banned from the building where he's renting office space, chased through the streets of New York City by reporters, and apparently now being investigated by the New York State Bar over a video that lasted less than a minute. Is that fair, or is it an overreaction? I'm not sure I know the answer, but I am sure that we ought to at least have a conversation about this, and about how we're going to treat each other in the wild world of the Internet in the future.