The Respect for Marriage Act Versus The Filibuster
Another example of why the filibuster needs to go.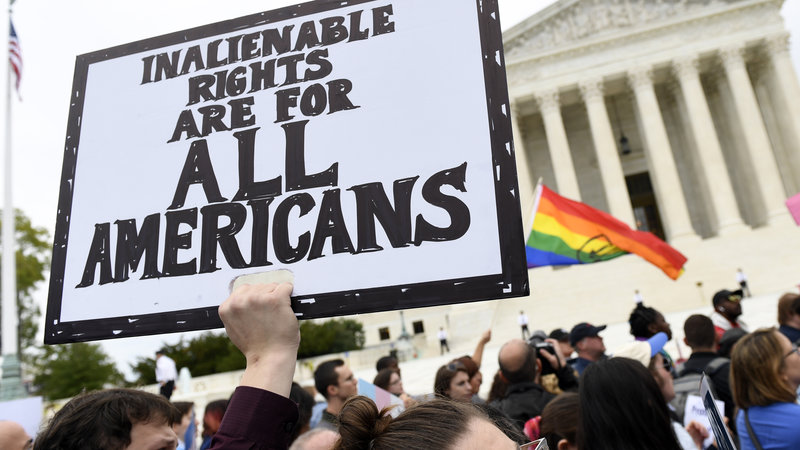 As James has already covered today, yesterday the House approved the Respect for Marriage Act, a bill that would federally protect existing same-sex marriages. It's important to note that this short (1 page) bill does not, as I read it, prevent states from banning future same-sex marriages from being formed in that specific state. However, it would require all states to recognize same-sex marriages formed in other states. While not perfect, this would be a good compromise solution. More importantly, it would be one that meets the standards of our Constitution. As James notes in his article: "it's a perfectly reasonable bit of legislation, clearly within Congress' authority under Section 5 of the 14th Amendment." And this view is backed up by our own resident legal expert commenter HarvardLaw92:
I wouldn't even say this implicates the 14th Amendment. Congress is specifically empowered by Article IV to prescribe via general laws how Full Faith and Credit functions. This would IMO be one of those instances.

https://www.outsidethebeltway.com/house-passes-marriage-protection-bill/#comment-2712126
It should be noted that such action is what the current iteration of the Supreme Court has been advocating through its decisions for most of the current term. In particular in his concurrence on Dobbs, Justice Kavanaugh explicitly notes that:
On the question of abortion, the Constitution is therefore neither pro-life nor pro-choice. The Constitution is neutral and leaves the issue for the people and their elected representatives to resolve through the democratic process in the States or Congress—like the numerous other difficult questions of American social and economic policy that the Constitution does not address.

https://www.supremecourt.gov/opinions/21pdf/19-1392_6j37.pdf
Ok, so this is an example of Congress actually following the recommendation from one of the other branches of Government. And, given that the Respect for Marriage Act passed with the support of 20 percent of the House Republican conference, this seems like it should be a done deal. Even if certain Democratic Senators were to vote against this, there would most likely be enough Republican Senators willing to support this to get it over the 50-vote threshold.
Yet, as the original reporting notes, the future of this legislation in the Senate is in question:
It's unclear if the legislation has enough support in the Senate for passage. And Democratic leaders didn't commit to bringing it up for a vote, stating the legislative schedule ahead of the midterms may not allow for immediate consideration.

https://www.washingtonpost.com/politics/2022/07/19/house-votes-same-sex-marriage/
I'm going to avoid theorizing about the Democrat's strategy here (I agree with James that I am unsure why Schumer wouldn't push for a vote). I'd rather focus on the first sentence: "It's unclear if the legislation has enough support in the Senate for passage."
Support, in this case, doesn't mean "support for passage" it means "support for overcoming the threat of the modern filibuster." That threshold for cloture, set almost 50 years ago in 1975, is 60 votes.
This is a great example of why the filibuster needs to go. Here we have a bill with a not insignificant amount of bipartisan support, especially for a hot-button social issue, in both branches, on exactly the type of issue that the Supreme Court has explicitly stated is Congress. And yet, due to the modern procedural filibuster, it may not be able to advance. This is exactly the type of undemocratic structure (doubly so given that the structure of the Senate doesn't proportionally represent our populace) that Steven and James have both called out repeatedly in the past.
I realize that supporters of the filibuster might argue that "if the filibuster wasn't in place, what would prevent the Republicans from repealing the same-sex marriage component when they took power?" My response to that would be their own party. The reality is that historically, outside certain limited moments (for example the 2009-2010[1] Senate), there is rarely a filibuster-proof majority in place. So, as we have seen with the failure to finally repeal the ACA in 2017, the votes that sealed that effort were from Republicans versus Democrats. All it takes is a few crossover votes (for example Collins and Murkowski) to prevent repeal.
More importantly, from a legislative process perspective, would overturning this or other social rights legislation be a bad thing for democracy? My belief is no. Overturning the Respect For Marriage Act once implemented would represent the party in power actually legislatively enacting its platform (and theoretically its mandate from voters) rather than dither. Having legislative votes that matter, versus symbolic votes, should encourage voters to hold their representatives more responsible for both their promises and actions. This would also dissuade behavior like what we are seeing from Majority Leader Schumer (avoiding tough votes on important issues for the base).
Yes, from a social perspective, it is possible that it could lead to swings that could have negative ramifications on our country. However, it's worth noting that said negative ramifications could also, in turn, mobilize impacted voters. In fact, it's far easier to change the partisan breakdown of the Senate than the Supreme Court (a selection process that has, as we note, abandoned the filibuster). It's also much more in keeping with our understanding of the founder's original intent for the government.
And it might, might, even help with work on actual compromises, especially when that requires getting buy-in from just a few members of the minority party rather than as many as ten.
---
Aside 1: the current fad of trying to create filibuster carve-outs either via the reconciliation process or on a case-by-case basis is further evidence the filibuster needs to be eliminated. As such, I personally could not support any plan to create a one-time-only exception to pass legislation related to legalizing abortion or gay marriage.
Aside 2: I know some people will ask "is this necessary?" as there doesn't appear to be enough votes[2] on the current Supreme Court to overturn this. First, how long did we say that about abortion/Roe? More importantly, because all the focus was placed on the Supreme Court, Senate and president elections arguably became more and more about the make-up of the court. If one believes that this is the type of institutional business that Congress should deal with (versus the Federal Courts) then one should support them dealing with it.
---
[1] Additionally, due to contested seats and illnesses, the actual amount of functional time that Democrats held a voting filbuster-proof majority during that period is measured in days rather than months.
[2] In reflecting on the phrase "there doesn't appear to be enough votes on the current Supreme Court to overturn this", emphasis on "votes", one has to ask if the current dysfunction of Congress (at least in part due to the filibuster) has created a de facto shadow legislature. I think all signs, at least on contentious social issues, point to "yes."