The Rhetorical Framing of HR1
A truly silly characterization from Senator Mike Lee.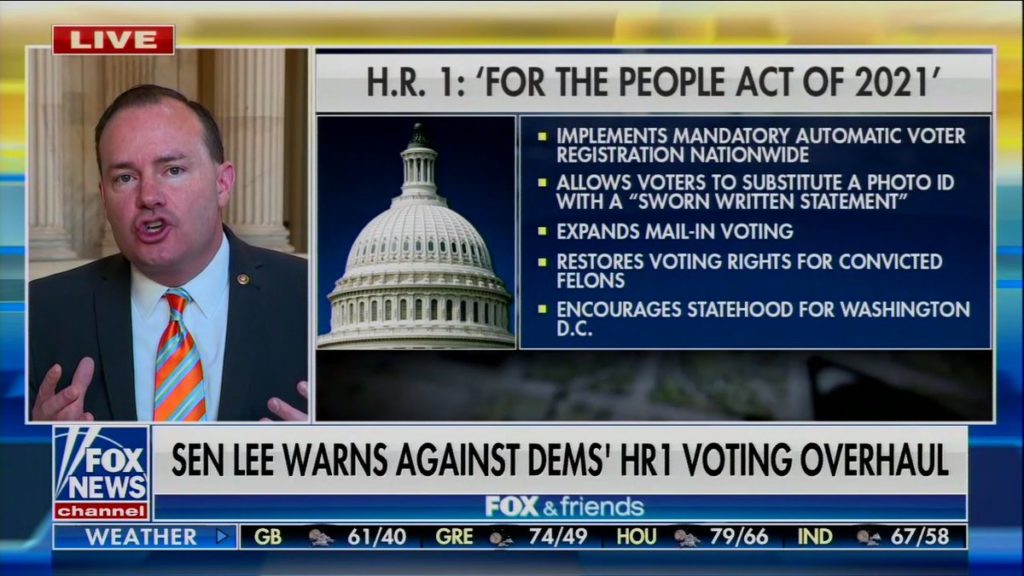 I was looking over some items I had bookmarked and I came across this screencap of Senator Mike Lee (R-UT) from an FNC appearance:
He is referring here to HR1, which I discussed in some detail a while back. And lest anyone think that the tweet is exaggerating, here is the headline from the FNC write-up: HR1 voting expansion bill 'written in hell by the devil himself,' says Mike Lee. The piece describes the bill thusly:
The bill removes a multitude of restrictions created within the U.S. voting system and proposes to expand voting rights to felons, allow people to vote with a sworn written statement as opposed to a valid ID, and institutes automatic voter registration nationwide. 
Sooooo, it "removes restrictions" in the voting system, expands voting rights to felons who have served their time, and it allows people without IDs to swear, under penalty of law, that they are who they say they are.
Demonic, indeed.
The piece quotes Lee:
MIKE LEE: "I think I disagree with every single word in HR1, including the words 'but,' 'and,' and 'the.' Everything about this bill is rotten to the core. This is a bill as if written in hell by the devil himself. This takes all sorts of decisions that the federal government really has no business making. It takes them away from the states, makes them right here in Washington D.C. by Congress.

Apparently in an effort to ensure an institutionally, revolutionary-democratic party of sorts. One that can remain in power for many decades to come. It does this by taking away these decisions. Elections in America have always been conducted at the state and local levels…

They are completely flipping that principal on its head so that all these things can be micromanaged from Washington. That's wrong. That's really wrong, it's bad policy. As much as anything else, it's wildly unconstitutional."
Ultimately, the devilry here is centralization, I guess. While I can intellectually understand that there are philosophical arguments to be had over national-level rules versus state-level rules, I have to admit that I don't think Satan has a view on the subject.
Based on listening to the clip, the whole of the objection is about centralization, but the stated reasons for why centralization is bad is because that isn't the way we've done it, or "micro-managing" is bad or something. In the realm of actual argument, these don't really qualify.
Moreover, the constitutionality issue strikes me as pretty straightforward.
Allow me to quote the US Constitution, from Article I:
Section. 4.

The Times, Places and Manner of holding Elections for Senators and Representatives, shall be prescribed in each State by the Legislature thereof; but the Congress may at any time by Law make or alter such Regulations, except as to the Places of chusing Senators.
If the House has Article I powers to regulate the "manner of holding elections" for the congress, it seems pretty clear that they pretty substantial regulatory power over elections as a general matter. Might some provisions of the law be amendable to challenge in the courts, sure. But this is true of most laws.
Let' get back to that graphic that is supposed to be a scary devil-spawn.
Automatic voter registration just makes it easier for people to vote. Full stop, nothing demonic about it. Indeed, it seems to me that given current technological capabilities it is a sin not to have all citizens automatically registered.
The ability to use a sworn statement in lieu of ID strikes me as a fair way to deal with people who might not have ID. I suppose Beelzebub's hordes might try to fool election officials en masse by a coordinated perjury campaign. But this seems unlikely.
Expanding mail-in voting is, I will admit, following the lead of the godless heathen in dope-smoking states like Colorado and Oregon, so I suppose the devil might be involved. Weirdly, Utah has predominantly mail-in voting, but Mike Lee doesn't agree with a single word of HR1. This is confusing! But, since a lot of Southern Baptists and other conservative evanlgelicals consider Mormonism a cult, I guess it all checks out!
It is known that once you commit a crime, you are not to be considered a real person, so restoring voting rights for felons sounds pretty bad! And since they like bad things down in H E double hockey sticks, this checks out as well!
You just think that DC stands for District of Columbia. It really is an abbreviation for the Devil is Cool. So, obviously encouraging DC statehood is also a Bad Place thing.
All snark and silliness aside, the rhetoric does not meet the reality in the least. For the most part the above, and other provisions, simply increase citizen access to voting. As I keep saying: if your party fears more voters voting the problem is with your party, not with the rules. (And to be fair, there are a lot of other provisions beyond the ones listed above).
Now, clearly, from a political power calculus POV, the GOP should oppose HR1. I accept that. However, that doesn't mean that the arguments they are presenting are good ones. The thin veil of federalism-based arguments has some vague theoretical basis, but the overall issue for them is that they fear more voters with easier access to voting. Since becoming more palatable to more voters is work, they would rather just oppose the bill.
The felon issue is worth underscoring, as well as DC statehood.
In reverse order, Republicans have every political reason in the world to oppose statehood, because it would net two Democratic Senators and a Democratic House member. And while there are powerful democratic theory and justice reasons arguing in favor of DC statehood, the bottom line remains that the main reason Democrats want it is for partisan power reasons.
The felon voting rights issues cannot be understood apart from race. We have to understand that the impetus for such laws was linked to denying Blacks the right to vote in the post-Reconstruction era. And, let's face facts when many people hear the word "felon" they think of scary Black males. There is also the fact that in the United States we tend to think that being a "criminal" means you are no longer worthy of being a citizen and you may, in fact, be sub-human. (I mean, look at how we treat the incarcerated).
A side anecdote on this. An acquaintance of mine was convicted of a marijuana-related felony as a teenager. After serving his sentence his right to vote was revoked. He fought for years and at some expense to get his voting rights restored. He was a white kid from an affluent family who had support from people in positions of authority writing him letters of support. And despite all of this the judge who had the final say was hostile to restoring his rights.
Do we really want to be a country wherein a crime committed in one's youth denies a lifetime of participation in our democracy?
What is even the basis of denying that right in perpetuity?
And if an educated white kid with some level of support has to fight years to get their rights restored, what chances does a poor Black man have?
---
Fundamentally, the opposition rhetoric on HR1 is beyond ridiculous. But, in fairness, the salvific rhetoric of those in favor is also ridiculously off the charts. I was going to go into that as well, but this has become a much longer post tha anticipated. See, again, my original post on HR1 and my post on single-seat districts.