The Ridiculous Claims of the DADT Opponents
The repeal of DADT has resulted in some odd claims being made.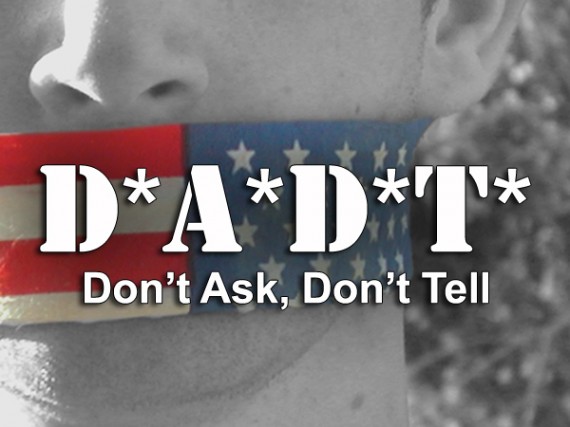 Now that DADT has been repealed, many are claiming that we are going to have some combination of the following:  a radical decrease in enlistees, a radical decrease in reenlistments, and/or a national draft (indeed on that last count, Doug Mataconis noted an example of that earlier today).
These are bizarre assumptions being made that having openly gay servicemen and women will somehow lead to a mass exodus from the military, which assumes that there is rampant fear of homosexuals amongst the rank and file of the US military.  However, since the polling indicates both widespread public support (as well as support within the military) for ending DADT, this is a rather odd claim.  Indeed, there is no reason (save a weak attempt at fear mongering) to assume its repeal will lead to a huge loss of recruits.
One of the more egregious examples comes from the American Family Association's Bryan Fischer:
The draft will return with a vengeance and out of necessity. What young man wants to voluntarily join an outfit that will force him to shower naked with males who have a sexual interest in him and just might molest him while he sleeps in his bunk?

[…]

This isn't a game, and the military should never be used, as is now being done, for massive social re-engineering. The new Marine motto: "The Few, the Proud, the Sexually Twisted." Good luck selling that to strong young males who would otherwise love to defend their country. What virile young man wants to serve in a military like that?
Nice bigoted assumptions about homosexuals, that.  Indeed, Fischer's entire post is one long anti-homosexual screed.  It really doesn't even pretend to be some principled theological claim about homosexuality.  It is, instead, one long hateful rant.
Of course, the repeal of DADT means the removal of the existent barriers for homosexuals to serve, which is a positive in terms of recruitment for that segment of the population, yes?  Further, as James Joyner pointed out this morning, the repeal of DADT may lead to the return of ROTC to many elite schools, which would help recruitment, rather than damaging it, one would think.
Of course, the issue of recruitment levels is an empirical one, so I suppose we will see how this all plays out (I predict no exodus, mass or otherwise, as a result of the DADT repeal).  Nevertheless, it is rather remarkable to assume that fear of dying in war (we are involved in two at the moment in case that has escaped notice) will not dissuade Americans from enlisting, but the potential for showering next to a homosexual supposedly will.