The Right Is Having A Hard Time Framing Judge Ketanji Brown Jackson As An Extremist
If this is the best they have, they don't have a lot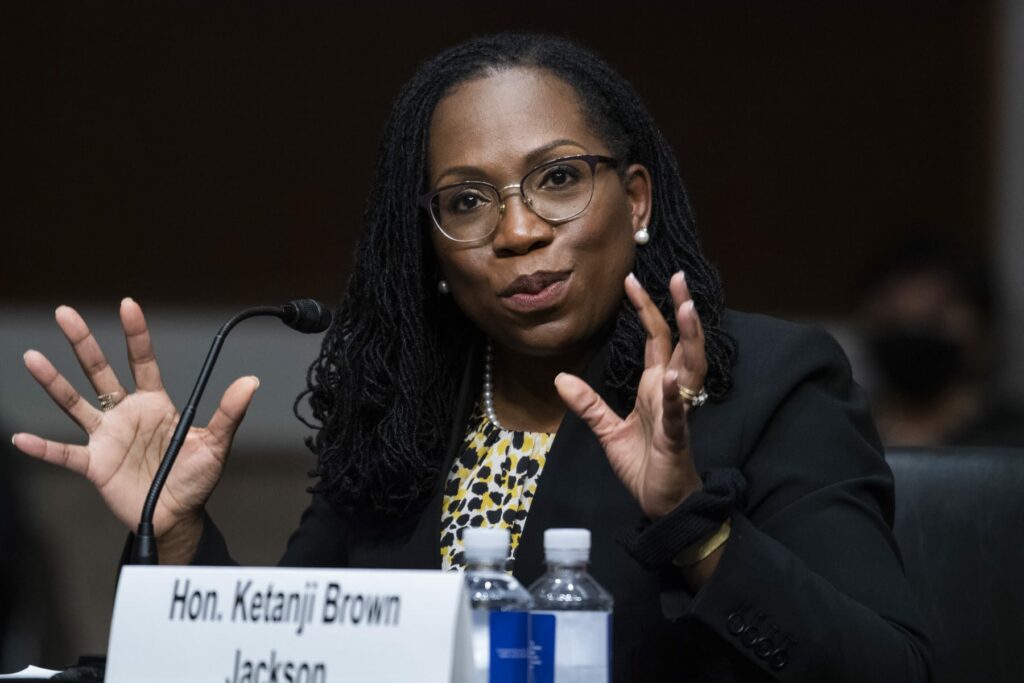 As we get closer to the Senate hearings on President Biden's nominee to the Supreme Court, Judge Ketanji Brown Jackson, various Republican politicians and right-wing media outlets are beginning to build the case for opposing her nomination. Senators like Mitch McConnell and Josh Hawley have signaled plans to use her record as a Federal Public Defender against her. The Daily Wire, taking a different approach, ran the following article yesterday: Biden's Supreme Court Pick Championed Advocates Of Critical Race Theory In Lectures, Speeches.
Dog whistles aside, the title of the article would lead one to believe that Judge Jackson must have extreme views on these topics. That premise is reinforced by the lead paragraph:
Judge Ketanji Brown Jackson, President Joe Biden's Supreme Court pick, has repeatedly embraced champions of Critical Race Theory (CRT) in lectures and speeches while nodding to the progressive idea with the use of terms such as "microaggression."
After reading that I was really curious to see what shocking quotes author Tim Pearce had found. So let's jump to the first one, about microaggressions, from a speech given at the University of Chicago in 2020.
I absolutely know and understand that you will face prejudice and other obstacles that other people in your environment do not have to endure. Life is not fair, and I totally get that the microaggressions that you are observing are real. The question I am encouraging you to think about is whether being confrontational will actually solve the problem, and even more important, whether it is worth your time! Having a thick skin means recognizing when you're being disrespected, but also understanding that marshaling a response each time something happens is a big distraction that takes your mind and attention away from what really matters, which is doing the best job that you can possibly do so that you can rise to a level in which you will actually be able to address the kinds of issues that you've witnessed.
Beyond acknowledging that microaggressions–daily verbal, behavioral, or environmental slights, whether intentional or unintentional, that communicate hostile, derogatory, or negative attitudes toward stigmatized or culturally marginalized groups–are real, I'm struggling to see much here to be offended by. Judge Brown is advocating developing a thick skin and concentrating on working on more important issues. She punctuated this by sharing how she learned this lesson from her experiences as an undergraduate protesting a Confederate Flag hung in a dorm window. The implication of that anecdote was if she had the chance to do it over again, she would not have attempted to have that flag removed, which, if I remember has historically been the accepted attitude of most conservatives about protests about that flag.
At that point, I thought that quote might have been an outlier. The next major quotes were about the controversial 1619 Project in another speech from 2020. Surely these would be the ones that showed how radical she is. Here's the first:
The 1619 Project is an ongoing initiative from The New York Times Magazine that began in August 2019, the 400th anniversary of the beginning of American slavery. It aims to reframe the country's history by placing the consequences of slavery and the contributions of black Americans at the very center of our national narrative.
That's… that's… that's a summary of the expressed goal of the project. Ok, surely the next is where she will get to the radical aspect:
Hannah-Jones (who happens to be a black woman) explains that the men who drafted and enacted the Constitution founded this nation on certain ideals: freedom; equality; democracy. Yet, at the time they formulated these principles, the institution of slavery already existed in the colonies—ever since the year 1619, when 20-to-30 Africans who had been captured in their homeland arrived in the colonies by ship and were exchanged for goods. Jones highlights the irony of the situation even further when she notes that at the very moment that Thomas Jefferson penned the self-evident truths of the Declaration of Independence, a black relative—a slave—had been brought into his office to serve him. Thus, it is Jones's provocative thesis that the America that was born in 1776 was not the perfect union that it purported to be, and that it is actually only through the hard work, struggles, and sacrifices of African Americans over the past two centuries that the United States has finally become the free nation that the Framers initially touted.
Again, this is an accurate summary of both the 1619 Project and historical facts. I guess someone could be upset by the use of "only" in "only through the hard work, struggles, and sacrifices of African Americans over the past two centuries that the United States has finally become the free nation that the Framers initially touted," but again that is her summing up "Jones's provocative thesis" and not necessarily Judge Jackson's position.
This really isn't the radical left-wing CRT stuff I feel like I was promised! I bet the last quote, which is on CRT and federal sentencing reform, will finally deliver!
I also try to convince my students that sentencing is just plain interesting on an intellectual level, in part because it melds together myriad types of law – criminal law, of course, but also administrative law, constitutional law, critical race theory, negotiations, and to some extent, even contracts. And if that's not enough to prove to them that sentencing is [sic] a subject is worth studying, I point out that sentencing policy implicates and intersects with various other intellectual disciplines as well, including philosophy, psychology, history, statistics, economics, and politics
💀
That's it?
Given that Critical Race Theory, at its core, is a legal theory about systemic racism and that Black people are disproportionately impacted by the criminal legal system and incarceration the linking of the two is anything but shocking. It's also important to note that Judge Jackson lists CRT as only one of the many areas of law, not to mention other disciplines, that intersect in sentencing theory.
Now, to be fair, the article does mention that Judge Jackson states that she draws inspiration from the work of CRT theorists like Derrick Bell and Bell's widow Janet Dewart Bell. However, that inspiration did not appear to generate any useful quotes. In fact Pearce himself, possibly dejectedly, notes:
While Jackson has avoided openly championing CRT, she has complimented its advocates and suggested that the progressive theory informs her legal analysis.
"[H]as avoided openly championing CRT" is doing a lot of work to create a sense of guilt by association that doesn't appear to be borne out in any of the quotes he pulled.
Our own HL92 has repeatedly stated that Judge Ketanji Brown Jackson is a worthy choice for the Supreme Court. I continue to be impressed by her writings (including her undergraduate thesis which critiqued Plea Bargaining at a time when few people were talking about it–I hope to write on that soon). And, frankly, if these quotes are an example of the worst that the loyal opposition can dig up on her, then we can look forward to a relatively smooth approval process.