The State of America's Political Parties
One party is divided on how to govern and the other is united in not governing.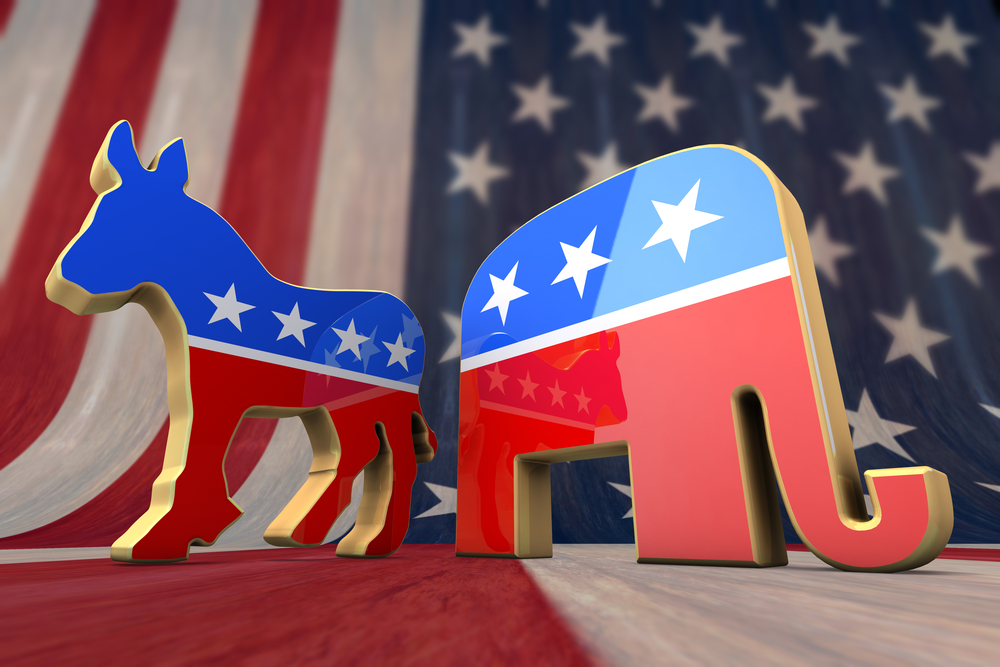 In "Democratic establishment tightens its hold on the party as far-left candidates fall short," WaPo reporters Michael Scherer, Gregory S. Schneider, and David Weigel continue a long media tradition of drawing sweeping conclusions from low-interest elections held outside the normal political cycle.
Democratic primary voters have been turning away this year from the anti-elite furies that continue to roil Republican politics, repeatedly choosing more moderate candidates promising steady leadership over disrupters from the party's left wing.

Tuesday's elections in Virginia, which brought the renomination of former governor Terry McAuliffe and primary losses by three of the Democrats' most outspoken liberal delegates, only underscored a pattern that was previously apparent in special House elections in Louisiana and New Mexico. New Jersey Gov. Phil Murphy, a moderate Democrat, won his party's nomination without a challenge from the left after two protest candidates failed to collect the 1,000 signatures needed for ballot access.

In the crowded Democratic primary in New York City, a similar crop of contenders, including Eric Adams and Andrew Yang, have emerged as front-runners by pushing platforms that include an embrace of police as an essential component of public safety, a far cry from the "defund the police" mantra that some liberal activists embraced in 2020.

"There is nothing wrong with being one of those trailblazers who shakes up the status quo, but you can do it in a way that brings people along with you," said Michelle Maldonado, a small-business owner from Bristow, Va., who defeated the state House of Delegates' only self-described democratic socialist in Tuesday's Democratic primary. "Prac-tactical — you've got to be practical and tactical at the same time."

Such rhetoric has left some liberal politicians fuming, as they see the dream of remaking the Democratic Party slipping away like it did during the 2020 presidential campaign, when perceived electability became the most valued commodity and voters coalesced around Joe Biden.

"People like myself who are grass-roots-funded, who don't take corporate money, are not able to compete effectively," said Del. Ibraheem S. Samirah (Fairfax), another disruptive liberal who lost in the primary Tuesday after his opponent was endorsed by centrist leaders. "The party is not progressive."
As noted in Wednesday's post "Virginia's Weird Politics," my home of nearly two decades is unusual in a lot of ways. It's a deep Red state that's turned Blue, mostly on the strength of a massive inflow of people to DC's Northern Virginia suburbs. And we're the only state left that limits governors to one term; even my former home state of Alabama ended that practice. McAuliffe was essentially unopposed, facing a bunch of nobodies and a disgraced lieutenant governor, and had a massive war chest. Fairfax and Bristol are part of Northern Virginia. So, no, "democratic socialism" aren't the order of the day.
I'm just not sure how much we can extrapolate from these races to national politics. Ditto a New York City mayor's race that's just beginning to coalesce.
Andrew Yang is a celebrity candidate who nobody heard of before his quixotic run for President. It's true that "defund the police" isn't a popular platform; in its literal form, it's a slogan representing a fringe faction of an amorphous coalition that formed around the notion that it would be great if police would stop murdering unarmed Blacks. Ditto the notion, expressed later in the piece, that it's going to be a major test to see how well a minor candidate endorsed by Alexandria Ocasio Cortez does. AOC is a charismatic woman who shocked the establishment by defeating an entrenched incumbent in a very liberal district; she's hardly a bellwether for the biggest city in the country.
Now, the contrast the WaPo Three draw is perfectly reasonable:
The centrist successes contrast with the sharp rightward turn in the Republican Party, which has largely adopted the rhetoric of former president Donald Trump. Rank-and-file members, at the state and local levels, continue to rail against the nation's institutions, passing censure resolutions against the few leaders who have contradicted Trump's false claims that the election was stolen — a rallying cry that has been widely repeated by GOP candidates across the country.
Sadly, there's a much larger sample to draw on for this one. This would seem to be a dead-end strategy but the short-term incentives in that direction are undeniable.
Regardless, what we're seeing in both parties right now is further evidence that the notion that "the party decides" is outmoded. Sure, monied interests play a role and, especially in Democratic Party presidential races, the Establishment can nudge things toward their favorite candidate. But, ultimately, the primary system means that the most-interested parts of the mass public decide what the party is at any moment.
It's more obvious in the GOP, where the fringe elements Nixon and Reagan courted to build their coalitions gradually took over the party. While popular Establishment figures managed to fight off more radical challengers, mostly because the votes were split among them, for years, Trump easily prevailed in 2016 and most of the Establishment figures have either been ousted in the primaries or cowed into towing the Trumpist line. (Ted Cruz is perhaps the exemplar of this, having visually transformed himself from an Ivy League debate champion into a scruffy-bearded yahoo in hunter's camouflage and a trucker hat.)
The primary system has pushed the Democrats in the other direction, to their benefit. The party leadership is actually more radical than its rank-and-file. Dave Schuler points us to a WSJ column (link currently 403ing for me) that observes,
As more college-educated whites have joined the Democratic Party, it has lurched further left, causing discomfort among the more moderate black, Hispanic, Asian and working-class white Democrats who outnumber them. Unlike these progressive white elites, polling shows that minorities in the main tend to support things like voter-ID laws, school choice, race-blind college admissions and the presence of more police officers in high-crime neighborhoods.

David Shor, a data scientist and Democratic strategist, first voiced these concerns in an interview earlier this year with New York magazine. Democrats have tended to treat racial and ethnic minorities as more progressive by nature, but Mr. Shor said that view was a mistake. "Roughly the same proportion of African-American, Hispanic, and white voters identify as conservative," he said. "What happened in 2020 is that nonwhite conservatives voted for conservatives at higher rates; they started voting more like white conservatives." Mr. Shor cited the left's attacks on law enforcement after the death of George Floyd as an example. "In the summer, following the emergence of 'defund the police,' as a nationally salient issue, support for [Joe] Biden among Hispanic voters declined," he said. "We raised the salience of an ideologically charged issue that millions of nonwhite voters disagreed with us on."
In a separate post, Dave observes,
Is there actually such a thing as a "political establishment" in either party these days? If so I think the rank-and-file of both parties are reacting against their respective establishments. The Democratic leadership is more progressive than the rank-and-file Democrats and Americans, generally, tend to be pragmatic rather than ideological.
I think that's right.
The problem right now is that the Republican Party is currently without either a discernable ideology or much in the way of pragmatic policy initiatives. There's no meaningful way in which Trump was conservative. He was able to mobilize resentments against immigrants, the declining status of working class whites, and the downsides of globalization into a powerful coalition but had very little in the way of a governing agenda.
The Democratic leadership is arguably too "progressive," "woke," and engaged in "faculty lounge" debates that alienate parts of their constituency. But, nationally and in Virginia, they're actually trying to govern and making real headway on their agenda. The progressive wing of the party is understandably frustrated that they're not getting all that their leaders promised them but they're actually getting a surprisingly large (even from the perspective of the early Obama years) chunk of it passed.