The Tea Party Is Dead, As Is The Idea That It Ever Was Anything Other Than A GOP Proxy
The Tea Party is dead, but it was never really alive to begin with.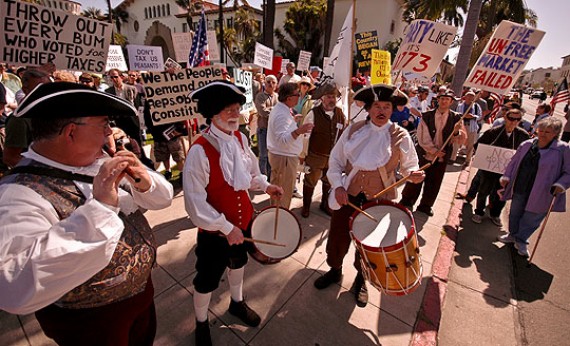 Matt Kibbe, who served as President of FreedomWorks from 2004 and 2015 and was quite often the most visible face of the Tea Party movement during the Obama Administration, laments the demise of the movement he helped found, but he's mistaken about what actually killed it:
The grassroots movement that fought so hard for fiscal sanity in government over the past decade is no more. It was killed off by the very same Washington establishment it sought to overthrow. Its death leaves proponents of limited government with some big questions: What went wrong? And what do we do now?

For me, it's personal. For years, the Tea Party was my life, and I have the the battle scars—and tattoos—to prove it. When I was the President of FreedomWorks, I worked side by side with tens of thousands of citizen activists as a Tea Party organizer, organizing protests and knocking on doors, hoping to topple the Goliath of government. But now the party's over.

I know, you've heard it before. Virtually every Beltway pundit in DC has pronounced the Tea Party dead at one time or another. Republican Senators well past their sell-by dates and Democratic apparatchiks alike have gleefully built a cottage industry on the prediction.

But this time is different. Republicans, now controlling both the legislative and executive branches, jammed through a "CRomnibus" spending bill that strips any last vestiges of spending restraint from the budget process.

Gone are the Tea Party's biggest and most hard-fought policy victory—mandatory caps in domestic and defense spending. The budget deal replaces them with $300 billion in new spending over the next two years, and, in all likelihood, sets a precedent for greater spending in the decade to come.

It's 2009 all over again, with trillion dollar deficits, and red ink as far as the eye—or at least CBO projections—can see. As budget deals go, it's a total fiasco.

(…)

We wanted to turn the dismal politics of concentrated benefits and dispersed costs on its head, by incentivizing politicians to act in the common interest. Our agenda was common sense: We demanded that Washington politicians stop spending our money like it was theirs, and keep out of our health care. But in Washington, common sense is often seen as radical.

And yet it seemed to work. Most Republican politicians, even old bulls like John Boehner and Mitch McConnell, started acting like fiscal conservatives—or at least talking the talk. So it made sense that a social movement based on shared values would get political.

I was very much a part of this decision. In hindsight, however, we should have been more careful. Inertia pulled us toward partisanship, and over time there was growing pressure to support the party, not our principles. Our early victories were some of our best, in part because we were selective in our choices of candidates.

When Sen. Mike Lee (R-Utah) defeated Republican incumbent-for-life Robert Bennett in Utah, it sent shock waves through the Republican establishment. Overnight, Senator Orrin Hatch (R-Utah) rediscovered his constitutional principles, with a clear eye on his upcoming election there. Sen. Rand Paul (R-Ky.), who was actively opposed by Sen. Mitch McConnell (R-Ky.) in his Kentucky senate race, won handily against the GOP establishment's choice.

We were trying to reboot the system, to make our principles viable in a political marketplace that values special favors over fiscal prudence, and power over principles. The Tea Party shook things up, and our most high profile victories were with candidates with a clearly "libertarian-ish" bent.
For obvious reasons, Kibbe is trying to put the best possible face on a movement that he was deeply involved with, but the truth of what happened to that movement, and what it actually was for most of its existence is far different from the high principles that he puts forward in his article. The truth is that the "Tea Party" was largely a fraud from the beginning. Rather than being motivated by opposition to higher taxes, spending, deficits, or the size of government, it was and always had been a movement motivated largely by other, far more partisan considerations. The first, of course, was opposition to Barack Obama and, before and after him, Hillary Clinton. This kind of personality based movement wasn't new on the right, of course, we saw much the same thing during the Clinton Administration, for example. Additionally, the Tea Party has routinely made enemies out of others on the left, moving easily from Nancy Pelosi to Harry Reid, Elizabeth Warren (the person who Trump now mocks as "Pocahontas"), and Chuck Schumer. Presumably, they'll do the same thing to whomever the Democrats nominate in 2020. By contrast, this so-called movement, its leaders, and the politicians that claimed its mantle and received the support of were all silent during the Administration of George W. Bush when government spending and debt was exploding at absurd rates and the nation was fighting wars that it arguably shouldn't have been involved in (and which, in at least one case, it quite clearly should not have been involved in.) Now that the Trump Administration is in power alongside a Republican Congress, they are all silent once again and seem more focused on restricting immigration and advancing conservative positions on social issues such as abortion than they are on fiscal issues.
Kibbe also argues in his article that the movement was co-opted by politicians who started to bend it toward their own purposes. In reality, of course, Republican politicians were heavily involved in the movement from the very beginning and that it was largely a proxy for those politicians and for the Republican Party in general. As early as April 2009, for example, when the movement was still in its supposed infancy, politicians such as Newt Gingrich and others were showing up at rallies and speaking to adoring crowds notwithstanding the fact that many of these same politicians were responsible for much of the out-of-control spending and fiscal irresponsibility that they claimed to oppose. When the banality that was Sarah Palin came along in 2008, the Tea Party crowd rallied around her and remained intensely loyal to her and other seemingly vapid politicians for far longer than one might expect rational people to do. Rather than being "hijacked' by partisan Republican politicians, the movement openly embraced and rallied behind them.
Finally, Kibbe asserts that the Tea Party movement failed because it allowed itself to become distracted by issues such as immigration, as well as social issues such as abortion and opposition to marriage equality. He also states that the movement's "original agenda of freedom and fiscal responsibility has been replaced with a populist nationalism that doesn't particularly prize spending restraint." Again, he seems to be suffering from a selective memory. Anyone who paid attention to the Tea Party rallies even as far back as 2009 can recall that the movement was being motivated by far more than just that "original agenda." Issues such as immigration and the aforementioned social issues were as much as part of the movement as any concern about freedom or fiscal responsibility. In fact, the same politicians that were part of the movement were also leaders when it came to things like opposition to immigration reform and advocates for restrictions on LGBT and abortion rights. As for the populist nationalism that Kibbe notes, that was also a major factor in the Tea Party itself and was apparent in the nature and content of the rallies that took place across in the country in 2009 and thereafter.
This is why I have said that one can draw a direct line from the populism that drove the Tea Party to the populism that led to the rise and success of Donald Trump's campaign. Rather than being a corruption of the Tea Party, Trump represents its apex. That may be an uncomfortable fact for people who were involved in the movement who believed it was something else, but it doesn't make that fact any less true. In the end, the Tea Party was about nothing but blind populist rage and the culture war, and it led to the rise of absurd politicians such as Sarah Palin and Christine O'Donnell and, ultimately Donald Trump itself. Rather than being dead as Kibbe laments, then, the movement achieved its heights when Trump was elected President. The fact that he and many others now have an obvious case of buyer's remorse can't erase history.