The True Cost of Trade Wars
The cost of Trump's trade policies are well beyond the cost of soy beans.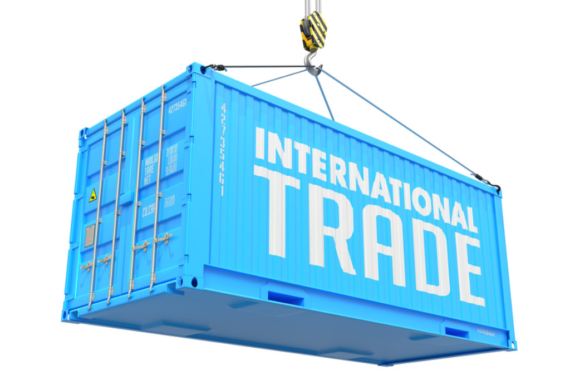 As stupid as it is to create a situation in which the federal government has to subsidize farmers to the tune of billions as a direct result of Trump's tariff policies. Or, as frustrating as it is to hear Trump talk like China pays tariffs directly to the US Treasury rather than admitting (or even understanding) that tariffs are taxes borne by American companies and consumers, these are not the real costs of trade wars.
The real problem with Trump's approach to the global economy, and one that has concerned me since the campaign, is that he clearly does not understand the nature of the post-WWII economic order that was carefully constructed to help maintain system-level peace. And more than the post-WII order, let's note that a globalized, liberal economic regime has been the dominant one since the end of the Cold War.
Now, is this order perfect? No. To paraphrase a quip I saw on Twitter (I can't remember who said it): the current liberal international order may not actually be all that liberal, but it is one hell of lot more liberal than the previous international order.
To follow from that thought: global free trade isn't really "free" but it is a lot freer than previous systems.
Put yet another way: economic nationalism not only leads to less free trade, and harms consumers in the process, it also often leads to military conflict.
And yes, I understand that globalization can harm citizens due to job losses and other factors. I think that national governments need to be better about taking care of their citizens. But I also know that the economy is global whether one likes it or not.
This all leads to a recent Paul Krugman column: Killing the Pax Americana and its apt subtitle, "Trump's trade war is about more than economics."
Trump's critics, while vastly more accurate than he is, also, I think, get a few things wrong, or at least overstate some risks while understating others. On one side, the short-run costs of trade war tend to be overstated. On the other, the long-term consequences of what's happening are bigger than most people seem to realize.

[…]

For trade policy isn't just about economics. It's also about democracy and peace.

The ellipses contains a lot of discussion about the short term consequences of a trade war. But the longer term is really key. (And, I would note, trade policy is Krugman's specific area of expertise).
This is obvious and explicit in Europe, where the origins of the European Union lie in the Coal and Steel Community of the early 1950s — an agreement whose economic benefits, while real, were in a way incidental to its real purpose, preventing any future wars between France and Germany. And membership of the E.U. has always been contingent on democratization — which is, by the way, why the E.U.'s limp reaction to the de facto collapse of democracy in Hungary and, it appears, Poland represents such moral failure.

It's more implicit in the case of the United States. But the historical record is pretty clear: the postwar trading system grew out of the vision of Cordell Hull, FDR's Secretary of State, who saw commercial links between nations as a way to promote peace. That system, with its multilateral agreements and rules to limit unilateral action, was from the beginning a crucial piece of the Pax Americana. It was as integral to the postwar order as the I.M.F., which was supposed to provide a safety net for nations having balance of payments trouble, or for that matter NATO.

And Trump's trade war should correspondingly be seen as part and parcel of his embrace of foreign dictators, lack of respect for our allies, and evident contempt for democracy, at home as well as abroad.
All of this reminds me of a recent visit to my campus of the Counsel-General of Japan from the Atlanta Consulate. He noted in his presentation to students that his government was profoundly disappointed that the US government was considering Japanese steel to be a national security threat and that he hoped that the matter could be settled soon. And he took an otherwise diplomatic approach to Trump (indeed, he played up how well Trump got along with PM Abe).
Krugman continues:
But wait, you say: China is neither an ally nor a democracy, and it is in many ways a bad actor in world trade. Isn't there a reasonable case for confronting China over its economic practices?

Yes, there is — or there would be if the tariffs on Chinese products were an isolated story, or better yet if Trump were assembling an alliance of nations to confront objectionable Chinese policies. But in fact Trump has been waging trade war against almost everyone, although at lower intensity. When you're imposing tariffs on imports of Canadian steel, on the ludicrous pretense that they endanger national security, and are threatening to do the same to German autos, you're not building a strategic coalition to deal with a misbehaving China.
I would add that is why withdrawing from the TPP was a mistake (and it was mistake for HRC to promise to do so as well). Further, while China is not an ally, the reality is that our interconnected economies make actual military confrontation highly unlikely.
Trump talks like what he is doing is making America stronger, but it is a fool's version of strength. Fighting a unilateral trade war with China (while not understanding that China can find other trading partners in the global economy) is patently stupid (as is fighting, or threatening to fight, with long-term allies). Indeed, in fighting with China and creating tension within NAFTA Trump is fighting with three of our largest trading partners. And to what end? Subsidizing soy bean farmers?
Worse, the net effect of these policies, if taken to their logical conclusion is not the strengthening of America, it is the weakening of it.
But where the Europeans are weak, Trump is malign. He's working actively to make the world a more dangerous, less democratic place, with trade war just one manifestation of that drive. And the eventual negative consequences for America and the world will be much bigger than anything we can capture with economic modeling of the effects of tariffs.
So, yes, I understand that neoliberalism is not utopia and that there are winners and losers to every structure. However, Trump is leading the world down a pathway that we know is more prone to conflict and breakdown. History is quite clear on this. This is all the opposite of making American great.