The U.S. Government Wants Lawyers To Come Work For Free!
The U.S. Government is looking for lawyers willing to work for free.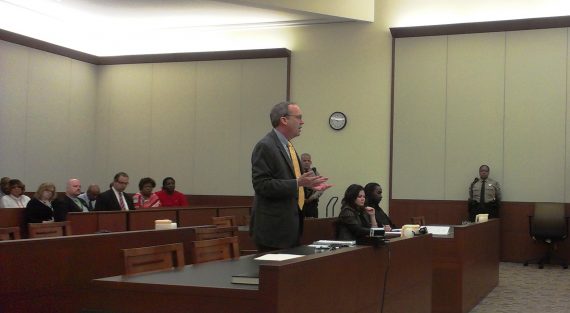 The United States Government is looking for lawyers willing to work for free:
The Justice Department, more specifically the U.S. Attorney's office in Denver, naturally has a far more modest proposal in mind: Let's just make them work for free.

The office, which says it offers an "inclusive, rewarding work environment" for its 74 lawyers, is looking for a "Special Assistant U.S. Attorney" to work in the civil division. The lucky applicant will have a chance to "represent the United States and its agencies and employees in a wide variety" of matters, "representing federal agencies and employees in civil lawsuits, assisting in the office's fraud investigations" and so on.

This is not a desk job. You will write briefs, take depositions and appear in court. You must "be able to negotiate effectively with opposing counsel, and be devoted to justice, excellence and representing the public."

Your reward? Love for the law. Because this is an "uncompensated one-year" job. [Emphasis in original posting] But, if you want to keep working for nothing, "it may be extended without further competition."
The positions are apparently all located in Colorado, so there is that side benefit I suppose, but as The Washington Post's Al Kamen notes at the link, you'll have to figure out how to pay for, well, rent, food, transportation, and pretty much everything else on your own. The job description also mentions occasional travel, but it doesn't say if the expenses associated with this necessary work-related travel will be covered by the "employer." It's also not clear that there are any benefits, such as health care coverage, associated with the job, and it doesn't appear that there is any kind of a stipend for what essentially amounts to an internship in all but name. So, basically, Uncle Sam wants lawyers to come to Colorado, on their own dime, and work for free to help relieve the work load of the U.S. Attorney's Office in Denver, Durango, and Grand Junction.
Why would anyone do this, you might ask. Well, I suppose the opportunity to be able to put the title "Special Assistant U.S. Attorney" on your resume might have some value in the future for someone looking to establish a career. Indeed, if you read through the qualifications for the position it's clear that the Justice Department is targeting recent Law School graduates as potential applicants. Unfortunately for people in such a position, if you've received an offer of employment from a law firm that has been deferred for a period of time and are being paid during that deferment period, which is not an uncommon occurrence among larger firms who hire recent graduates but don't actually begin their period employment for as long as a year afterward, are not eligible to apply for this position. Neither are people who have worked as contract attorneys for other government agencies. So basically, the Justice Department is looking at recruiting unemployed recent Law School grads who don't have any real prospect of a job, don't have any promise of employment in the legal profession, and if they are working are doing so in a field unrelated to the law, a job they will obviously have to quit in order to become a "Special Assistant U.S. Attorney."
The enrollment period opened November 24th and closes on December 12th, so don't waste any time kids! You too can work countless hours on civil litigation for the Federal Government for no money at all while your student loan debt goes unpaid for a year! How can you possibly say no to that!?!