The Virginia GOP's E.W. Jackson Problem
The Virginia GOP's nominee for Lt. Governor could pose a problem for the party.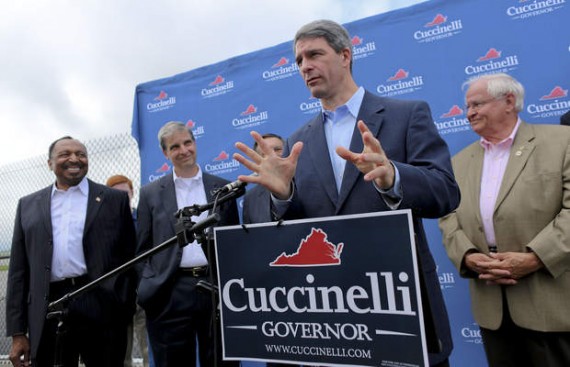 On Saturday, after a day that lasted nearly thirteen hours and a Lt. Governor's race that ended up going to four ballots before finally being decided, the Virginia Republican Party selected Bishop E.W. Jackson, an attorney and religious leader who has become something of a star among the Tea Party crowd in Virginia over the past several years, as their nominee for Lt. Governor. The victory was something of a surprise given the fact that most observers expected either businessman Pete Snyder or Prince William County Board of Supervisors Chairman Corey Stewart to end up being the one on top. Indeed, despite the fact that Jackson had led each of the three previous ballots, it seemed as though the establishment of the party was going to end up rallying behind Snyder rather than going with the untested and controversial Jackson. Thanks in no small part to behind the scenes political machinations between Stewart and Snyder, though, Jackson ended up going over to the top and winning the nomination. Now, many Virginia Republicans are nervous:
A minister who compared gays to pedophiles and Planned Parenthood to the Klu Klux Klan is not the No. 2 candidate Republican Party reformers had in mind for the marquee race of 2013.

Neither did the top of the ticket, Republican gubernatorial nominee Ken Cuccinelli, who has beendownplaying his own socially conservative record in favor of a more mainstream message focused on the economy.

So how in the world did archconservative African-American pastor E. W. Jackson cinch his party's nomination for lieutenant governor of Virginia on Saturday night?

Blame Virginia's quirky political process, a raucous convention speech and a racial undercurrent for vaulting Jackson—an also-ran in the 2012 Republican primary for the U.S. Senate—onto a stepping stone to the top job in one of the closely watched swing states in the country. Blame Cuccinelli, who steered the party away from holding a potentially more competitive primary and toward a convention that ensured his nomination but left the lieutenant governor's slot up to only a few thousand hard-core activists to fill.

Jackson's unexpected entrance into the Virginia statewide elections this year is one of the starkest examples of the challenges facing the GOP as it tries to broaden its appeal on the way to 2016.

"We learned a lot of lessons in 2012 that we're trying to point out to people, but not all the people are going to listen," said Ari Fleischer, a former White House press secretary who helped lead the national party's sweeping examination of the 2012 election and produce a 97-page report of recommendations.

A more informal but similar soul-searching is taking place in Virginia, where the Republican establishment is worried the party will be better known for requiring women seeking abortions to get ultrasounds than for passing a sweeping transportation funding deal. A small group of Republican donors, business leaders, and former elected officials has met in Richmond twice since April about the tea-party's movement's impact on the GOP. According to a participant in both meetings, the group is concerned that Cuccinelli is too conservative to win a general election in state that voted twice for President Obama—and that was before Jackson joined the ticket.

After Jackson was nominated, Fleischer posted on Twitter, "Jackson's anti-gay slurs are indefensible." Jackson has called gay people "perverted and "very sick people." He was less overt in his convention speech, though he referred to protecting traditional families.

"If you're going to grow the party, it's helpful to nominate candidates who are deeply conservative but inclusive of other people, as opposed to condemnatory," Fleischer said. "To denounce people in such a fashion is not how you grow the party."

Jackson's rhetoric puts Cuccinelli—whose own opposition to same-sex marriage and abortion has earned him a loyal conservative base of support—in a tough spot.  He and the Republican Party have a strong motivation in keeping the politically inexperienced Jackson afloat: With control of the state Senate evenly split between the two parties, the lieutenant governor breaks tie votes.

Forced into an awkward arranged marriage, Cuccinelli's top advisers have urged Jackson to put aside his social crusades and reinforce their campaign's message on job growth. But until the campaign is comfortable that Jackson is on board with the plan, Cuccinelli is expected to keep his distance from Jackson after completing a two-day statewide tour with him on Tuesday.

"We are not going to be defending our running mates' statements, now or in the future," Cuccinelli said in a written statement on Monday that sought to strike a balance between asserting his independence and not throwing Jackson overboard. "The people of Virginia need to get comfortable with each candidate individually, and that's what this process is all about."

Not if the Democratic Party has its way. With gubernatorial nominee Terry McAuliffe facing a Republican-friendly electorate in November and struggling to explain his less successful business ventures, Democrats immediately seized on the nomination of the controversial minister from Chesapeake.

The Virginia Democratic Party circulated a side-by-side comparison of inflammatory quotes by Cuccinelli and Jackson on homosexuality, abortion, and President Obama. Democratic operatives also circulated a video of Cuccinelli calling Jackson a "powerful, powerful fighter for first principles" that is likely to become fodder for television attack ads. One liberal blog posted under the headline, "This is the lunatic Virginia tea-party Republicans just nominated for lieutenant governor."
Other Virginia Republicans agree:
Asked if Jackson was trouble, another senior Virginia Republican responded, "Oh. My. God. Yes." The danger, the Republican said, is that Jackson will bring Democrats to the polls who might otherwise stay home. "You just don't want one candidate to rile up the base of the other side. That's what you're trying to avoid."
And, Jennifer Rubin thinks that Virginia Republicans may have blown it:
The Virginia Republican Party was already taking a risk, dumping a gubernatorial primary election in favor of a convention, in order to assure the ideologically emphatic Attorney General Ken Cuccinelli II the nomination. Then on Saturday, a small turnout of party die-hards picked a nominee for lieutenant governor who is nothing short of outrageous.

African American lawyer-turned preacher E.W. Jackson has called gays "perverted" and "very sick people psychologically, mentally and emotionally." He has said the president has "Muslim sensibilities." He has compared Planned Parenthoodto the KKK. He previously got less than 5 percent of the vote in the GOP primary for U.S. Senate in 2012. He is by any definition an extremist, someone who could not muster even minimal support from GOP primary voters.

And this is the No.2 man on the ticket, with whom Cuccinelli is now campaigning on a 10-city tour of the state. You can be sure that his opponent will be taking footage to be used in ads linking Cuccinelli with Jackson's language and view.

(…)

The danger is that average Northern Virginian voter will look at this pair, conclude Cuccinelli shares Jackson's views and vote against them both. If Cuccinelli has any hope of keeping his losses down in Northern Virginia, he'll need to reject Jackson's views (e.g. No I don't believe gays are perverts. . .) and quit campaigning with him as soon as feasible.

Some Republicans in the state are already nervous. One state GOP insider e-mailed me, almost despondent. "This Jackson nomination illustrates something that a lot of commentators don't appreciate — this assumption on the part of some on the hard right that blacks will automatically respond to a black Republican, even one whose views have no intrinsic appeal to blacks." He continued, "But what a sad, corrosive day for the party, from the specter of 8000 people choosing a statewide candidate, to Cuccineto getlli not having the basic sense to block it. And what a hideous position it puts so many of us in."

It is not however clear that Cuccinelli could have blocked Jackson, who brought his own grassroots supporters to the convention. However, it was Cuccinelli backers who insisted on a convention in the first place to give Cuccinelli a lock on the conservative base's nod. That decision has now come back to bite him in the form of Jackson.
There are actually two dangers that face the Virginia GOP in the selection of Jackson as the No. 2 person on the ticket.
First, as Rubin and others have noted, there's the possibility that Jackson's extremism on social issues in the past will end up poisoning the ticket as a whole. Cuccinelli is already entering this race with a long record as a staunch social conservative, arguably stronger on that issue than Bob McDonnell brought to the table four years ago. In the month or so since he has started actively campaigning and advertising on television, the clear strategy of the Cuccinelli campaign has been to try to redefine their candidate in an manner that de-emphasizes his views on social issues and emphasizes economic issues. They've also worked to try to deal with the issues that Cuccinelli's views on social issues may raise with suburban female voters with commercials featuring Cuccinelli's wife. Nominating Jackson threatens to undo all of that. If the campaign ends up being about Jackson being attacked for his past statements about gay rights and other social issues, then it is likely to remind voters of Cuccinelli's own views on social issues, thus making it harder for him to redefine himself for the campaign and raising huge potential problems in areas like voter-rich Northern Virginia.
Even if Cuccinelli manages to avoid Jackson being an albatross on his own campaign, his presence on the ticket could end up making it hard for a Governor Cuccinelli to get his agenda through the state legislature. In the eleven elections that have taken place since the beginning of what most Virginia political observers recognize as the "modern era" of statewide politics, meaning the era when the Republican Party started becoming competitive at the statewide level after a century long period in which the Democratic Party had a near monopoly, voters have chosen a Governor and Lt. Governor from different parties six times. The most recent time that happened was in 2005 when current Lt. Governor Bill Bolling was elected in the same year that Tim Kaine was elected Governor. The Virginia Lt. Governor's primary power is to break ties in the State Senate and, currently, the State Senate is equally divided between Republicans and Democrats. More than once, Bolling's tie breaking vote has been needed to push through a piece of legislation and, he's been able to use that fact to have real influence on the direction of legislation in the Senate. This tie will stay in effect at least until the next legislature meets in 2016 after the 2015 mid-term elections, meaning that whoever wins the Lt. Governor's office in November will be casting tie votes quite a lot over the next two years, if not more. If voters sour on Jackson but are still willing to give Cuccinelli a chance, then Virginia voters may go for the Democratic candidate (who will be picked in a primary next month.)
Of course, as Rubin notes, Virginia Republicans have nobody but themselves to blame for this. The party's Central Committee chose a convention in part to give Cuccinelli an advantage over Lt. Governor Bolling, who subsequently dropped out of the race. If they had gone with a primary, it's quite unlikely that Jackson would have won the nomination, especially given the fact that he got less than five percent of the vote when he ran for the GOP nomination for Senate in 2012. Indeed given how badly last weekend's convention went, many are calling for an end to the practice. If this blows up in their face, then, Virginia Republicans will have nobody to blame but themselves.