The Weirdest Sports Season Ever?
COVID has given us a surreal calendar.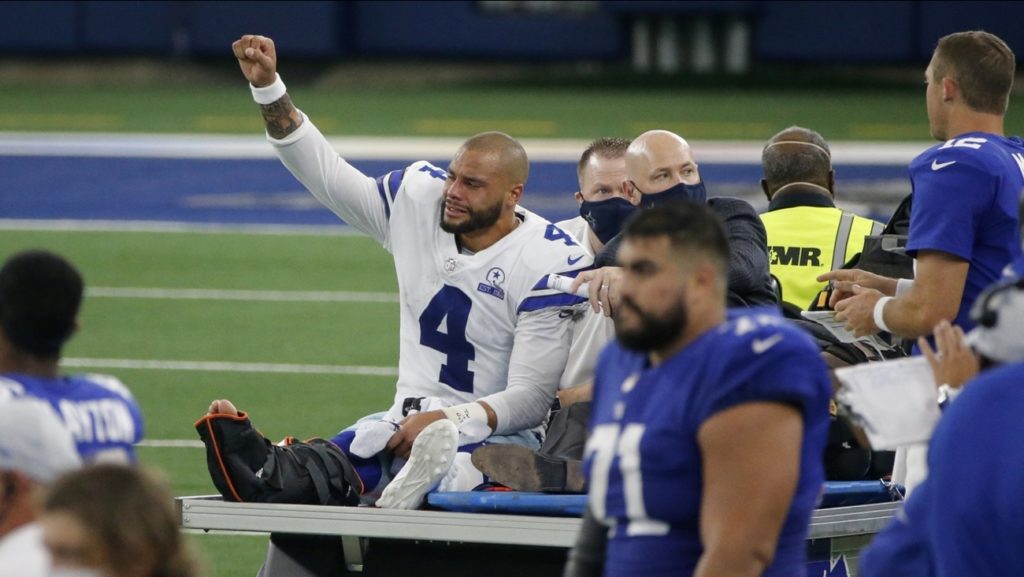 Yesterday was something of a surreal day in professional sports, as the novel coronavirus has upended the traditional calendar. The National Football League is in full swing, albeit with the most fluid schedule in its history. And the French Open, usually held in late May or early June, and the NBA Finals, usually held in July, both culminated with historic championships.
The day was very much marred for me by the injury of Dak Prescott, the quarterback of the Dallas Cowboys—the team I've rooted for by far the longest—in the midst of what promised to be a record-setting season. He suffered a compound fracture and dislocation of his ankle on a routine tackle and is out for the remainder of the season. Backup quarterback Andy Dalton managed to lead the team to victory and at least a temporary spot atop the pitiful NFC East but dreams of a return to the Super Bowl after a 25-year absence, already unlikely given a woeful defense, are all but dashed.
The college football season is also rather bizarre but slowly coming to life despite all reasonable indications being that it couldn't possibly be played. Defending champion LSU has already lost two games in three contests. Granted that Heisman Trophy-winning quarterback Joe Burrow and much of his supporting cast are now playing in the NFL, that's a historically bad start for a defending champion and, indeed, the worst LSU has started in decades. But, of course, it's a very unusual season in which there was no spring practice, no padding of the early schedule with patsies while working the kinks out. Topping it off, LSU had to play what was scheduled to be a home game on the road on short notice because of a hurricane. Meanwhile, Ohio State is topping some power rankings despite being two weeks away from playing a game.
During yesterday's NFL action, they were advertising the Master's golf tournament, arguably the biggest event on that sport's calendar. It'll culminate on November 15 this year. Ordinarily, it's played the second Sunday in April. One wonders where they'll find azaleas that bloom in cold weather.
Meanwhile, despite an incredibly late start and a very truncated season, the Major League Baseball league championship series have kicked off pretty much on time. The Atlanta Braves, who I now follow through the corner of my eye rather than every pitch as I once did, are back for the first time in nineteen years. They face an uphill climb against the LA Dodgers.
I'll write about the NBA Finals and French Open separately, as they're special in their own right. But, between the rest of the sports calendar and the political season, they're almost swallowed up.