There Was A Shooting In Arizona, Sarah Palin Is Not The Story
Over the past two days, Sarah Palin has become the center of the media firestorm over the tragic shootings in Arizona, she doesn't belong there.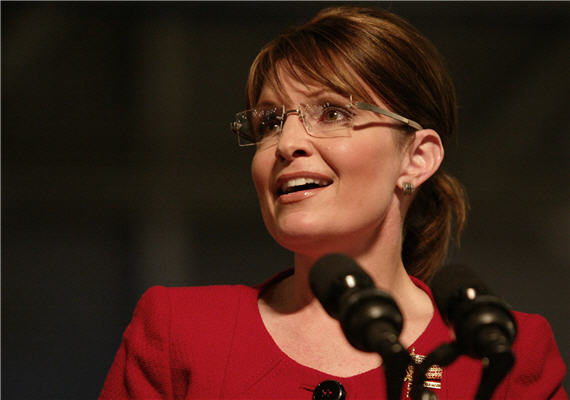 Jonathan Martin takes to Politico this morning to argue that Saturday's shooting in Arizona somehow represents a turning point for Sarah Palin:
With a long list of enemies, a taste for incendiary rhetoric and responsibility for a campaign website graphic that placed gunsight logos on a map of targeted congressional districts, it didn't take long for Sarah Palin to get pulled into the orbit of Saturday's massacre in Tucson.

So far, the former Alaska governor has said little, only posting a brief message on her Facebook page Saturday offering condolences to those affected by the shooting. But the rush on the left to affix some of the blame on her for the assassination attempt on Rep. Gabrielle Giffords has suddenly turned the tragedy into a defining moment in Palin's meteoric political career.

Whether she defends, explains or even responds at all to the intense criticism of her brand of confrontational politics could well determine her trajectory on the national scene—and it's likely to reveal the scope of her ambitions as well.

Palin didn't respond to an email Sunday afternoon. Her advisers are furious that she's being linked to the tragedy, but recognize the delicacy of the situation and are trying to assess how best to halt it from spiraling further without making it any worse.

Part of Palin's quandary is rooted in the unique spot she occupies. Since her resignation from the governorship in the summer of 2009, Palin has played a role that is part talk-show personality and part political figure. It's a positioning that has served her well, creating personal wealth and celebrity appeal while energizing her core supporters.

But now, for the first time, Palin is being forced to choose between the public and private spheres she operates in. If she has any intentions of running for the presidency, she must begin to appeal to the country's broad political center. And that task just got harder in the wake of Tucson.
Let's be honest about it. The only reason that Palin may pay a political price because of the shooting in Arizona is because the media will have decided that she is the focus of the story, not because of anything she did. There's no evidence that Jared Lee Loughner was any kind of a Palin follower or fan; in fact, his politics over the past several years seem to have been a bizarre mixture of far left, far right, and conspiracy theories. There's also anecdotal evidence that he is, at least in some sense, mentally disturbed.Finally, it's becoming clear that this individual had some kind of obsession with Giffords long before anyone outside of Alaska ever heard the name Sarah Palin.  How, exactly, Sarah Palin is responsible for the actions of such a person is beyond me, and I'm a guy who has very low regard for Palin to begin with.
There's been much talk, of course, about the soon-to-be-infamous "target" map that Palin's PAC used last year as part of its campaign against a group of Congressmen who had voted for the health care reform bill, but even there the argument comes up short. As James Joyner noted yesterday, the idea of the "target" map is one that didn't originate with SarahPAC, and American politics has been filled with so-called "violent" rhetoric for two centuries now. The very word "campaign", for example, has military origins:
A series of military operations undertaken to achieve a large-scale objective during a war
Political campaigns are always full of the idea that they're involved in a kind of combat with the opposition, and acting as if Sarah Palin was the first person to come up with lines like "Don't Retreat, Reload" is simply to ignore history and political reality.
That isn't to say that Palin is without blame, of course. Her rhetoric has gone over the top on occasion, such as during the 2008 campaign when she spent a month trying to convince America that Barack Obama was a socialist who palled around with terrorists, or last summer when she threw gasoline on the simmering fire of the debate over the so-called "Ground Zero" mosque. More recently, her spokesperson's assertion that the "target" map was really just surveyors symbols reveals a level of political naivete that makes one wonder if she and the people around her have any idea what they're doing.  Nonetheless, Sarah Palin is not responsible for what happened in Tuscon on Saturday, she neither pulled the trigger nor said anything that comes even close to incitement to violence. This was the action of deranged mind, and as much as I dislike Sarah Palin and hope she never attains political power again, I am not going to hold her responsible for what Jared Loughner did. Neither should the rest of America.