There's No Place In Politics For Herman Cain's Anti-Muslim Bigotry
Why isn't the GOP calling out religious bigotry from one of its candidates?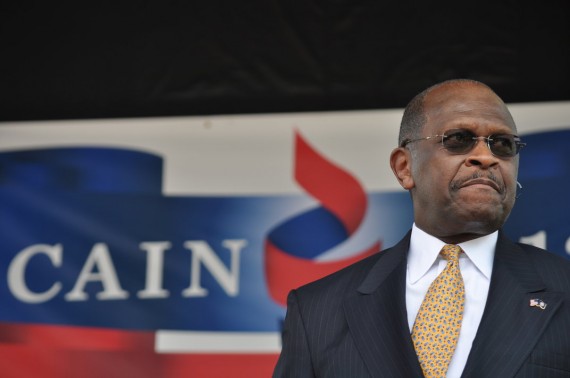 Conor Friedersdorf says what I'm betting none of Herman Cain's opponents will during tonight's debate:
Presidential candidate Herman Cain has reiterated his position that any Muslim serving in his administration would be forced to take a loyalty test with this statement: "That's not discrimination. It's called trying to protect the American people. This nation is under attack constantly by people who want to kill all of us, so I'm going to take extra precaution."

That's chilling logic. The last time the United States government decided that an "extra precaution" made it OK to presume the disloyalty of citizens, we imprisoned more than 100,000 completely innocent Japanese Americans.

Even if it weren't bigoted and imprudent, however, Cain's logic should be disqualifying for its sheer idiocy. Think about it. His plan for deciding whether someone is a sleeper jihadist or worthy of being trusted in the White House is essentially to ask them, "Do you swear you're loyal to the United States?" This would happen in a "one-on-one conversation," where the former CEO would do what, exactly? Apparently being in a room alone with a man is enough for Cain to tell his intentions, because no one has ever lied in the history of mankind, or been misjudged when telling the truth.

(…)

Perhaps Cain grasps the glaring flaws in his plan, and is merely pretending loyalty tests are something he'd implement. In that case, he's shown himself willing to exploit anxiety about an ethnic minority for the sake of populist appeal. The next president may well preside over a terrorist attack by Islamist extremists, so the last thing we need is an Oval Office occupant prepared to target innocent Muslims with discriminatory policies should doing so happen to poll well.
Quite honestly, there isn't much difference between Cain's apparent presumption that Muslim-Americans must prove their loyalty or otherwise be presumed disloyal and the views of people like Pamela Geller and Robert Spencer who have made themselves known as leaders of the "anti-Islamization" movement, and who have allied themselves with far-right Dutch politician Geert Wilders, who's been known to say things like this:
Wilders is best known for his criticism of Islam, summing up his views by saying, "I don't hate Muslims, I hate Islam".[61] Although identifying Islamic extremists as a small 5-15% minority of Muslims,[77] he argues that "there is no such thing as 'moderate Islam'" and that the "Koran also states that Muslims who believe in only part of the Koran are in fact apostates".[58] He suggests that Muslims should "tear out half of the Koran if they wished to stay in the Netherlands" because it contains 'terrible things' and that Muhammad would "… in these days be hunted down as a terrorist".[81]

On 8 August 2007, Wilders opined in an open letter[82] to the Dutch newspaper De Volkskrant that the Koran, which he called a "fascist book", should be outlawed in the Netherlands, like Adolf Hitler's Mein Kampf.[83] He has stated that "The book incites hatred and killing and therefore has no place in our legal order".[84] He has also referred to Mohammed as "the devil".[23] In September 2009, he made a public speech advocating a €1000 a year ($1500) excise tax on wearing headscarves.[85]

He believes that all Muslim immigration to the Netherlands should be halted and all settled immigrants should be paid to leave.[61] Referring to the increased population of Muslims in the Netherlands, he has said:

Take a walk down the street and see where this is going. You no longer feel like you are living in your own country. There is a battle going on and we have to defend ourselves. Before you know it there will be more mosques than churches![86]
To be honest, there are many on the right here in the United States who feel the same way, and Cain is reflecting their prejudice with his implicit assertion that an American citizen who happens to be Muslim must be assumed to be disloyal.  If a candidate for President were to say that he believed that American Catholics should be required to prove that their loyalty is to the Constitution rather than Benedict XVI, or that American Jews should be required to prove that they are loyal to America rather than Israel, they would be dismissed out of hand and placed in the same category as David Duke. Because Cain is talking about Muslims, though, he gets a free pass on the right to espouse an idea that it is both bigoted and plainly unconstitutional. Why supposedly serious people are taking him seriously rather than demanding that he retract his previous position on this issue is beyond me, but it isn't surprising.