This is What Support for Authoritarianism Looks Like
Rich Lowry puts preferred outcomes over constitutional process.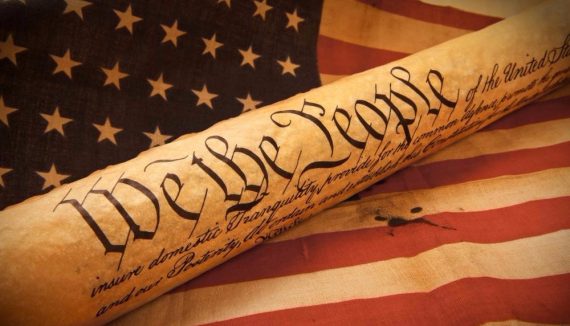 I try not to be an alarmist about the dramatic politics of the day. I am, however, increasingly concerned at the degree to which many politicians, and their supporters, are valuing short-term policy gain over protecting the foundations of our constitutional system.*
The easiest example of this is the way the Mitch McConnell forestalled action on Obama's final SCOTUS nominee, Merrick Garland. In that case it was an action that was arguably within the confines of the rules, but that clearly violated long-standing norms (and, I would argue, violated the spirit of separated powers with checks and balances: divided government should have produced a compromise, not one side winning outright).
The notion that rules and norms should be scuttled if my side can get what it wants is the road to authoritarianism. It is the logic of middle and upper class actors across Latin America in the 1960s and 1970s when they championed military regimes because those regimes promised stability and order for the market to function (see, e.g., Brazil in the 1960s and Chile in the 1970s). It is the logic that gave power to people like Hugo Chávez and other in the region who subverted existing constitutional orders for short-term gain.
And it is the logic that Rich Lowry displays below from an interview with Vox:
A couple of things. We ran our "Against Trump" issue in December 2015 prior to the Iowa caucuses. We desperately wanted to defeat him. We thought there were 16 better alternatives. But fast-forward to today, he's now the president, and we've seen how he's governed and I've been surprised in two ways.

I've been surprised how on some really important matters of substance to conservatives of long-standing, he's been a rock, like on pro-life stuff, on conscience rights, on judges. That was one of the deep concerns we had about him but he's basically delivered.

My other surprise is I thought he would attempt to tone it down in terms of his personal conduct once he took office, but he absolutely hasn't. The office has made no impression on him whatsoever. The huge downside is that he doesn't respect the separation of powers in our government, he doesn't think constitutionally, and says and does things no president should do or say. And I and my colleagues call him out on that.

But at the end of the day, we're asked to either favor Trump or root for Elizabeth Warren or Bernie Sanders or Joe Biden or Mayor Pete, who oppose us on basically everything. So it's a pretty simple calculation.
Emphasis mine–and what a sentence to emphasize! In these paragraphs Lowry is stating that since Trump is achieving some of Lowry's policy goals then the fact that Trump "doesn't respect separation of powers," "doesn't think constitutionally," and "says and does things no president should do or say" is more or less ok (or, at least, he gets a pass in the main). And, since Lowry and his colleagues "call him out" it is all fine. I won't even get into how pathetic and ineffectual said "call[ing] out" is.
It is distressing to have someone who has a place of prominence in the conservative intellectual/news elite space actively stating that ignoring basic constitutional structure is okay, since it gets judges who will accomplish things that Lowry, and other conservatives, like.
I would note, too, that what Lowry extols here is the least representative aspects of our government, i.e., judges. Lowry is happy that a president who could not win the popular vote is making appointments to bench, who in turn are confirmed by the Senate (which is not representative of the population as a whole) to the least accountable branch of the government (which, by the way, serves for life).
This is especially concerning when such a situation can set up a judiciary that will kowtow to the executive.
Over-concentration of power in the executive is the key pathology of presidentialism. In Latin America this has often meant the president being able to ignore a weak judiciary. In the US is could be furthered by a subservient judiciary siding with the president against the legislature (or simply endorsing increased executive power). This is especially concerning given the basic inability of the Congress to legislate.
I know, by the way, that many will roll their eyes at the notion that Lowry is an intellectual. But, regardless of one's assessment of his skill set, the reality is: he is the editor of National Review and has influence over some conservatives, especially the more elite/educated types. People like Lowry give upper and middle class conservatives intellectual cover to tell themselves that Trump's sins are outweighed by what he produces. That kind of thinking is how we get further erosion of democracy and a few steps further down the path to authoritarian governance.
I know that process is not everything. But when constitutional processes are denigrated for the expediency of short term gain, especially when it is an egregious as it has been in the Trump administration, the system itself could start to breakdown.
—
*As readers know, I have critiques of our constitutional system, and want significant reform. But wanting reform, or even pursuing it, is within the confines of the system. Actively subverting (or supporting its subversion) it is something else entirely.