TIME 'Crying Girl' Cover's Truthiness
The crying Honduran girl who has become a symbol of a brutal policy actually is not one of its victims.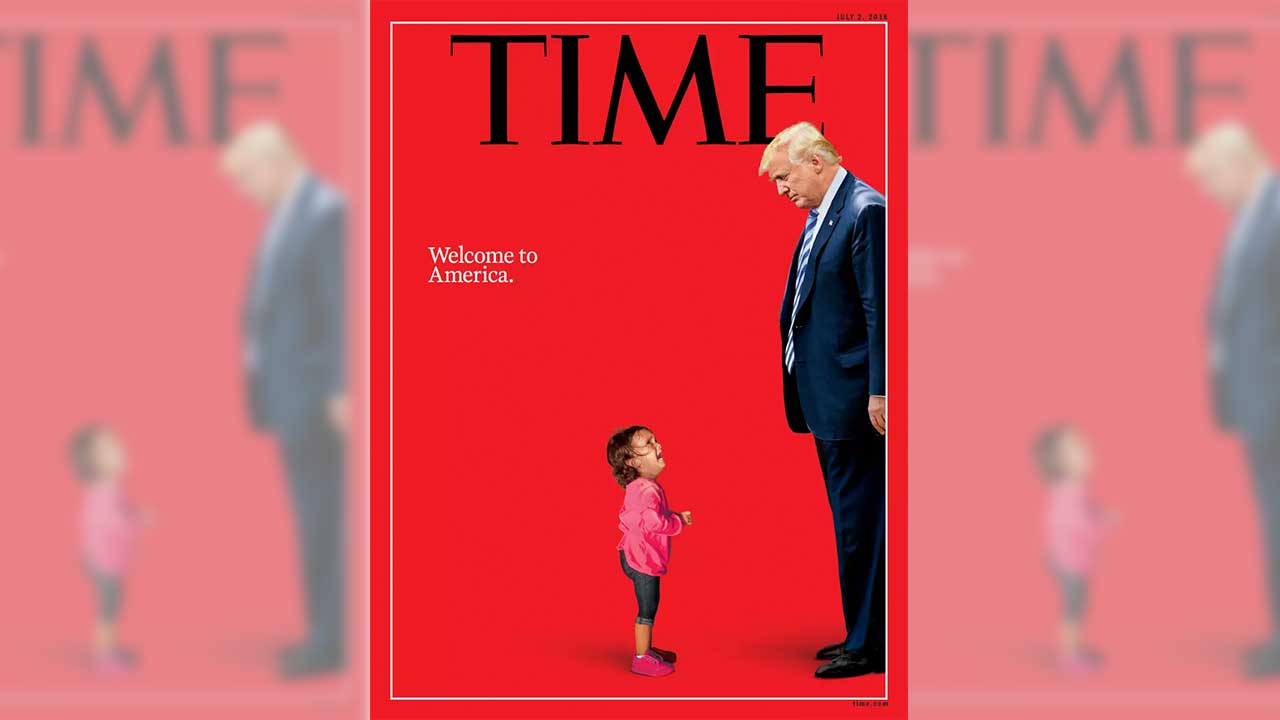 A lot of Republicans in my social media feeds, particularly on Facebook, are chortling over a rather epic blooper on the above TIME cover.
WaPo ("Time magazine's major mistake on the crying-girl cover"):
There are examples of children separated from parents who immigrated illegally playing out nationwide. And well-meaning people across the political spectrum have taken a stand and forced change.

Unfortunately, they made their most iconic image something that wasn't a family being separated — and ultimately undermines their cause.

The photo of a nearly 2-year-old Honduran girl crying as her mother is being patted down quickly went viral. It has also been used for a Facebook fundraiser to raise more than $18 million to help reunite families who have been separated. And the whole thing culminated in its placement in a photo illustration on the cover of Time magazine. The image features the girl against a red background, with President Trump towering over her and the words "Welcome to America."

The implication was clear: This was a girl who, like 2,500 other children, was being separated from her mother. Time and many others made a decision to suggest that this was an example of Trump uprooting our American ideals.

But that's not what it was. As The Washington Post's Samantha Schmidt and Kristine Phillips report, the girl's father says the child and her mother were never separated. U.S. Customs and Border Protection confirmed it, as did the Honduran deputy foreign minister.
That's rather embarrassing. It's one thing for thousands of people to retweet a photo without checking to be sure that it's legit. [Or, as it turns down, a blogger doing this in his spare time; we used the photo here at OTB to illustrate a post on the topic.] But you'd expect better of a major news magazine. But, shockingly, TIME's initial stance was to double down:
Time is standing by its cover. Editor-in-chief Edward Felsenthal says in a statement: "The June 12 photograph of the 2-year-old Honduran girl became the most visible symbol of the ongoing immigration debate in America for a reason: Under the policy enforced by the administration, prior to its reversal this week, those who crossed the border illegally were criminally prosecuted, which in turn resulted in the separation of children and parents. Our cover and our reporting capture the stakes of this moment."
No, goddammit, it doesn't. It captures something else entirely.
The image is a sad one, but it is of a rather standard occurrence at the border: A mother and her daughter attempted to immigrate illegally and were apprehended. The mother, in fact, had tried this before and was deported in 2013. The photo says virtually nothing about Trump's now-aborted policy. In fact, it's an example of how not all young children were separated from their parents.
As Aaron Blake, who wrote the above-linked WaPo report, observes,
Opponents of Trump's policy will decry all of this fact-checking of the photo as hand-wringing. They'll point to Trump's and Sarah Huckabee Sanders's tweets and say all of this is a meaningless distraction from an awful policy. The tragic scenes still exist — probably some of which look a lot like one in that viral photo — and we still have very little idea how or when these thousands of children are going to be reunited with their parents after Trump's executive order reversing the policy.

[…]

But forcing action on this policy requires care and credibility. It requires convincing skeptics that you're not overselling the problem by using misleading information and images.

The use of this photo damaged that entire effort — no matter how pristine the motives were.
Quite right. Granting that Trump ultimately reversed the policy, people on my Facebook feed now think the entire story is "fake news" because of this one blooper.
Eventually, TIME issued a rather tepid correction:
"The original version of this story misstated what happened to the girl in the photo after she [was] taken from the scene," said the correction, which was added to the article shortly after it was published online on Tuesday. "The girl was not carried away screaming by U.S. Border Patrol agents; her mother picked her up and the two were taken away together."

The photographer, John Moore of Getty Images, had noticed the mistake and contacted Time to make the correction, the magazine said.
But millions of people saw the cover; dozens will see the correction.
In the October 2005 pilot episode of Comedy Central's "Colbert Report," Stephen Colbert coined the term truthiness to describe "the belief or assertion that a particular statement is true based on the intuition or perceptions of some individual or individuals, without regard to evidence, logic, intellectual examination, or facts." While originally satirizing the way conservative news outlets present information, a 2012 study of the phenomenon found that it was real:
In four different experiments they discovered that people believe claims are true, regardless of whether they actually are true, when a decorative photograph appears alongside the claim. The work is published online in the Springer journal, Psychonomic Bulletin & Review.

"We wanted to examine how the kinds of photos people see every day—the ones that decorate newspaper or TV headlines, for example—might produce "truthiness," said lead investigator Eryn J. Newman of Victoria University of Wellington, New Zealand. "We were really surprised by what we found."

In a series of four experiments in both New Zealand and Canada, Newman and colleagues showed people a series of claims such as, "The liquid metal inside a thermometer is magnesium" and asked them to agree or disagree that each claim was true. In some cases, the claim appeared with a decorative photograph that didn't reveal if the claim was actually true—such as a thermometer. Other claims appeared alone. When a decorative photograph appeared with the claim, people were more likely to agree that the claim was true, regardless of whether it was actually true.

Across all the experiments, the findings fit with the idea that photos might help people conjure up images and ideas about the claim more easily than if the claim appeared by itself. "We know that when it's easy for people to bring information to mind, it 'feels' right," said Newman.

The research has important implications for situations in which people encounter decorative photos, such as in the media or in education. "Decorative photos grab people's attention," Newman said. "Our research suggests that these photos might have unintended consequences, leading people to accept information because of their feelings rather than the facts."
Of course, truthiness works both ways. In Colbert's original premise, it was about people believing things because they feel them to be true, facts be damned. The idea that some massive number of dangerous criminals are flooding our streets by posing as refugees is an example of that. Here, though, we have the opposite phenomenon: We have a fact that's been proven untrue used as an example of a situation that was. That this particular girl was not actually a refugee child separated from her mother by scary US government agents doesn't negate the fact that some 2500 others were.
Alas, however, TIME's printing of news too good to check will make many believe that the whole thing was a cocked-up story by the liberal media.