Todd Akin Staying In MIssouri Senate Race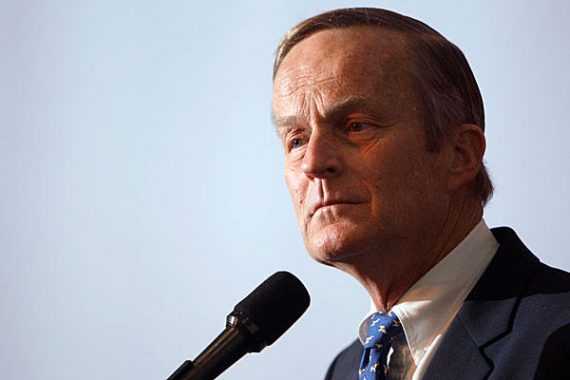 As I type this post, there are less than 30 minutes left before the final deadline for Congressman Todd Akin to drop out of the Missouri Senate race passes, but Akin has already said he's staying in the race:
Sept. 25 (Bloomberg) — Missouri Republican Todd Akin is moving forward with his go-it-alone U.S. Senate bid, which got a little less lonely when former Republican presidential candidate Newt Gingrich raised money for him in suburban St. Louis.

Akin has shown no signs that he'll give in to Republican leaders' urging that he abandon efforts to unseat Senator Claire McCaskill, a first-term Democrat. Today is the last day he could get a court order to withdraw.

Instead, Akin said yesterday at a campaign event with Gingrich that he anticipates national Republican groups will resume their support of his candidacy in the days before the election.

"I think the money's going to be coming," Akin said, adding that the funds he needs to compete with McCaskill "can come from a lot of different source

(…)

Akin is "seriously kidding himself" if he thinks the groups will reverse course, said Jennifer Duffy, who tracks Senate races for the nonpartisan Cook Political Report. Opening national coffers to Akin would make other Republican candidates vulnerable to Democratic attempts to tie them to Akin's remarks, Duffy said.

"It's bigger than Akin," she said. "They can't go rescue Akin at the expense of other candidates." Duffy said McCaskill may be waiting until after today's deadline to begin her sharpest attacks against Akin.
Notwithstanding the odds and the controversy, one prominent conservative PAC has said that they may be sending money to Akin:
ST. LOUIS — Sen. Jim DeMint's political action committee is torn over whether it should put its big bucks behind a risky bet: Todd Akin's Senate candidacy against Sen. Claire McCaskill.

With Akin declaring on Tuesday that he's staying in the race, the DeMint's PAC is polling its donors to ask if they should dump precious resources behind a conservative congressman who has been abandoned by much of his party. And DeMint officials are making their pitch in terms favorable to Akin, calling him a "true conservative who is more interested in joining the fight than the club" and whose election could determine the balance of power in the Senate.

In a memo to donors Tuesday morning, Matt Hoskins, executive director of the Senate Conservatives Fund, said "circumstances have changed" since the uproar immediately following Akin's damaging remarks about rape. Akin is staying in the race, and Hoskins says it's still "winnable."

"So this brings us to the question of what SCF should do and we want to know what you think," Hoskins said. "Knowing that Todd Akin will face Claire McCaskill in November and the race could decide control of the Senate, should the Senate Conservatives Fund endorse Akin and help him raise the support he needs to win?"
This strikes me as the beginning of a rationale for SCF to give Akin money, but I still don't think we'll see national Republicans getting behind him because they've got far too much to lose if they do.
As far as the race goes itself, McCaskill has been running generally positive ads to date but the word is that, now that the deadline had passed, she's about to beginning running a series of negative ads against Akin. No doubt, his comments about rape will be a prominent part of that ad campaign.