Tom Coburn Donates Money To Joe Manchin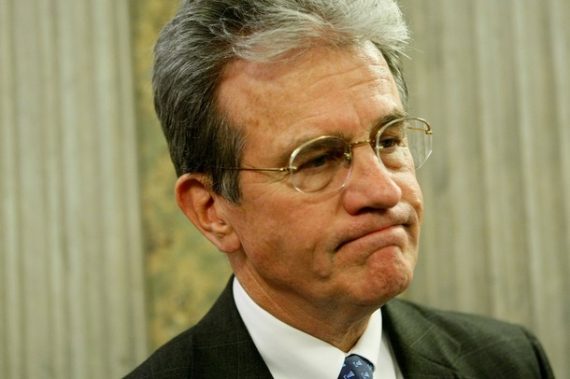 You don't often see a sitting Republican donate to the re-election campaign of a sitting Democrat, but that's what Tom Coburn has done:
Sen. Tom Coburn (R-Okla.) says he supports Democratic Sen. Joe Manchin's re-election because he believes Manchin is not beholden to short-sighted political interests.

Coburn recently gave $250 to Manchin's re-election campaign.

"I think he votes thinking about the long-term interests of the country. We don't agree on everything but he's a good guy," Coburn told The Hill.

A new fundraising report filed with the Federal Election Commission showed that Coburn donated to Manchin, who faces re-election in November, in late June.
Manchin, who was elected with 53 percent of the vote, is expected to soundly defeat Republican challenger John Raese.

Coburn's support is an indication that Manchin could sign on to a comprehensive deficit-reduction package at the end of this year or in 2013

Coburn has been at the center of bipartisan talks with Sens. Mark Warner (D-Va.), Dick Durbin (D-Ill.), Kent. Conrad (D-N.D.), Mike Crapo (R-Idaho) and Saxby Chambliss (R-Ga.) over a package to cut spending and raise taxes.

Manchin has said he wants to pass a major deficit-slashing bill at the end of the year, avoiding questions about whether he would vote to extend all of the Bush tax cuts or only those for families earning below $250,000.

"I'm totally for the Bowles-Simpson [plan] and will continue to work for Bowles-Simpson," he told The Hill last month. "We need to revamp the system and I think Bowles-Simpson is the pragmatic way to do it."
Coburn's move was a deliberate one, only donations above $250 are required to be broken down individually on FEC reports. So, he made the donation knowing and likely intending that it become public knowledge. What it means for the future of bipartisanship in the Senate remains unclear.