Trump Continues His Obsequious Praise For A Bloody Dictator
Donald Trump said he wishes people would 'sit up and pay attention' to him the way they do in North Korea when Kim Jong Un speaks.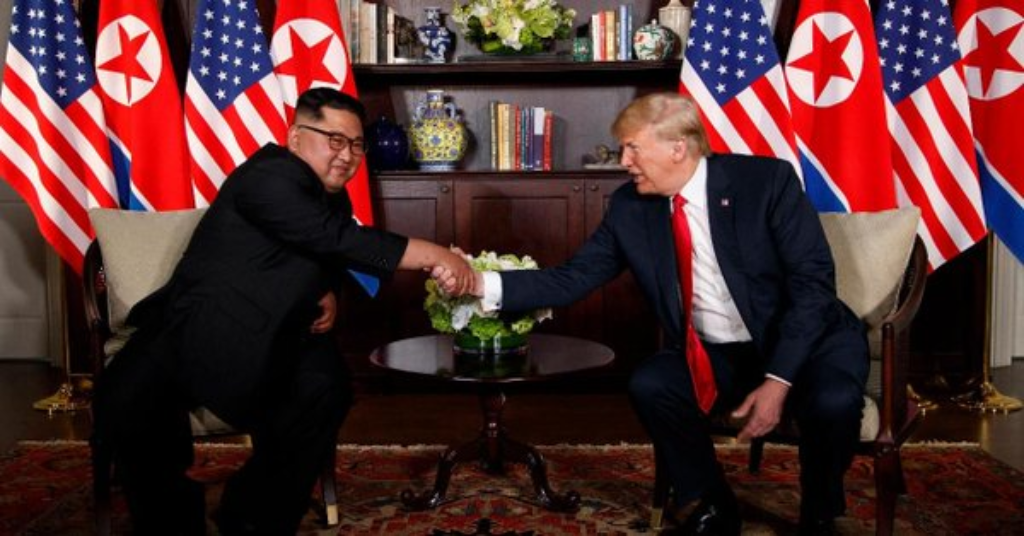 In an interview on Fox & Friends this morning, President Trump suggested that he'd like to be treated the way North Koreans treat Kim Jong Un:
President Donald Trump said Friday that he wants "my people" to "sit up at attention" the way North Koreans do for dictator Kim Jong Un.

The comment came during an impromptu interview with Fox News on the White House's North Lawn, days after Trump met with Kim in Singapore as part of an effort to reach a denuclearization deal with Pyongyang. When asked about whether Kim would be visiting the White House any time soon, Trump responded "it could happen." He then went on to praise the dictator for being a strong leader.

"He's the head of a country and I mean he is the strong head," Trump said to Fox. "Don't let anyone think anything different. He speaks and his people sit up at attention. I want my people to do the same."

When later asked by another reporter to expand on the remark, Trump said he was "kidding."

"You don't understand sarcasm," he added.

It's not clear if Trump was referring to his staff or to a broader set of Americans when he referred to "my people."
Here's the video of Trump's comment on Fox & Friends:
Trump says he wants people to treat him like North Koreans treat Kim Jung Un.

Really. pic.twitter.com/C0K7awpMIV

— Judd Legum (@JuddLegum) June 15, 2018
And here's the video of his talk to reporters after that interview when he claims he was just "kidding;"
Trump claims he was "kidding" when he said moments ago that he wanted Americans to "stand at attention" for him like North Koreans do for Kim Jong Un. pic.twitter.com/r0eE3ZyItL

— Aaron Rupar (@atrupar) June 15, 2018
Whether Trump was kidding or not, and whether he was referring to his White House Staff or the American people when he said that he wished that his "people" would sit up at attention when he speaks is something I'll leave to the reader to judge. However, one must take into account the fact that Trump has been exceedingly obsequious in his praise for Kim Jong Un ever since the Singapore Summit and that he has essentially dismissed questions about the Kim regime's atrocious human rights record, which has included imprisoning dissidents, killing people accused of crimes against the state, and denying even basic freedoms to the people of the DPRK for the past seven decades. Additionally, footage of his meeting with Kim Jong Un showed Trump returning the salute of a North Korean General who has been at the top of the leadership, and thus no doubt responsible for numerous human rights abuses himself.
In other interviews in the wake of the summit, the President referred to Kim as a funny guy who "loves his people." This is the same person who stands at the top of a regime that has held the North Korean people in bondage for the past seventy-three years, has locked dissidents into concentration camps, and has executed people on a whim, including members of his own family. When he was specifically reminded of the crimes against humanity that Kim has committed, the President said that Kim was "tough" and "smart" and essentially dismissed the fact that he had shaken hands with a man who has the blood of millions on his hands, including the blood of Otto Warmbier, whose torture-induced death he bizarrely claimed led to his Photo Op Summit. While this is consistent with Trump's admiration for other dictators such as President al-Sisi in Egypt, the Saud family in Saudi Arabia, President Rodrigo Dueterte of The Philippines, Xi Jinping, and, of course, Vladimir Putin, it is nonetheless absolutely sickening to see a President of the United States so dismissive of human rights abuses and the reality of dictatorship. For Donald Trump, though, it's just another day at the office.