Trump Declares 'National Emergency' At Border, Admits "I Didn't Need To Do This"
President Trump declared a national emergency at the southern border while at the same time undercutting his own case for doing so.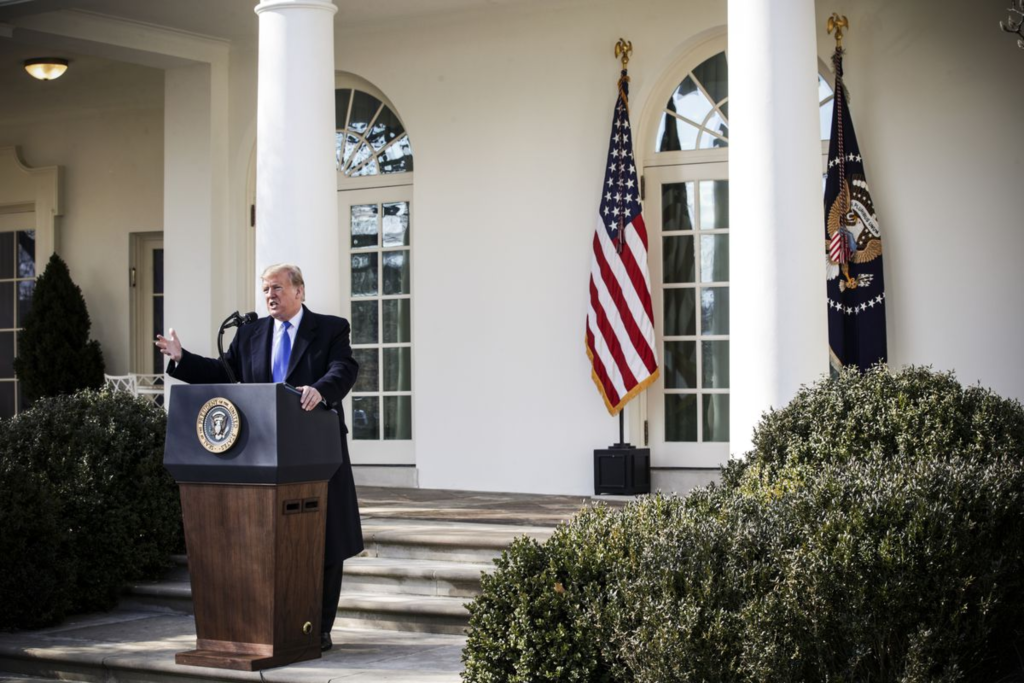 As expected, President Trump announced this morning that he was declaring a national emergency in order to get up to an extra $8 billion to build his border wall, setting up the prospect of confrontations with Congress and the Courts that are likely to define the rest of his first term in office:
WASHINGTON — President Trump declared a national emergency at the border on Friday to access billions of dollars to build a border wall that Congress refused to give him, transforming a highly charged policy dispute into a fundamental confrontation over separation of powers.

In a televised announcement in the Rose Garden, Mr. Trump said he would sign the declaration to protect the country from the flow of drugs, criminals and illegal immigrants coming across the border from Mexico, which he characterized as a profound threat to national security.

"We're going to confront the national security crisis on our southern border and we're going to do it one way or the other," he said. "It's an invasion," he added. "We have an invasion of drugs and criminals coming into our country."

The declaration will enable Mr. Trump to divert $3.6 billion budgeted for military construction projects to the border wall, White House officials said. Mr. Trump will also use more traditional presidential budgetary discretion to tap $2.5 billion from counternarcotics programs and $600 million from a Treasury Department asset forfeiture fund.

Combined with the $1.375 billion authorized for fencing in a spending package passed by Congress on Thursday night, Mr. Trump would then have about $8 billion in all to advance construction of new barriers and repairs or replacement of existing barriers along the border this year, significantly more than the $5.7 billion that Congress refused to give him.

The president's decision, previewed on Thursday, triggered instant condemnation from Democrats and some Republicans, who called it an unconstitutional abuse of his authority.

"This is plainly a power grab by a disappointed president, who has gone outside the bounds of the law to try to get what he failed to achieve in the constitutional legislative process," Speaker Nancy Pelosi of California and Senator Chuck Schumer of New York, the minority leader, said in a joint statement.

The two vowed to try to overturn the decision, appealing to Republicans to join them. "The president is not above the law," they said. "The Congress cannot let the president shred the Constitution."

(…)

White House officials rejected critics who said Mr. Trump was creating a precedent that future presidents could use to ignore the will of Congress. Republicans have expressed concern that a Democratic commander in chief could cite Mr. Trump's move to declare a national emergency over gun violence or climate change without legislation from Congress.

"It actually creates zero precedent," Mick Mulvaney, the acting White House chief of staff, told reporters on Friday morning. "This is authority given to the president in law already. It's not as if he didn't get what he wanted and waved a magic wand to get some money."

Presidents have declared national emergencies under a 1970s-era law 58 times and 31 of those emergencies remain active. But most of them dealt with foreign crises and involved freezing property or taking other actions against national adversaries, not redirecting money without explicit congressional authorization.

White House officials cited only two times that such emergency declarations were used by presidents to spend money without legislative approval — once by President George Bush in November 1990 during the run-up to the Persian Gulf War and again by his son, President George W. Bush, in November 2001 after the terrorist attacks on New York, Washington and Pennsylvania.

In both of those cases, the presidents were responding to new events — the Iraqi invasion of Kuwait and Al Qaeda's assault on America — and were moving military money around to use for military purposes. Neither was taking action specifically rejected by Congress.

In Mr. Trump's case, he is defining a longstanding situation at the border as an emergency even though illegal crossings have actually fallen in recent years. And unlike either of the Bushes, he is taking action after failing to persuade lawmakers to go along with his plans through the regular process.
The announcement came during another one of Trump's patented bizarre press conferences in which he seemed to wander from topic to topic seemingly at will and without any clear indication of what the heck it was he was actually saying. As he does during the course of his campaign rallies, Trump supported his decision to proclaim a "national emergency" with statements that have only a passing resemblance to the truth and in some cases were just outright lies. For example, notwithstanding the multiple reports released by his own Justice Department and Department of Homeland Security, Trump claimed that illegal border crossings were the primary route of entry for illegal drugs, human trafficking, and terrorism. He also repeated the claims that cross-border illegal immigration was a national crisis, again despite the fact that all of the available evidence from Trump's own government says otherwise.
These numbers, of course, indicate that net migration from Mexico has reversed to the point where more people are going home to Mexico than are entering the country either legally or illegally. Additionally, those same statistics show that illegal border crossings are far lower than they were a generation ago. Additionally, the Trump Administration's own data shows that most illegal drug smuggling occurs at designated ports of entry or via the nation's airports and seaports. To the extent that there is extensive drug running across the border, much of it is conducted via tunnels that would bypass any border wall this President would build. As for the illegal immigration issue, the largest and fastest growing source of illegal immigration comes from people who overstay the length of their visa or violate its terms and conditions. The largest sources of these visa overstays and violations are not Mexico or Central America, but nations such as Canada. A border wall would do nothing to combat this issue. The Administration has also claimed, without evidence, that terrorists have crossed into the United States via the southern border. The fact is, though, that there has been no instance of a terrorist attack committed by someone who crossed the border illegally. In short, there is no factual basis for the declaration of a national emergency and Trump was simply lying.
The press conference got truly bizarre when Trump started taking questions and several reporters asked him to justify where he was getting his numbers given the fact that his own government was reporting numbers that seemed to clearly establish that he was not telling the truth. In response to such a question from CNN's Jim Acosta, who has long been a target of the President's, Trump refused to answer the question and declared CNN to be "Fake News." When another reporter asked a similar question, the President refused to answer the question and told the reporter to "sit down."
Perhaps the most telling part of the press conference, though, came in an exchange with NBC News reporter Peter Alexander:
When NBC's Peter Alexander got the mic, he noted that Trump told Fox & Friends in 2014 that former president Barack Obama could be impeached for supposedly abusing his constitutional authority by using executive orders to enact his immigration agenda. Alexander also noted that by signing Congress' latest bipartisan border security deal, Trump would get less wall money than he would've gotten if he accepted the deal that was presented to him before the government's recent shutdown.

At that point, Trump interjected before Alexander got to his actual question, insisting "I went through Congress, I made a deal."

"I got almost $1.4 billion when I wasn't supposed to get one dollar," Trump said. "Well, I got $1.4 billion, but I'm not happy with it…I didn't need to do this, but I'd rather do it much faster."

Trump also claimed he got "billions of dollars for other things" that supposedly went beyond his original demands for border security. He continued to tout his own supposed success before turning his ire towards the obstruction he faces from Democrats.
Here's the video:
"I could do the wall over a longer period of time," Pres. Trump says.

"I didn't need to do this. But I'd rather do it much faster." https://t.co/CV4O2qBEB2 pic.twitter.com/j43z3vwdME

— ABC News Politics (@ABCPolitics) February 15, 2019
This is an obviously damaging admission on the part of the President that is likely to be used against the Administration both in political arguments and in the inevitable court challenges that are likely to come in the near future. If the President is admitting that he "didn't need to do this" and that the main reason for declaring a national emergency is so he can get the wall built "much faster," then that is a pretty strong admission on his part that there is, in fact, no emergency to justify the action that he took today. This is important because, generally speaking, courts have not looked behind the reasoning for a President's decision to declare an emergency due to the fact that the National Emergencies Act and other laws that allow the President to make such declarations give the President broad discretion to determine when an emergency exists. As we saw in the various court reviews in connection with the President's Muslim Travel Ban, though, that court practice of not looking behind the reasoning of Presidential decisions in the national security is not universal. When we have an admission from the President himself that he "didn't need" to declare a national emergency, that's something that is going to be brought to the attention of any Federal Judge who gets one of the inevitable lawsuits that will be filed in connection with this matter, and it's likely to have an influence on how they decide the case. Similarly relevant to this discussion, of course, is the fact that the President has gone more than two years without declaring an emergency at the border despite the fact that conditions there have not changed appreciably in those two years. While nothing is guaranteed, this admission is likely to come back to bite the Trump Administration down the road.
In any case, as I stated in posts earlier today, there is no support in either the facts or the law for what the President has done here. Additionally, while his action will please his base, it is going to lead to Constitutional confrontations with Congress and the Courts that the White House likely cannot win politically or legally. According to some reports, the President's own advisers warned him of this before he made the decision to go forward, but that he went forward anyway so he could claim a victory despite the fact that he is clearly the biggest loser in this entire standoff that began in late December with a shutdown that lasted five weeks.