Donald Trump: The Biggest Loser
When it comes to the shutdown and border wall showdown that started back in December, Donald Trump is the biggest loser.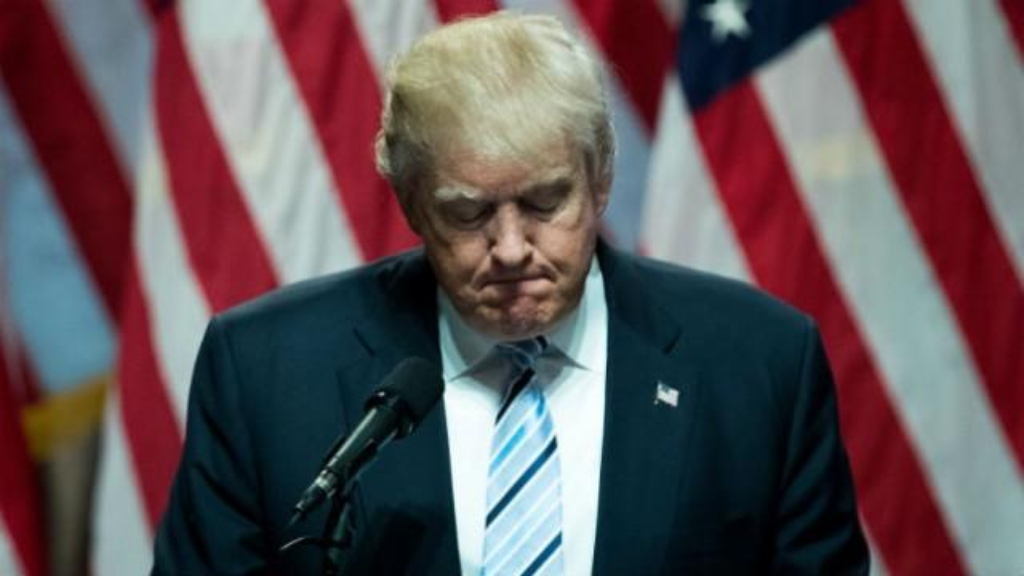 With the President now apparently ready to sign the funding bill that will end the controversy that started two months ago when he wrecked a deal to fund the government due to the fact that it didn't provide funding for his border wall, John Cassidy argues that the entire episode has been a significant defeat for the President:
It's clear why Trump isn't happy. This time last year, he was demanding twenty-five billion dollars for a vast concrete wall. At the end of December, he shut down large parts of the federal government in support of his demand for $5.7 billion in funding and two hundred miles of steel barriers. Under the deal reached on Monday, Congress would provide $1.375 billion for fifty-five miles of slat fencing. In Wall Street terms, the agreement would give Trump about twenty-four cents on the dollar. As of Wednesday morning, he hadn't yet agreed to the plan but it looked like he would. The Washington Post and CNN both reported that Trump intended to sign the spending bill.

(.,,)

Having already folded when the shutdown damaged his poll ratings, his threat to cause another government closure isn't credible. He's also been threatening to declare a national emergencyand seize some extra funds from the Pentagon budget, but Republican leaders on the Hill don't like this scheme, which, in any case, would quickly get snagged in the courts.

Trump is stuck, so he's resorting to yet more B.S. After registering his unhappiness about the spending deal to reporters, he went on, "It's not doing the trick, but I'm adding things to it. And when you add the things I have to add, it's all gonna happen where we'll build a beautiful, big, strong wall that's not gonna let criminals and traffickers and drug dealers and drugs into our country." Later in the day, in a pair of tweets, Trump said, "Looking over all aspects knowing that this will be hooked up with lots of money from other sources . . . Will be getting almost $23 billion for border security. Regardless of Wall money, it is being built as we speak."

Virtually nobody who has followed the story in any detail is falling for this spin. "One point three billion dollars? That's not even a wall, a barrier," Sean Hannity, who is arguably Trump's biggest booster in the media, said to his Fox News Channel audience on Monday night. "Any Republican that supports this garbage compromise, you will have to explain." Mark Meadows, the head of the House Freedom Caucus, told Hannity's colleague Neil Cavuto, "Only in Washington, D.C., can we start out with needing twenty-five billion dollars for border-security measures and expect applause at $1.37 [billion]. I mean, only in D.C. is that a winning deal."

For once, Meadows was right. But, by Tuesday evening, there were signs that even some of the most rabid supporters of the wall had realized that further resistance was futile. Or, perhaps, they had been issued a new set of talking points. Speaking on his daily radio show, Hannity now referred to the $1.3 billion as "a down payment" and suggested that Trump could get more money for the wall from elsewhere in the federal budget, with or without declaring a national emergency. "In that case, he wins big time," Hannity said.

This is what defeat looks like for Donald Trump and the maga Praetorian Guard: accepting scraps and describing them as a feast.
Jennifer Rubin at The Washington Post agrees:
What's important to understand is that Trump has failed entirely and irreversibly on his signature issue. The border-wall catastrophe is, in many ways, the inevitable result of a campaign and presidency built on demagoguery and dishonesty. Let's take a look at how we got here.

It began with a con man running for president with a white resentment and grievance pitch. As the most dogged megaphone for the lie that President Barack Obama was not born in the United States and a longtime practitioner of racial fearmongering (e.g., his demands for the death penalty for the Central Park Five), Trump figured he could get votes as easily as he got Trump University tuition checks by peddling a series of interconnected falsehoods: The border was out of control. Illegal immigrants were flooding into the United States, were stealing jobs and reducing wages for native-born, middle-class Americans, and were responsible for a massive crime wave. None of that was true, but neither was the birther story. (More Mexican immigrants were leaving the United States than entering; the Obama administration engaged in widespread interdiction, deporting record numbers of immigrants; immigrants didn't steal jobs — as our low unemployment rate proves — and depress wages only by a small amount for those without high school degrees; and crime is still at historic lows.)
As Rubin goes on to note, as the campaign went on Trump's advisers began to recognize that this anti-immigrant position was a winner for their candidate, but they needed a way to remind him to keep bringing it up on the campaign trail. That, apparently, is where the idea for a border wall that Mexico would pay for came from. It was, effectively, a mnemoic device designed to remind Trump to bring the issue up, and it proved to be a big hit with the crowds. Realistically speaking, of course, the idea of a wall from the Pacific to the Gulf of Mexico that Mexico was going to pay for was never a realistic possibility that this was going to happen, and it was plainly obvious that Mexico was never going to pay for such a project. Additonally, as Rubin notes, the idea for a border wall was a simplistic "answer" for a complicated problem and that Trump's campaign never explained how he was going to require things such as battles over the enviornmental impact of such a project as well as eminent domain fights with reluctant landowners. Moreover, a wall fails to address the most significant contributor to so-called "illegal immigration," visa overstays by people who enter through designated ports of entry with valid entry documents. Finally, outside of Trump's base the wall was never, and never has been, popular with the public as a whole.
Once he became President, Trump continued to use the idea of a wall to keep his base riled up, but he didn't actually do much of anything to advance the project. Republicans on Capitol Hill didn't bother to even inclulde a single dollar of funding allocated toward a wall in the first budget they passed after taking office in 2017, for example, and the original version of the spending bill that is being finalized today contained no funding for the border wall. And this was during a period when Republicans controlled both the Legislative and Executive Branches.
Despite this, Trump turned back to the border as the midterm elections approached, pointing to alleged caravans of criminals, migrants carrying diseases, and terrorists were headed to the United States, he claimed, and only a border wall could stop them. Leaving aside the fact that this was a lie and that this "caravans" consisted largely of families and women and children seeking asylum from deplorable conditions, violence, and political oppression in Central American, this lie continued after the midterms and formed the basis of the hardline that the President took, reinforced by his "Amen Chorus" in the right wing media, that led to a disastrous five week shutdown that did nothing but cause harm to the President's job approval numbers.
Now, as Rubin notes, we have a deal that will avert another shutdown that the President Trump will apparently agree to:
In the end, Trump never got his wall. He was never going to get his wall. It was a con — what they call in the movie business a MacGuffin — to win and hold onto his low-information voters, the ones convinced that their and the country's ills were caused by immigrants. It was only a matter of time before the flimsy tower of falsehoods came tumbling down.

Now Trump's followers and apologists are left wondering: If he has lied about this, can we count on him for anything else? I hate to break it to them, but no. And, come to think of it, there's no real accomplishment Trump can claim — other than a trade war and unpopular tax cut plan. One wonders when Trump's voters will finally abandon him. They are likely tired of losing.
The answer, of course, is that they will believe whatever Trump and Fox News tell them to believe, and that those oracles will never admit that the Trump has lost here. But that is in fact what has happened. Donald Trump has lost, and he lost tremendously. Not only did he not get any funding for his border wall, he actually ended up with $200,000,000 less in funding for the broader category of "border security" than he could have gotten from the bill Senate approved back in December. That's not a win no matter how much you try to spin it.