Trump Leads Rubio In Florida By Double Digits
If Marco Rubio can't win in his home state, where can he win?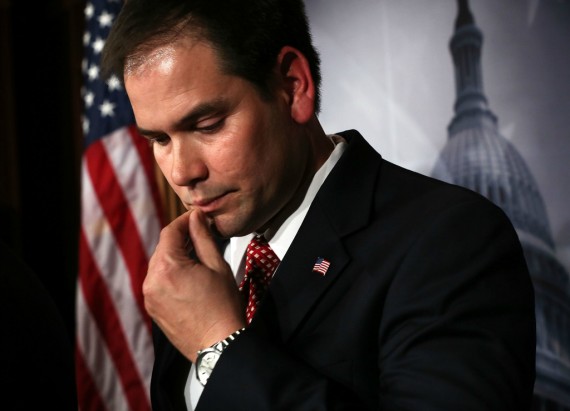 To listen to Marco Rubio's campaign, the fact that they have yet to win a primary or caucus state, or that there seems to be any reasonable prospect of them winning anywhere on Super Tuesday or March 8th. According to their logic, all Rubio needs to do is perform well enough in these states to pick up a reasonable amount of delegates since states that hold primaries before March 15th and then the campaign will kick into high gear by winning in the Senator's home state of Florida. There are are two problems with that strategy. First of all, as things stand right now Rubio has only an estimated seventeen delegates and, while this has him tied with Ted Cruz, it puts him far behind Donald Trump and the fact that he's likely to finish third in many of the Super Tuesday states means he's unlikely to pick up many delegates between now and Florida on March 15th. Second, current polling has Rubio losing Florida by a decisive margin:
Sen. Marco Rubio of Florida is in serious danger of losing his home state to Republican presidential rival Donald Trump, a new poll shows.

Trump leads Rubio 44% to 28% in the Sunshine State, according to a Quinnipiac University poll of Florida released Thursday.

Sen. Ted Cruz of Texas placed third with 12% support, ahead of Ohio Gov. John Kasich at 7% and retired neurosurgeon Ben Carson with 4%.

The survey shows Florida voters are beginning to make up their minds: Only 5% of likely Republican primary voters said they are undecided, though 30% say they may change which candidate they support.

The Florida GOP primary, which awards the winner all of its 99 delegates, will take place March 15.
While Rubio has dismissed concerns about his primary strategy — and continues to insist that the fractured GOP field has contributed to Trump's dominance — failure to win a single delegate in his home state's winner-take-all contest would seriously undercut his viability as a candidate.
This is hardly a surprising number, of course. As in other parts of the country, Donald Trump has led here in pretty much every poll since the summer and his lead has been in double digits for quite some time now. All of that is reflected in the RealClearPolitics numbers, which show Trump with an average lead of 19.4, with Rubio in second place at 19.3%, Ted Cruz in third at 17.7%, Ben Carson at 5.3%, and John Kasich at 4.0%. Former Florida Governor Jeb Bush still shows up in the average at 8.3% but he was not included in the latest Quinnipiac Poll and it does appear that most of Bush's former support has jumped over to Rubio, but it was hardly enough to bring Rubio any closer than the sixteen point gap reflected in the Quinnipiac poll. In other words, the removal of Jeb Bush from the race has had very little impact on the race in Florida and done nothing to knock Trump from his top of the race position.
As Chris Cillizza notes, this is not good news for Senator Rubio:
If you are Rubio, there is no way of looking at this besides that it is an unmitigated disaster Trump leads easily with almost every demographic in the poll. Rubio only leads — and does so narrowly — with college-educated Floridians, a group that was half the GOP electorate in 2012. Trump leads among those who have no degree by a 2-to-1 margin. That was the other half of the voters.

There are margins of error at play, and we're still 20 days out and so on, but, again: disaster. About a fifth of the Republicans in Florida, 21 percent, say they'd never back Donald Trump. The percentage saying that about Rubio? Seventeen.

This poll also gives the lie to the newly popular idea that if John Kasich were to drop out, Rubio's path to the nomination would be cleared. If Kasich had dropped out before Nevada, and Rubio had gained all that support, Donald Trump would have won by 18 points instead of 22. If Kasich dropped out before Florida and every single one of his votes went to Rubio, Rubio would lose Florida by 9 points. If Ted Cruz and Ben Carson also dropped out, Rubio would need to pick up nearly two-thirds of those votes to beat Trump — in his home state.

The reason we are talking about Kasich having to drop out is that Kasich doesn't have much support. So re-allocating even all of that "establishment" vote to Marco Rubio doesn't add much value to his candidacy.
Failing to win Florida would likely be fatal to Rubio's campaign for several reasons. First of all, a candidate who is unable to win their home state in a party primary is going to have a hard time being able to make the case that they are electable in a General Election, especially when that home state is a state that Republicans absolutely must win if they are going get anywhere close to the 270 Electoral Votes needed to win the Presidency. Secondly, we're already at the point where Rubio has finished third, fifth, second, and second in the first four contests of the 2016 race. He is unlikely to win any of the Super Tuesday or March 8th states and will be lucky to finish second in anything but a handful of them. If he doesn't win Florida, then he will have gone seven weeks into the race without having won a single race and likely trailing badly in the delegate count. Finally, Florida is the first of the major states to award its delegates on a winner take all basis, meaning that there will be no value in placing second or third. This will be the situation for the vast majority of the states going forward and, without a win, it's hard to see how Rubio would be able to argue that he still has a viable campaign at that point.
Obviously, with nearly three weeks to go until the Florida Primary there's much that could change, but for the moment it appears that Marco Rubio's date with destiny is not looking at all good for him.