Trump Lied, The Truth Died
Donald Trump took to Twitter again this morning with predictable results.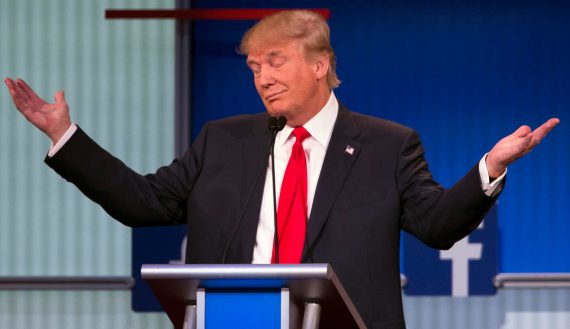 Donald Trump took to Twitter once again this morning, and once again, tweeted out something that was utterly false and based on something he saw either on Twitter or Fox News Channel. It all started shortly after six this morning when Trump took to Twitter to allege that President Obama was responsible for releasing 122 prisoners from Guantanamo Bay, Cuba who had reconnected with their terrorist contacts and were "on the field of battle:"
122 vicious prisoners, released by the Obama Administration from Gitmo, have returned to the battlefield. Just another terrible decision!

— Donald J. Trump (@realDonaldTrump) March 7, 2017
As with many previous Trump claims, this one apparently started with a report on Fox News Channel, apparently via the Twitter feed of Fox & Friends, the network's weekday morning show:
Former Gitmo detainee killed by a U.S. airstrike in Yemen; at least 122 former Gitmo detainees have re-engaged in terrorism pic.twitter.com/y9jb420fFZ

— FOX & friends (@foxandfriends) March 7, 2017
As it turns out, though, this Tweet was false on many levels
According to a September 2016  report by the Director of National Intelligence, there were some 693 people who have been released from the prison at Guantanamo Bay since it began taking in War On Terror prisoners in the wake of the September 11th attacks;
Of those 693, intelligence indicates that the vast majority of those released (485) have not re-engaged and have not returned to the field of battle, while 122 are definitively known to have returned to previous terror-related activities, and 86 may have returned to the field of battle;
Of the 122 who definitively known to have returned to the field of battle, 113 were released under the Administration of President George W. Bush and 9 were released under the Administration of Barack Obama;
Of the 86 who may have returned to the field of battle, 75 were released by the Bush Administration and 11 were released by the Obama Administration;
In other words, and contrary to the claim that Trump made in his early morning Tweet, it is the Bush Administration that was responsible for releasing the vast majority of Gitmo prisoners who later returned to participating in terror-related activities. It's worth noting that the Fox News report that appears to have set off the latest Tweetstorm by the President does not specifically claim that it was the Obama Administration that released the prisoners in question, so it appears that Trump jumped to that conclusion all on his own. It also makes apparent that Trump probably didn't read the article that the Fox & Friends tweet was linking to since it would have been clear from reading it that they were making no such claim at all. Of course, this fits a pattern for the President, who even as a candidate had a long habit of getting his news not so much from what he reads or sees on television, but from headlines supplemented by whatever his brain decides to insert on its own. In this case, he likely saw the Fox News tweet and, given the fact that he is presently in the habit of blaming his predecessor for everything and only a few days ago accused Obama of bugging the phone lines of Trump Tower in what would have been a violation of the law if it happened the way Trump claimed it did, it was only natural for him to pull Obama out of his hat and add that to the incomplete information he got from Fox News.
As I note above, all of this follows a pattern for Trump, and it's one we've never before in an American President. In the past, it was rare if uncommon for a President to make any public statement at all without having been fully briefed by his staff and having the statement vetted by people in the Communications Office and elsewhere in the White House before it was released to the public. More often than not, the statement would be released via the Communications Office by the Press Secretary rather than the President himself. Part of the reason for this careful process is to ensure that what is being released isn't inadvertently releasing classified or confidential information, of course, but it also existed to make sure that the information being released or the claims being made are accurate and that the White House and President aren't, either knowingly or unknowingly, trying to deceive the American people. Additionally, it's designed to make sure that the Administration itself stays on message and doesn't step all over the latest policy initiative or otherwise detract from the ostensibly positive news the Administration would like to be getting coverage for.
With Trump and his Twitter feed, that's all out the window. If it didn't become obvious during the campaign, it should be blindly obvious now that nobody has any control over Trump and his Twitter habits and that he's approaching social media with the same stream of consciousness approach that he did long before he was a candidate for President. That fact can be seen in his Tweets this past Saturday when he set off days of news coverage by accusing President Obama of bugging his phone lines before and after the election and then followed it up with tweets about the news that Arnold Schwarzenegger would not be returning to host Celebrity Apprentice after the just-concluded season. This is a sign of a mind that is seemingly incapable of focusing on one thing at a time, incapable of mouthing off on Twitter even when it is quite obviously damaging to his own Administration, and overly obsessed with both social media and untrustworthy sources of news. If this were just your somewhat whacky Uncle Don who spends Thanksgiving talking about what he's heard from Limbaugh, Hannity, and Levin over the previous year it would be one thing. Instead, this is Donald Trump, the 45th President of the United States, and we're very likely stuck with him until at least January 2021. I'll leave it for the reader to decide how bad the consequences of that fact will end up being in the end.