Trump Offers To Substitute 'Concrete Wall' With 'Steel Barrier'
President Trump is offering to change his 'concrete wall' with a 'steel barrier' in what he apparently things is a compromise.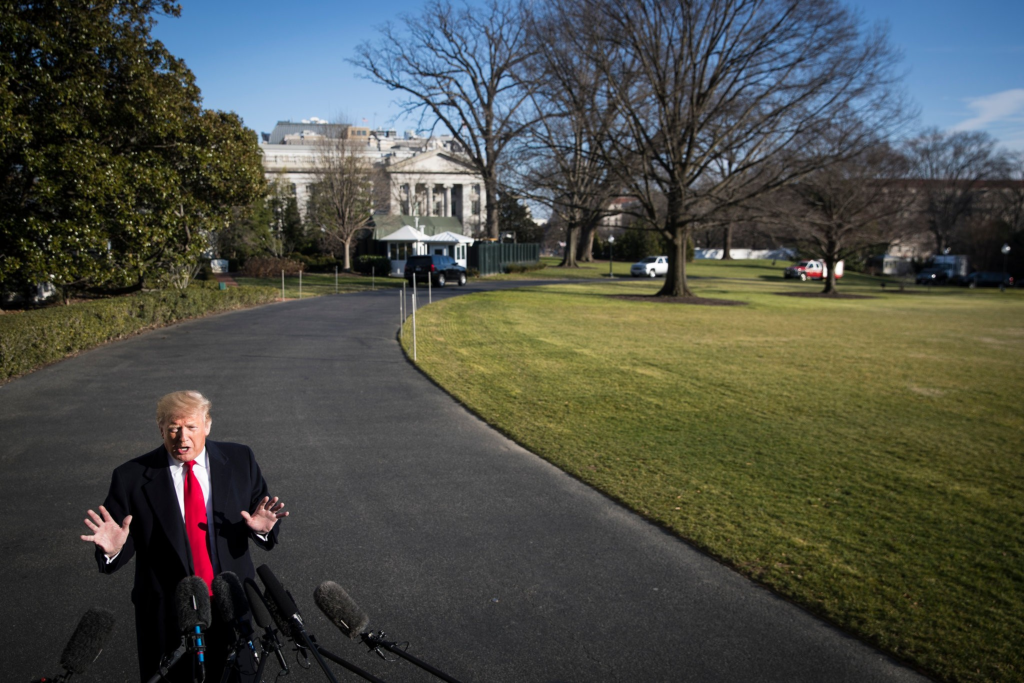 President Trump's latest apparent effort to resolve the government shutdown is to build a "steel barrier" instead of a concrete wall at the southern border:
 President Trump's evolving definition of a border wall animated negotiations to end a partial government shutdown on Sunday, while House Democrats moved to increase pressure on the president by vowing to pass individual bills to reopen targeted departments that handle critical functions like tax refunds and food stamps.

"I informed my folks to say that we'll build a steel barrier," Mr. Trump told reporters after returning to the White House from a senior staff meeting at Camp David. He added of the Democrats, "They don't like concrete, so we'll give them steel."

The president characterized the second day of talks between Vice President Mike Pence and Democratic congressional aides as "productive" after saying earlier in the day that he did not anticipate much progress. But Mr. Trump also said that, if no deal could be reached over his demand for $5.7 billion for the border wall, he was still considering using "emergency" authority to build the barrier with other government funds.

For their part, Democrats said there was no progress as the shutdown entered its 16th day, and asked again that the government be reopened before negotiations on border security money begin.

A day before, they had asked the administration for a detailed plan of how such money would be used, and the Office of Management and Budget responded with a letter on Sunday evening reiterating the president's request for $5.7 billion for the construction of "a steel barrier" along the southern border. Democrats have rebuffed that figure.

But the letter also provided a fuller picture of Mr. Trump's border demands. In a small gesture to Democrats, it said the president wanted $800 million "to address urgent humanitarian needs," including enhanced medical treatment. It also asked for funds to support 52,000 detention beds and 2,000 more law enforcement agents.

The shutdown, which is threatening to become the longest in American history, is affecting about 800,000 federal workers, many of whom will soon miss their first paycheck, and has curtailed the functions of numerous government agencies. The impasse has also added another crisis to Mr. Trump's turbulent presidency as he adjusts to working in an era in which he must now share power with Democrats.

The party's leaders gave little indication that they would come to terms with the president if he simply changed the materials used to construct the wall. Mr. Trump has been talking at least since mid-December about building a wall made up of "artistically designed steel slats" instead of concrete, but he seized on the idea on Sunday to a new degree.

"There's no requirement that this government be shut down while we deliberate the future of any barrier, whether it's a fence or a wall," Senator Richard J. Durbin, Democrat of Illinois, said on CBS's "Face the Nation."

But Mick Mulvaney, the acting White House chief of staff, said that while he thought the shutdown was "going to drag on a lot longer," Mr. Trump's shift in wall materials could provide a semantic opening to advance the talks.

"If he has to give up a concrete wall, replace it with a steel fence in order to do that so that Democrats can say, 'See? He's not building a wall anymore,' that should help us move in the right direction," Mr. Mulvaney said on NBC's "Meet the Press." "If that's not evidence of the president's desire to try and resolve this, I don't know what is."
So basically, we're now at the point where the White House considers a compromise to be saying that they will build the southern border wall with steel rather than concrete and that they'd be willing to call it a "steel barrier" rather than a "wall," all in exchange for the same $5.7 billion that Democrats have already said they are unwilling to provide the President. If this is a true reflection of the state of negotiations between the White House and House and Senate Democrats, which continued at the White House over the weekend, then it's fairly clear that the two sides are as far apart on a solution to this shutdown as they were when the President pulled the rug out from under Congressional Republicans and rejected the plan the Senate had passed, which he previously indicated he would support, that would have kept the government open through February 8th, thus prompting the shutdown that now finds itself equaling the length of the 2013 Obamacare Shutdown with no prospect of it ending today given the fact that Congress isn't even in session.
From the Democratic point of view, of course, the wall is a non-starter regardless of what kind of material it's made of and regardless of what it's called. A wall is a wall whether it's made of steel or concrete and whether it's called a "wall" or a "barrier." As Shakespeare might put it a wall by any other name is still a wall, and changing the name and the material it's made with isn't a serious effort at negotiation, it's a ruse, a sham, and an indication that this Administration isn't serious about bringing the shutdown to an end. As I said yesterday, the only way this is going to end is when we get to the point where one side or the other begins to feel the political pressure necessary to cause them to act. In the coming days, we're likely to see polling on the shutdown. If that polling is overwhelmingly negative for one side or the other, then it could prompt action. Don't expect the Trump Administration to be moved by polls, of course, since they'll just be looking at the question of whether or not they're losing (or gaining) support from their Republican base. Given that, it's going to take movement from somewhere else to create the pressure necessary prompt a shutdown. As I've suggested before, the most likely crack in the wall is likely to come from Senate Republicans who becoming less willing to stand behind the pledge of Senate Majority Leader Mitch McConnell to not consider any bill that the President hasn't agreed to in advance. There are already some signs that this is happening. If the political pressure grows, especially for Republicans who may be vulnerable in 2020, then we could be playing a very different ballgame. As things stand right now, don't expect any resolution any time soon.