Trump Packs Airports with Potentially Sick People
You can't make this stuff up.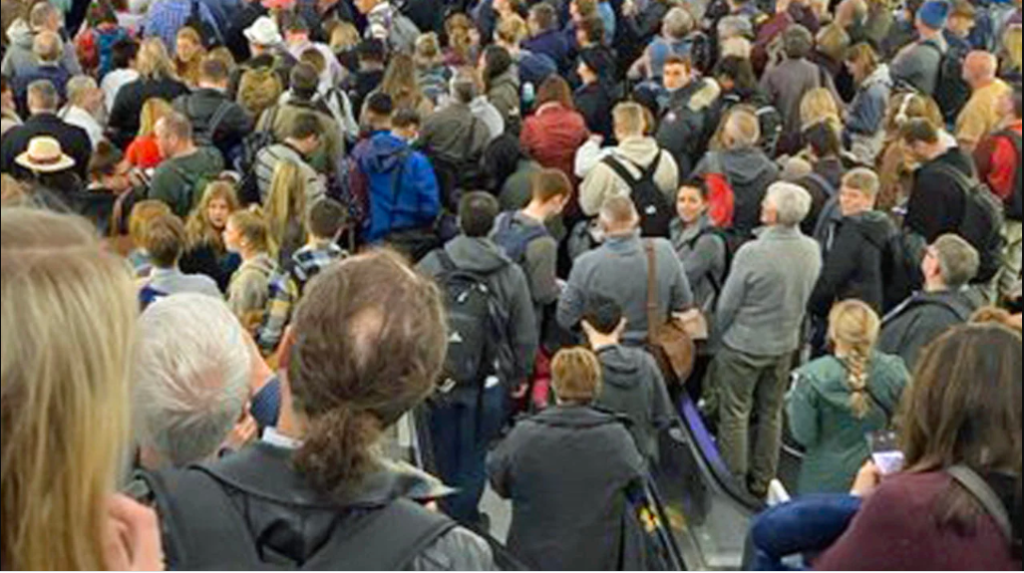 Speaking of things that are monumentally stupid,
WaPo ("Coronavirus screening causes massive bottlenecks at O'Hare and other U.S. airports"):
Airports around the country were thrown into chaos Saturday night as workers scrambled to roll out the Trump administration's hastily arranged health screenings for travelers returning from Europe.
Scores of anxious passengers said they encountered jam-packed terminals, long lines and hours of delays as they waited to be questioned by health authorities at some of the busiest travel hubs in the United States.

The administration announced the "enhanced entry screenings" Friday as part of a suite of travel restrictions and other strategies aimed at slowing the spread of the coronavirus. Passengers on flights from more than two dozen countries in Europe are being routed through 13 U.S. airports, where workers check their medical histories, examine them for symptoms and instruct them to self-quarantine.

But shortly after taking effect, the measures designed to prevent new infections in the United States created the exact conditions that facilitate the spread of the highly contagious virus, with throngs of people standing shoulder-to-shoulder in bottlenecks that lasted late into the night.
NYT ("Coronavirus Screening Causes 7-Hour Waits in Crowded Lines at U.S. Airports"):
There were cryptic and confusing announcements in midair. Long lines to clear Customs. And waits of as long as seven hours in crowds with other travelers.

As the federal government rushed on Saturday to implement President Trump's restrictions on travel from Europe, part of an effort to stop the spread of the coronavirus, chaos ensued at some of America's biggest airports.

In Dallas, travelers posted photos on Twitter of long, winding lines in the airport. In New York, Customs agents in paper and plastic masks boarded a flight from Paris. And in Chicago, where travelers reported standing in line for hours, Gov. J.B. Pritzker of Illinois tagged Mr. Trump in a series of angry tweets about the long waits, saying, "The federal government needs to get its s@#t together. NOW."
This is madness. Coordination matters. I can't imagine that experts from CDC and Homeland Security thought channeling all of these people into airports at the same time was a good idea.
One contagious person can infect a thousand people. What are the odds that none of the people queued up for screeing in crowded airports are contagious?