Trump Pardon Spree Continues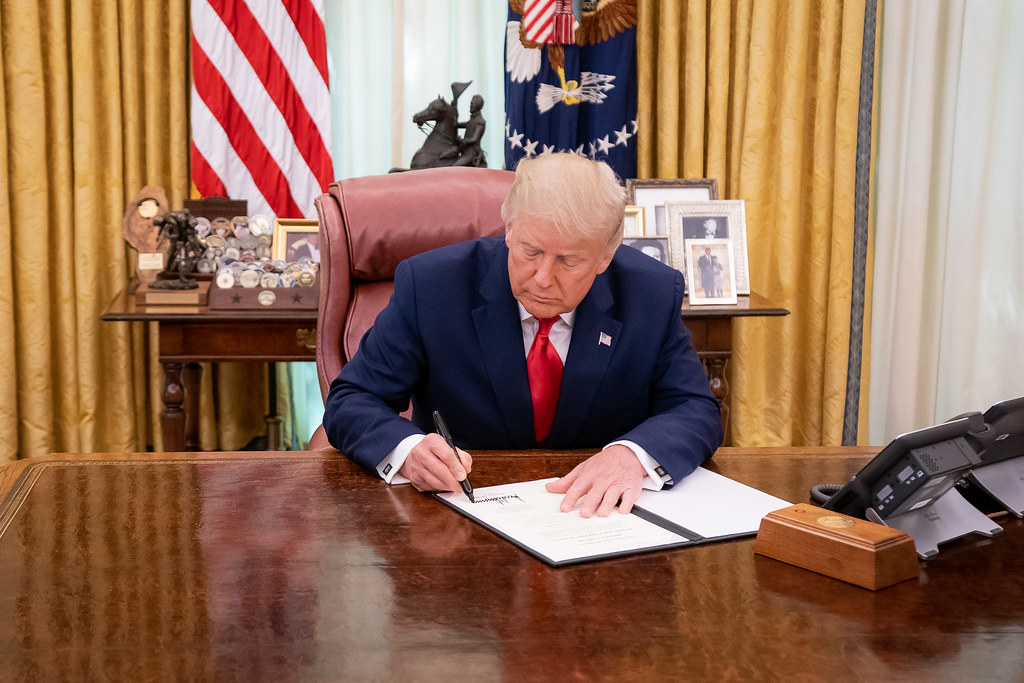 Maggie Haberman and Michael S. Schmidt report for the NYT ("Trump Pardons Two Russia Inquiry Figures and Blackwater Guards"):
In an audacious pre-Christmas round of pardons, President Trump granted clemency on Tuesday to two people who pleaded guilty in the special counsel's Russia inquiry, four Blackwater guards convicted in connection with the killing of Iraqi civilians and three corrupt former Republican members of Congress.

It was a remarkable assertion of pardon power by a president who continues to dispute his loss in the election and might well be followed by other pardons in the weeks before he leaves office on Jan. 20.
While pardoning convicted war criminals is outrageous, damaging our moral credibility and foreign relations, it is neither "audacious" not "a remarkable assertion" of power. The Constitution grants the President this plenary power to use as he sees fit.
Mr. Trump nullified more of the legal consequences of an investigation into his 2016 campaign that he long labeled a hoax. He granted clemency to contractors whose actions in Iraq set off an international uproar and helped turn public opinion further against the war there. And he pardoned three members of his party who had become high-profile examples of public corruption.

The 15 pardons and five commutations were made public by the White House in a statement on Tuesday evening. They appeared in many cases to have bypassed the traditional Justice Department review process — more than half of the cases did not meet the department's standards for consideration — and reflected Mr. Trump's long-held grudges about the Russia investigation, his instinct to side with members of the military accused of wrongdoing and his willingness to reward political allies.
While my strong preference is that Presidents pardon only those who merit it under DOJ standards, the Constitution vests the power in one individual. His sense of justice alone is enough.
But, of course, this goes beyond that: he's also pardoning cronies here. Alas, that's hardly unprecedented.
Hundreds if not thousands of clemency seekers have been looking for avenues of influence to Mr. Trump as he weighs pardons before leaving office. The statement highlighted a number of prominent Republicans and Trump allies who had weighed in on behalf of those granted clemency. Among them were Pam Bondi, a former Florida attorney general and lobbyist who helped defend Mr. Trump during his impeachment, and Pete Hegseth, a Fox News commentator who has pushed for previous pardons of service members.
It's beyond weird that Trump is making pardon decisions based on input from crackpots. Alas, that's his right.
One of the most notable pardons went to George Papadopoulos, who was a foreign policy adviser to Mr. Trump's 2016 campaign and who pleaded guilty in 2017 to making false statements to federal officials as part of the investigation by the special counsel, Robert S. Mueller III.

Alex van der Zwaan, a lawyer who pleaded guilty to the same charge in 2018 in connection with the special counsel's inquiry, was also pardoned. Both he and Mr. Papadopoulos served short prison sentences.

The Mueller-related pardons are a signal of more to come for people caught up in the investigation, according to people close to the president.

Mr. Trump has already pardoned his first national security adviser, Lt. Gen. Michael T. Flynn, who pleaded guilty twice to charges including lying to the F.B.I. in connection with the Russia inquiry. In July, the president commuted the sentence of Roger J. Stone Jr., his longtime adviser who was convicted on a series of charges related to the investigation. Both men have maintained their innocence.

Mr. Trump's list of pardons on Tuesday included four former U.S. service members who were convicted on charges related to the killing of Iraqi civilians while working as contractors for Blackwater in 2007.

One of them, Nicholas Slatten, had been sentenced to life in prison after the Justice Department had gone to great lengths to prosecute him. Mr. Slatten had been a contractor for the private company Blackwater and was sentenced for his role in the killing of 17 Iraqi civilians in Nisour Square in Baghdad — a massacre that left one of the most lasting stains of the war on the United States. Among those dead were two boys, 8 and 11.
There were a handful of standard pardons mixed in, correcting perceived historical injustices, presumably for camoflague.
Rather clearly, it makes no sense to have the justice system—at least at the federal level—depend so heavily on the whims of one man. Even if we assume that Trump's successors will be decent, rational actors, there ought to be some formal process for this.
But Article II, Section 2 of the Constitution seems clear on this point: "The President . . . shall have Power to Grant Reprieves and Pardons for Offences against the United States, except in Cases of Impeachment." There is no provision, as with other powers, for the advise and consent of the Senate.
In an ideal world, Congress would pass a law requiring that the President pardon only individuals who have been recommended for his consideration by some independent review board. Or, at least, have some check on the power. But it's not at all clear to me that this would be Constitutional.