Trump Selects Lt. General H.R. McMaster To Be National Security Adviser
President Trump has actually made a good pick for National Security Adviser. As with the rest of his foreign policy team, though, the question is if he'll listen to him.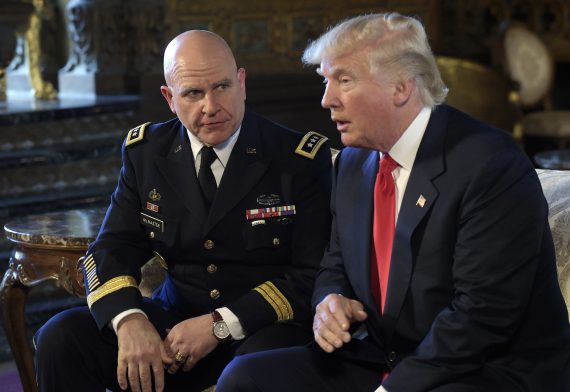 President Trump announced late yesterday that he has chosen Lt. General H.R. McMaster to be his new National Security Adviser:
PALM BEACH, Fla. — President Trump appointed Lt. Gen. H. R. McMaster as his new national security adviser on Monday, picking a widely respected military strategist known for challenging conventional thinking and helping to turn around the Iraq war in its darkest days.

Mr. Trump made the announcement at his Mar-a-Lago resort, where he interviewed candidates over the holiday weekend to replace Michael T. Flynn, who was forced out after withholding information from Vice President Mike Pence about a call with Russia's ambassador.

Unlike Mr. Flynn, who served as a campaign adviser last year, General McMaster has no links to Mr. Trump and is not thought of as being as ideological as the man he will replace. A battle-tested veteran of both the Persian Gulf war and the second Iraq war, General McMaster is considered one of the military's most independent-minded officers, sometimes at a cost to his own career.

The selection encouraged Republicans who admire General McMaster and waged a behind-the-scenes campaign to persuade Mr. Trump to select him. Key to the choice was Senator Tom Cotton of Arkansas, an Army veteran who once served under General McMaster and suggested him to the White House. A coterie of other national security conservatives, including a top aide to Senator John McCain of Arizona, also lobbied for him, and Defense Secretary Jim Mattis, who has worked with General McMaster, encouraged him to take the job.

"He's a man of tremendous talent and tremendous experience," Mr. Trump told reporters as General McMaster, wearing his uniform, sat next to him. "I watched and read a lot over the last two days. He is highly respected by everyone in the military, and we're very honored to have him."

The choice continued Mr. Trump's reliance on high-ranking military officers to advise him on national security. Mr. Flynn is a retired three-star general and Mr. Mattis a retired four-star general. John F. Kelly, the homeland security secretary, is a retired Marine general. Mr. Trump's first choice to replace Mr. Flynn, Robert S. Harward, who turned down the job, and two other finalists were current or former senior officers as well. General McMaster will remain on active duty.

General McMaster had the aura of disruption that Mr. Trump has valued in several cabinet secretaries, said a senior administration official who insisted on anonymity to describe internal deliberations. Another candidate, Lt. Gen. Robert L. Caslen, the superintendent of West Point, impressed Mr. Trump as being "from central casting," the official said. But the president wanted him to stay at West Point, which he reveres.

General McMaster, 54, made a name for himself as a young officer with a searing critique of the Joint Chiefs of Staff for their performance during the Vietnam War and later criticized the way President George W. Bush's administration went to war in Iraq.

As a commander, he was credited with demonstrating how a counterinsurgency strategy could defeat militants in Iraq, demonstrating the promise of an approach that Gen. David H. Petraeus adopted to shift momentum in a war the United States was on the verge of losing.
The reaction to the selection of Lt. General McMaster is receiving generally positive reviews from both sides of the political aisle, as well as many expert voices in the foreign policy field who had previously been concerned about whom Trump might select as parts of his foreign policy team. As it turns out, though, Trump has made some fairly decent choices in this area, included General Mattis at the Defense Department, General Kelly at the Department of Homeland Security, Michael Pompeo at the Central Intelligence Agency, and Rex Tillerson at the State Department. Given many of the names that had initially been mentioned as possible choices for these positions, this seems like a fairly decent foreign policy team that will both bring the President good, and sober, advice on whatever problems the United States might encounter going forward and help to steer a foreign policy establishment that can often be unwieldy and slow to respond. They will also likely prove to be a strong team for a President who, on his own, is clearly not entirely well-informed about foreign affairs beyond whatever talking points, often based on false, misleading, or incomplete information, that he may have picked up from watching cable news.
The open question, of course, is how much freedom of action McMaster will have in his new position. Will he be able to pick his own staff, for example, and override decisions made by his short-tenured predecessor regarding membership on the National Security Council? How will he handle the fact that Trump's close adviser Steve Bannon, who has seemingly no real foreign policy experience, is a member of the NSC or at least has the right to sit in on NSC meetings? Most important, of course, is how much Trump will actually listen to him and the other members of the foreign policy team, or whether he'll listen to the other voices whispering in his ear when it comes to issues such as the war against ISIS and how to handle challenges from nations such as Russia, China, and North Korea. Only time will tell with respect to these questions, of course. At least initially, though, it seems as though Trump has a good foreign policy team assembled. The only question is whether he'll listen to them.