Trump Set To Place Tariffs On Another $540 Billion Of Chinese Goods
The Trump Administration is proposing another round of tariffs on even more Chinese goods.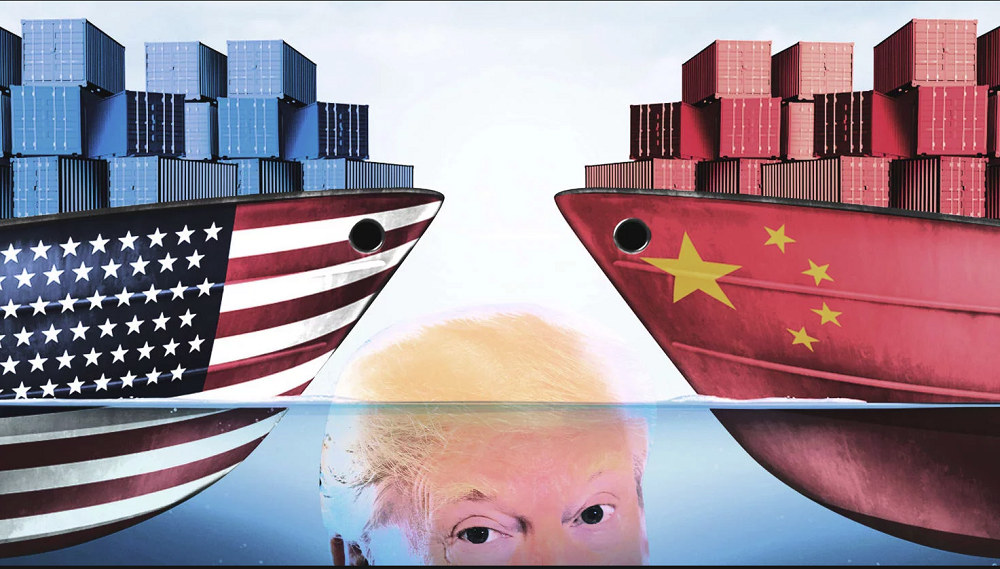 Just days after announcing a new round of tariffs aimed at China for which the Chinese have already retaliated, The Washington Post reports that the President is preparing to launch yet another round of tariffs on consumer goods, a move that will most assuredly impact American consumers and businesses:
The United States and China traded blows on Monday in the latest escalation of their tariff war, unnerving Wall Street and threatening to draw American consumers into the fray for the first time.

Both nations, which just days earlier had anticipated sealing a comprehensive commercial deal, instead took steps to raise new trade barriers. In Beijing, the Chinese government announced plans to impose tariffs on $60 billion worth of American products in retaliation for U.S. tariffs that President Trump increased on Friday.

Trump, meanwhile, began the process of expanding U.S. tariffs to cover all $540 billion in Chinese imports — a potentially seismic jolt to the global economy that is expected to raise prices for everyday products such as cell phones, sunglasses, cameras and televisions.

"There will be price hikes at Target, Costco, Home Depot and Walmart," said Nelson Dong, a partner with Dorsey & Whitney in Seattle. "The importers are going to pass on some or all of the tariff to the consumer and that will become much more readily apparent and harder to mask."

With hopes fading for an early resolution of the year-long U.S.-China trade dispute, the president said he would meet Chinese President Xi Jinping at the G20 leaders summit in Osaka, Japan, on June 28-29. Treasury Secretary Steven Mnuchin told CNBC that the two sides remained in "ongoing" negotiations.


"I love the position we're in," the president told reporters.


Investors were less impressed, sending the stock market to its worst one-day performance in months. The Dow Jones industrial average, which was down 719 points at its low, ended the day down more than 617 points or 2.4 percent to close at 25,324.99. All 30 Dow stocks lost ground.

During an early afternoon appearance in the Oval Office with Hungarian Prime Minister Victor Orban, the president appeared unfazed by the market jitters.


He boasted incorrectly that the federal government is collecting "hundreds of billions of dollars" in tariff revenue and said he planned to use $15 billion of that amount to bail out farmers suffering from lost sales to China.

"Our farmers will be very happy. Our manufacturers will be very happy. Our government will be very happy," Trump said. "It's working out very well."


In fact, the Treasury Department has collected $39 billion in customs duties over the first seven months of the current fiscal year, roughly $18 billion more than in the same period one year earlier.


Industry groups also proved hostile to the president's latest action. Most industries have cheered the president for confronting China over its pilfering of trade secrets and market-distorting policies. But executives have grown increasingly restive as the tariff toll has mounted.


"This is a self-inflicted wound that will be catastrophic for the nation's economy," said Rick Helfenbein, president and CEO of the American Apparel & Footwear Association. "By tightening the noose and pulling more consumer items into the trade war, the President has shown that he is not concerned with raising taxes on American families, or threatening millions of American jobs that are dependent on global value chains."

After a tweet from an editor of the Global Times, a Chinese state-affiliated publication, suggested that China might cease purchases of U.S. agricultural products and reduce Boeing orders, the embattled aircraft maker told CNBC it was confident the two sides would reach "an agreement that benefits both U.S. and Chinese manufacturers and consumers."


Boeing's stock price fell by almost 5 percent on Monday.

(…)

Trump frequently claims that the Chinese are paying the tariffs, insisting in a tweet on Monday "there is no reason for the U.S. consumer to pay the tariffs." Of the 25 percent levy, he claimed "4 points were paid by the U.S., 21 points by China," an apparent reference to a 2018 study by a team of Swiss and German economists.


That research relied on evidence from the 1990s rather than looking at what actually happened after Trump imposed the tariffs, economists said. More recent empirical studies concluded that Americans are paying the tariff tab.


"Using standard economic methods, we find that the full incidence of the tariff falls on domestic consumers, with a reduction in U.S. real income of $1.4 billion per month by the end of the 2018," concluded a March paper by economists from the Federal Reserve Bank of New York, Princeton University and Columbia University.

"This is not some kind of macroeconomic crisis or huge shock," said economist Mary Lovely of Syracuse University. "But it is going to be tough on lower-income households."
As noted, this round of tariffs, assuming they are put in place would most be among the most wide-ranging negative impacts of any that the Trump Administration has put in effect today. This is due both to the size of the total tariff package that the President is proposing here and the fact that the impact of these tariffs would fall almost exclusively on consumer goods such as electronics, toys, and other items that are sold in large stores such as WalMart and other locations. While it's possible that some sellers will at least at first attempt to ride out the increased prices and swallow some or all of the cost increases themselves, this isn't going to last for long and it will mean higher prices for American consumers across the board, most particularly among the very groups of people that supported President Trump in the last election.
No doubt, these new tariffs would lead to even more retaliation on the part of China. Even though the Chinese don't import enough American goods for tariffs to have a large impact, and recognizing the fact that increasing tariffs on American goods would harm Chinese businesses and consumers, there are other ways that the Chinese could seek to punish the United States for the tariffs. The easiest way would be to find different sources for the materials that they have, until now, purchased almost exclusively from the United States. This would most likely happen in the agriculture industry, where China could easily replace American goods with goods from Australia, South America, and other sources. In that case, the potential impact on American industry could be wider ranging than expected due to the fact that this could result in long-term contracts with non-American providers that would cut American agriculture off from one of its major customers in the world. Other options that could be available to Beijing include exchange rate manipulation and even a decision to decline to purchase American debt. In other words, while a trade war would hurt China, it could end up harming the United States more.