Trump to Nominate Herman Cain to Fed
Nein. Nein. Nein.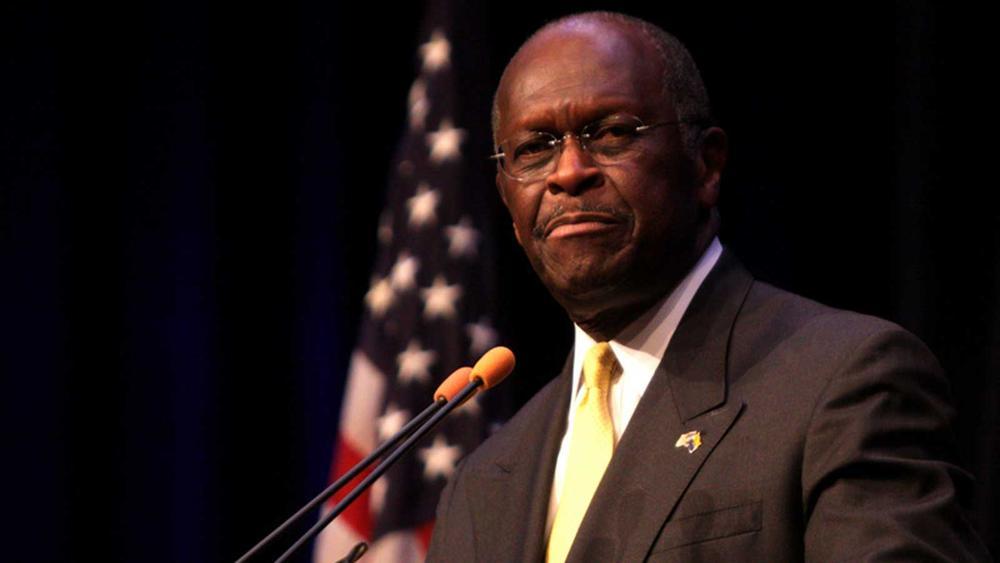 Bloomberg ("Trump Says Herman Cain, Ex-Pizza Executive, Is in 'Good Shape' for Fed Seat"):
President Donald Trump said Herman Cain, the former pizza company executive who ran for the 2012 Republican presidential nomination, is being vetted for a seat on the Federal Reserve Board.

Trump told reporters at the White House on Thursday that Cain is in "good shape." Cain would fill one of two open seats on the board; the president plans to name Stephen Moore, a visiting fellow at the Heritage Foundation and a long-time Trump supporter, for the other.

In Cain and Moore, Trump would place two political loyalists on the board of a central bank that has frequently crossed him. The president has repeatedly attacked Jerome Powell, his own appointee as Federal Reserve chairman, for raising interest rates, and Bloomberg News reported in December that Trump had even discussed firing him.

One way the president can directly influence monetary policy is through nominations to the Fed board, though anyone he picks must be confirmed by the Senate. Asked Thursday if he's trying to send a signal to the Fed with Cain and Moore, Trump said: "None whatsoever."

Cain in September co-founded a pro-Trump super-political action committee, America Fighting Back PAC, which features a photo of the president on its website and says: "We must protect Donald Trump and his agenda from impeachment."

Cain, who had a long corporate career, has previously worked in the Federal Reserve system. From 1992 to 1996, he served as a director of the Federal Reserve Bank of Kansas City, as well as deputy chairman and then chairman.

He advocated for the U.S. to return to the gold standard during his presidential campaign and as recently as December 2017 defended higher interest rates, a position that contrasts with Trump's repeated criticisms of the Fed last year.

Cain ran for the 2012 Republican presidential nomination but dropped out in late 2011 after allegations he engaged in sexual harassment when he led the National Restaurant Association in the 1990s. An Atlanta woman said she had had an extramarital affair with Cain for more than 13 years.

During the presidential campaign, Cain became known for his "9-9-9" tax plan, which would have replaced much of the U.S. tax code with a flat 9 percent tax on sales transactions as well as corporate and individual income.
The reaction has been, shall we say, predictable.
Jonathan Chait ("Trump Wants Herman Cain on the Fed Because He's an Unqualified Hack"):
Cain rose to fame during the 2012 election by running a proto-Trump candidacy in which he called for an electrified fence on the southern border, before eventually being forced from the race in a hail of sexual-harassment complaints. Cain was, in essence, proof of concept for the Trump campaign four years later, demonstrating the potential for a cartoonish infotainer to catapult to the top of the race by substituting aggressively simplistic catchphrases for even the semblance of a platform.

Viewed as a monetary policy-maker, Cain shares a great deal in common with Stephen Moore, another Trump nominee for the Fed. Moore helped craft Cain's famous 9-9-9 tax-reform proposal, a plan so wildly impractical even the most fanatical tax-cutters distanced themselves from it. Cain and Moore both occupy a special category in the conservative-movement universe as figures so transparently dim that even the other charlatans consider them charlatans.
He also pooh-poohs the notion that his KC Fed experience makes him qualified:
Cain, unlike Moore, does have some relevant work history that bears on his qualification for the Fed: He served on the Kansas City Federal Reserve between 1989 and 1996. These spots are often filled by local business leaders who are not required to possess much knowledge or carry out policy:

https://twitter.com/JustinWolfers/status/1113837303338807297?ref_src=twsrc%5Etfw
Chait continues:
More direct evidence of Cain's understanding of monetary policy comes from his punditry. The Federal Reserve uses monetary policy to help smooth out business cycles. When the economy slows down, it lowers interest rates to encourage more borrowing and economic activity. When the economy speeds up, it does the opposite, to prevent inflation. There are legitimate disagreements within this framework — intelligent observers can and do disagree about when the economy is growing fast enough to justify higher interest rates.

But Cain has advocated hard-money views that occupy a different universe than anything Federal Reserve board members have advocated, or probably even consider sane. Cain assailed the "politicized" Federal Reserve for "inflat[ing] our currency" in 2011, and calling for a return to the gold standard in 2012. The gold standard is an extreme deflationary policy favored by right-wing cranks, which would make it impossible to lower interest rates during recessions. The gold standard is a policy for people who object to the entire purpose of the Federal Reserve.

On the surface, it might seem paradoxical that Trump's response to a Federal Reserve policy that he considers too tight is to nominate a fanatical tight-money advocate. It would be like rejecting Yellen as too short and then nominating somebody three-feet tall.

But there is a peculiar logic to it. Cain's gold-standard fanaticism did not come from any deep ideological belief about interest rates or the money supply. It was an expression of right-wing fanaticism and partisanship during the Obama administration. The conservative business elite habitually expressed wild fears that Obama was producing hyperinflation, socialism, or some other form of uncontrollable social disintegration. Cain's punditry followed that script. So did Trump's, who at the time attacked the Federal Reserve for its loose money.
Paul Krugman takes to Twitter to make a more succinct argument, which I've edited for formatting purposes:
By choosing Herman Cain for the Fed, Trump has actually broken new ground. Moore was a shocker, but Cain represents a whole new level of Trumpiness.

The two can seem similar, in that both are clearly unqualified and likely to be purely political animals. But there's more.

Moore is an incompetent, dishonest hack. But he didn't come out of nowhere. The modern GOP wants people like him, and Moore — along with Kudlow – has been the party's go-to guy for hack economics for a long time. Trump was just rounding up the usual suspects.

But while Moore was out there predicting hyperinflation, faking numbers for the WSJ and giving speeches to Freedomfest, Cain was selling phony remedies for erectile dysfunction.

Some people inside the conservative cult probably didn't even know that Moore was a hack. Everybody knew, to the extent they thought of him at all, that Cain was a clown. So choosing Cain is an assertion that Trump can pick anyone, and expect the party to kneel down.

The thing is, he's probably right. All indications now are that there is no nomination Trump can make that's so absurd that more than 1 or 2 GOP Senators will say no.
Sadly, he's almost certainly right.