Trump Tones Down Anti-Iran Rhetoric In Wake Of Saudi Attack
As the Saudis continue to evaluate the impact of the weekend attack on a major oil facility, the Trump Administration tones down the anti-Iran rhetoric just a bit.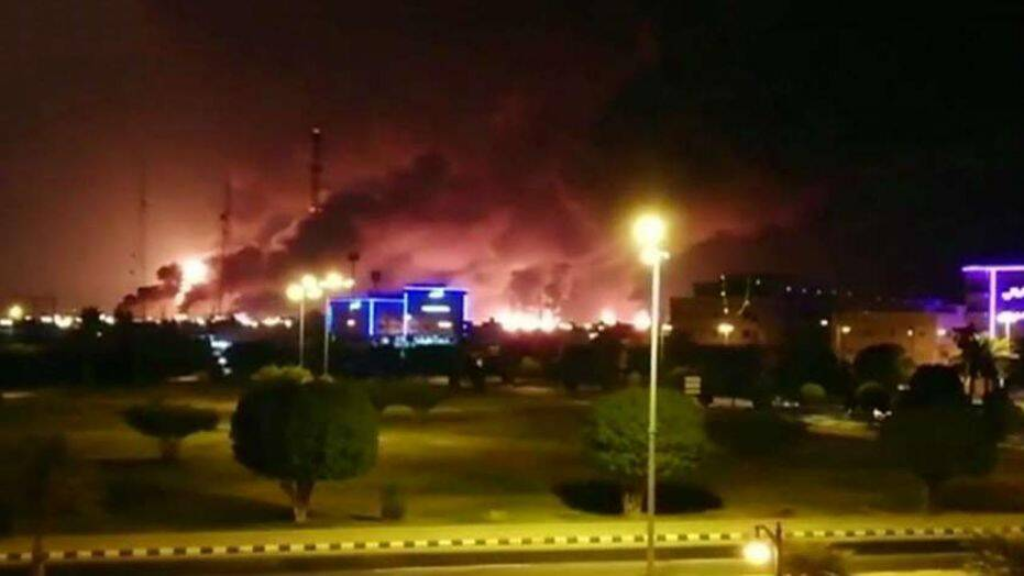 Just a day after appearing to send a message to Iran that it could face retaliation for the weekend attack on a Saudi Arabian oil facility, President Trump appears to be backing away from the hot button rhetoric and is stopping short of directly blaming Iran for the attack:
President Trump said Monday that Iran appeared to have been responsible for the weekend attack on Saudi Arabian oil facilities. But he also said he would "like to avoid" a military conflict with Tehran, emphasized his interest in diplomacy and played down the attack's jolt to the global oil market.

Asked at the White House whether Iran was behind the strikes on Saturday that crippled much of Saudi Arabia's oil output, Mr. Trump said, "It's looking that way." But he stopped short of a definitive confirmation, adding, "That's being checked out right now."

The attack was the most destructive blow to Saudi Arabia since it began waging war in Yemen more than four years ago. The damage inside Saudi Arabia helped drive world oil prices up by 10 percent on Monday, the fastest rise in more than a decade.

Mr. Trump warned that the United States has fearsome military capabilities and is prepared for war if necessary. "With all that being said, we'd certainly like to avoid it," he said. "I know they want to make a deal," he said of Iranian officials, whom he has been trying to draw into talks over their nuclear program and other issues. "At some point it will work out."

Mr. Trump's comments represented a notable shift in tone from the day before, when he wrote on Twitter that the United States was "locked and loaded," ready to take action based on Saudi Arabia's needs.
On Monday, he told reporters he had not "promised" to protect the Saudis. Rather, Mr. Trump said, he will "sit down with the Saudis and work something out."

The president's statements came shortly after Saudi Arabia, Iran's principal rival in the region, said Iranian weapons had been used in the attack. But while the Saudis said they would "forcefully respond to these aggressions," they also stopped short of directly blaming Iran and did not call for immediate retaliation.

The comments from Mr. Trump and the Saudis suggested they did not want the episode to escalate into a wider conflict, just a week before world leaders converge at the United Nations for the General Assembly. Mr. Trump had proposed meeting with Iran's president, Hassan Rouhani, possibly at the annual gathering in New York, although Iran ruled that out on Monday.

Responsibility for the attack was claimed by the Houthi insurgents in Yemen, who have been fighting a calamitous civil war against a Saudi-led military coalition. Iran is a chief ally of the Houthis.

American officials directly blamed Iran over the weekend for the blows to the Saudi oil facilities. They presented satellite photographs of the damage, contending that the images indicated that the attack had come from the north or northwest — in the direction of Iran or Iraq — not from Yemen, which is to the south. The Saudis also said Monday that their initial investigation showed that the attack had not come from Yemen.

But an analysis of the images by independent experts challenged those assertions.

The images did suggest a complex, precise attack that far exceeded any capabilities the Houthis had previously shown, raising the likelihood of Iran's involvement.

Still, experts said the images were insufficient to prove where the attack came from, which weapons were used and who fired them.

Iran has denied any involvement in the strike, which threatened to disrupt the global flow of oil.

But Mr. Trump sought to play down the impact on oil prices. "They haven't risen very much, and we have the strategic oil reserves, which are massive," he told reporters. By releasing some of those reserves, he said, "you'd bring it right down."
This new report comes at the same time that The Washington Post reports that Pentagon officials are urging restraint in response to the attack:
Pentagon officials on Monday recommended a restrained response to the recent attacks on Saudi oil facilities, arguing against a potentially costly conflict with Iran, which the administration has blamed for the strike on a key American ally, according to officials familiar with Defense Department deliberations.

Defense Secretary Mark T. Esper met with President Trump and key national security officials at the White House on Monday, two days after a series of explosions crippled two oil facilities in Saudi Arabia, disrupting more than half the Sunni kingdom's oil supply and dramatically escalating tensions with its chief rival, Shiite power Iran.

While Yemen's Houthi rebels have claimed responsibility for the attacks, Trump administration officials have said they believe that at least the bulk of the strikes, which targeted two facilities belonging to state-run Saudi oil firm Aramco, were launched from within Iran — an allegation that, if true, would represent a major escalation between the Middle East's leading regional powers.

In a message posted on Twitter, Esper, who took over at the Pentagon in the midst of a previous confrontation with Iran in June, said the U.S. military and other government agencies were "working with our partners to address this unprecedented attack and defend the international rules-based order that is being undermined by Iran."
But military officials are also privately urging caution, seeking to defuse tensions they believe could push the United States into a possibly bloody conflict with Iran at a time when the Pentagon is seeking to wind down insurgent wars in the Middle East and reorient toward competition with China.

The officials, who spoke on the condition of anonymity to describe their views, sought to emphasize the fact that no American personnel or facilities had been targeted in the weekend attacks, suggesting that a direct U.S. military response might not be merited. They also said that, if such a move was deemed necessary, the administration would need to find a valid legal basis to take action.

Pentagon officials have also stressed the risks to the at least 70,000 U.S. personnel stationed under U.S. Central Command, which stretches from Egypt to Pakistan, if tensions with Iran spin out of control.

Defense officials have repeatedly raised similar concerns as the Trump administration has embraced a hawkish policy toward Iran over the past 18 months, including the president's decision to withdraw from his predecessor's nuclear deal with Tehran and to impose harsh new sanctions on Iran and its affiliates.
It's worth noting that the Houthi rebels continue to claim responsibility for the attack, but the consensus from U.S, and international officials find that claim to be doubtful at best. The first reason for this is the fact that, while the Houthis have used drones in battle before this they have not committed the kind of coordinated, highly sophisticated, and obviously well-planned attacked like the one that occurred on Saturday. According to some reports, the attack Additionally, while the Houthis have attacked Saudi Arabian territory before, those targets have generally been closer to the Saudi-Yemeni border and typically been against targets related to the Saudi military and the Saudi war on Yemen. This attack occurred some 900 miles away from the Yemeni border and was against a civilian target. Additionally, there are some reports that state that there's evidence that the drones approached the facility from the north or northeast, which suggests a launch site in either that portion of Iraq controlled by pro-Iranian Shiite militias or from Iran itself. In that same regard, there was a report of a drone over sensitive parts of Kuwait City on Saturday at roughly the same time the attack was taking place in Saudi Arabia. Given all of this, the suspicion that the attack originated from somewhere other than Yemen and that it was launched by someone other than the Houthis is well-founded.
Needless to say, how this all plays out over the next several days and weeks is significantly important. As it stands, all sides seem to be interested in keeping the rhetoric toned down so that neither side is dragged into a conflict that would most likely not be limited to retaliation but instead would threaten to spread out across the Persian Gulf region and potentially erupt into a wider war. Quite obviously this would not be in the interest of the United States and it would potentially throw the entire world economy into a downward spiral due to its inevitable impact on world oil prices. That's why it's crucial that the response to this incident be measured and well thought out. Unfortunately, we've got a leader in the White House who is not noted for either of those things.
In any case, this could very well become the first real foreign policy crisis that President Trump has faced. I'm most emphatically not confident of his ability to handle it well.