Trump Trial Fallout: Who Knows?
Early analysis merely confirms analysts' priors.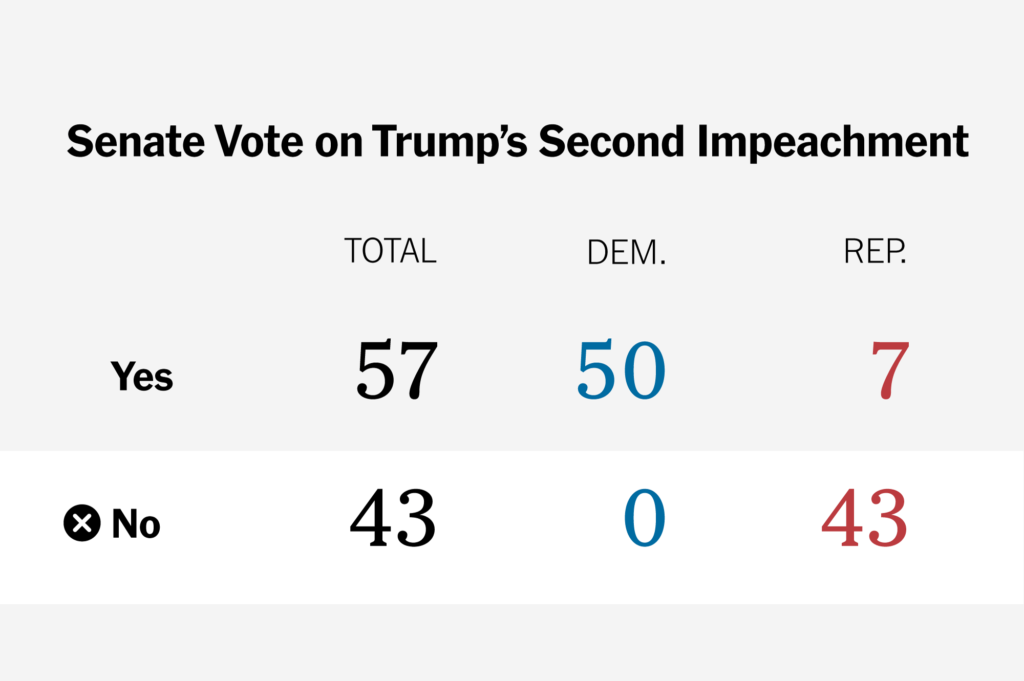 As Steven Taylor noted here yesterday, seven Republican Senators joined all 50 Senate Democrats in voting to convict former President Trump of inciting the riot that killed five people at the Capitol last month. While more than just about anyone predicted going in, that was still ten votes shy of that required by the Constitution for a guilty verdict.
So, what does that tell us? Probably not much we didn't know.
A POLITICO Magazine feature in which "Fourteen experts explain what the president's fast, unusual second impeachment will mean for America" is all over the place, perfectly matching what one would have expected from each of the experts based on their ideological positioning.
National Review's Andrew C. McCarthy, who cranked out half a dozen books explaining why Barack Obama should have been impeached or how he and Hillary Clinton compared to steal the 2016 election, blamed the Democratic impeachment managers for failing to prove their case. He actually makes some good points, especially that there should have been articles beyond "incitement," but it strains credulity that it would have mattered if the aim was securing 17 Republican votes to convict.
Former George W. Bush speechwriter turned former Republican David Frum offers perhaps the most optimistic take I've encountered.
In 1955, a junior United States senator named John F. Kennedy published Profiles in Courage, a collection of short essays about eight of his predecessors who had risked their careers for their ideals over the previous 150 years.

In one single day in 2021, that many senators showed courage worth enduring historical honor. Seven were Republicans: Richard Burr, Bill Cassidy, Susan Collins, Lisa Murkowski, Mitt Romney, Ben Sasse, and Pat Toomey. The other was Joe Manchin, a Democrat from a state where nearly 69 percent of the voters chose Donald Trump for president in 2020.

Thanks to their integrity, a clear majority of the Senate voted to condemn the former president as an insurrectionist against the United States. The 57-43 margin wasn't enough to convict under the Constitution. It wasn't enough to formally disqualify Trump from ever again seeking office in the United States. But practically? It will do as a solemn and eternal public repudiation of Trump's betrayal of his oath of office.

You say that you are disappointed? That a mere rebuke was not enough? That justice was not done? It wasn't. But now see the world from the other side, through the eyes of those who defend Trump or even want him to run again. Their hope was to dismiss this impeachment as partisan, as founded on fake evidence, as hypocritical and anti-constitutional—to present this verdict as an act of oppression by one half the country against the other. That hope was banished today.

It's not half against half. It's a clear American majority—including a sizable part of the Republican Senate caucus—against a minority. And even many of the senators who voted to acquit went on record to condemn Trump as an outlaw and a seditionist.
I tend to agree that that's not nothing. Trump simply wasn't going to be convicted given the supermajority requirement.
We can't have it both ways here. If this was a criminal trial, the damning evidence against Trump fell short of the incredibly high bar for incitement (for reasons McCarthy lays out nicely). If this was a political trial, then politics naturally factor in. And, like it or not—and I decidedly don't—the constituencies of most Republican Senators didn't want them to vote to convict the man for whom they just voted to re-elect as President.
So, I agree with Frum that the Senators—and he rightly includes Manchin in their number—who voted their conscience at the risk of rebuke from their constituents sent a powerful message, indeed.
I share Steven's bewilderment over Republican Leader Mitch McConnell's mixed signal. It's bizarre, indeed, to declare that Trump is guilty of the charges and more and yet vote to acquit him on a dubious technicality of jurisdiction. Even if I believed McConnell was a man of scrupulous principle, he should have at minimum voted Present or otherwise refused to vote to acquit. There is, after all, no plausible scenario in which the Senate has no authority to try a man and yet has the authority to acquit him. Beyond that, there was ample time to hold a five-day trial between the House voting to impeach Trump a second time on January 13 and Trump's departure from office on January 20.
All in all, while I agree with NYT columnist Alexander Burns was yet another demonstration that the Republican Party is still controlled by Trump and Trumpists, it was what I expected going in and I'm actually pleasantly surprised that we got as much demonstration of spine as we did.