Impeachment Toothlessness
A political trial for political crimes always yields a political result.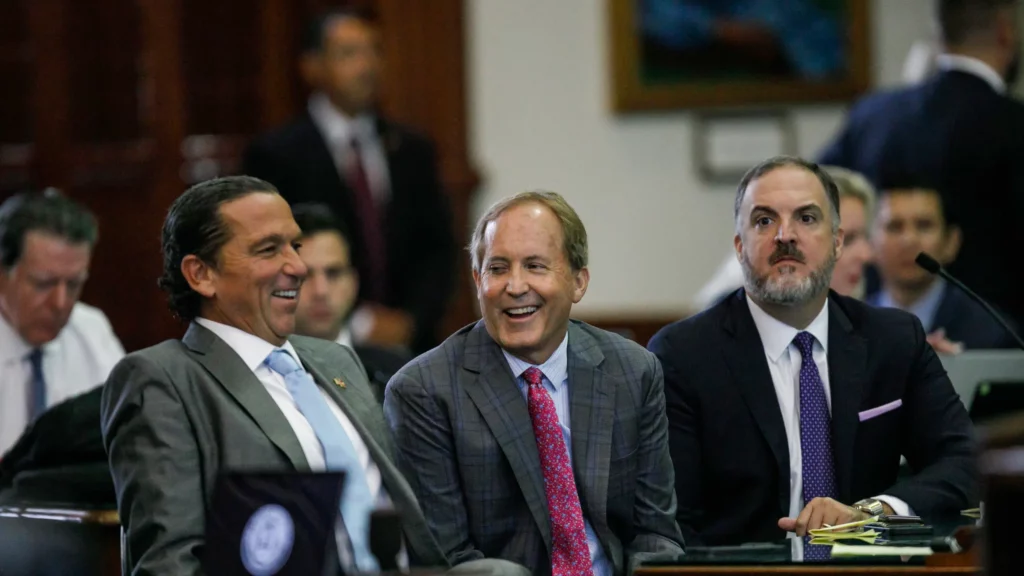 Despite overwhelming evidence that he abused his office, Texas's attorney general was acquitted on all charges by a legislature controlled by his party. Because of course he was.
NBC News ("Texas Attorney General Ken Paxton acquitted in impeachment trial"):
Impeached Texas Attorney General Ken Paxton was acquitted on 16 impeachment articles on Saturday, thwarting an effort to remove him from office over allegations of corruption.

"Attorney General Warren Kenneth Paxton Jr. is hereby, at this moment, reinstated to office," said Lt. Gov. Dan Patrick, the Republican president of the Senate who also presided over the trial.

While two Republican senators broke with their party to vote for conviction on some articles of impeachment, the vast majority of Paxton's party voted to acquit him following a two-week trial and a day of deliberations behind closed doors. Four impeachment articles that had been put on hold during the trial were dismissed immediately after the acquittal vote.

Paxton had been suspended without pay from his post after he was impeached in the Republican-controlled Texas House of Representatives in May by an overwhelming vote.

"The attorney general is excited and ready to get back to work, and that's what he's gonna do," said Paxton attorney Tony Buzbee.

Paxton rose to prominence as a top legal adversary of former President Barack Obama's administration, and later as a key ally of former President Donald Trump's administration. Lawsuits to overturn the Affordable Care Act, legal protections of young undocumented immigrants, and the results of the 2020 election made him a popular force for the right, even after he was indicted on securities fraud charges in 2015.

But Paxton's political support fractured this year when the state House impeached him over allegations of abuse of office and bribery.

While House Republicans enjoyed an element of surprise — the investigation into Paxton was largely done in secret before House leaders went public and quickly moved for a vote — the senators faced months of political pressure leading up to the trial.

In remarks following the verdict, Patrick lambasted the House for rushing Paxton's impeachment through that chamber and called for a Constitutional amendment to rework the impeachment process.

Patrick has presided over the trial as its judge and said he'd stayed mostly silent throughout the summer in order to do so, but he didn't hold back on his opinion once the verdict was cast.

"Our founders expected better. It should have never happened this year, and hopefully it doesn't again," he said of the impeachment.

In a press conference, Texas state Rep. Andrew Murr, lead prosecutor in the impeachment trial, criticized the vote, saying, "This trial painted an accurate and clear picture of an out of control attorney general who refused to listen to the desperate warnings of his conservative lawyers that he had entrusted to help run his office."

"I am proud of the case that we presented because it demonstrates considerable, uncontested, uncontroverted evidence of Mr. Paxton's corruption," he said. "We fully understood the weight of impeachment and the enormity of the pressure we would face to look away from this corruption."
The Daily Beast ("Texas AG Ken Paxton Survives Fiery Impeachment Trial"):
The embattled Texas Attorney General Ken Paxton avoided an impeachment conviction on Saturday with Texas' Republican-majority state Senate determining his alleged corruption with a top donor didn't warrant a conviction.

The vote came after a contentious impeachment trial that split Republicans for and against Paxton. The first to levy corruption allegations were the hand-selected members of Paxton's own office, who said they turned on their boss after he ignored their pleas to quit giving the real-estate tycoon Nate Paul special treatment.

Paxton, 60, was then hit with 16 impeachment charges in May. Most notably, he was accused of thwarting a federal fraud probe into Paul by hiring an outside attorney to scrutinize federal search warrants for Paul's home and businesses—a move that puzzled those closest to Paxton and later unraveled a slew of other wrongdoings.

Four whistleblowers left Paxton's office after they dished to FBI agents—information they later revealed to the public in a lawsuit against Paxton. They accused Paxton of accepting bribes from Paul, ordering top staffers to research ways to help Paul, and concocting phony COVID-19 gathering restrictions to postpone Paul's foreclosure auctions.

[…]

Jeff Mateer, the former second-in-command to Paxton, testified on Sept. 6 that Paxton's relationship with Paul was perplexing from the jump. He said he feared Paxton was being blackmailed, but said he "couldn't protect him because he didn't want to be protected."

Mateer testified that the reasoning behind Paxton's relationship with Paul came into focus once he learned Paxton was having an affair with a woman Paul was tied to. Mateer said Paxton had been seeing his old mistress again—a woman on the payroll of Paul's construction company despite not being qualified for the gig.

That testimony was backed up by details uncovered in a House investigation, which revealed Paxton used a burner phone and a pseudonym to hail Ubers to visit his secret lover. While defense attorneys insisted the affair—the second of Paxton's career—was irrelevant to Paxton's impeachment, witnesses testified otherwise.

Mateer said the hidden relationship "answered the question" as to why Paxton was willing to stick his neck out for Paul, a shady Austin businessman who was arrested by the feds on undisclosed charges in June.

"I concluded that Mr. Paxton was engaged in conduct that was immoral, unethical, and I had the good faith belief that it was illegal," Mateer said.
Texas Tribune ("Texas Attorney General Ken Paxton acquitted on all 16 articles of impeachment"):
The Texas Senate on Saturday acquitted Attorney General Ken Paxton of 16 articles of impeachment alleging corruption and bribery, his most artful escape in a career spent courting controversy and skirting consequences of scandal.

No article received more than 14 of the required 21 votes to convict. Only two of 19 Republican Senators, Bob Nichols of Jacksonville and Kelly Hancock of North Richland Hills, voted in favor of convicting for any article — a stark contrast to the more than 70% of House Republicans who impeached the attorney general in May.

[…]

The dramatic votes capped a two-week trial where a parade of witnesses, including former senior officials under Paxton, testified that the attorney general had repeatedly abused his office by helping his friend, struggling Austin real estate investor Nate Paul, investigate and harass his enemies, delay foreclosure sales of his properties and obtain confidential records on the police investigating him. In return, House impeachment managers said Paul paid to renovate Paxton's Austin home and helped him carry out ­and cover up an extramarital affair with a former Senate aide.

In the end, senators were unpersuaded.

[…]

But acquittal was not a foregone conclusion during the eight hours of deliberation, Sen. Royce West said. The Democrat from Dallas said some Republicans supported conviction but switched their votes when it became clear it did not have the required two-thirds support.

The not guilty verdicts immediately restored Paxton to office, lifting the automatic suspension triggered by the House vote in May to impeach him. The votes sealed the failure of a risky gambit by House Republicans who began in secret in the spring to investigate, and then purge, a leader of their own party.

And they came after sustained pressure on senators from grassroots groups, conservative activists and the leader of the state Republican Party who vowed retribution at the ballot box if Paxton was convicted.

[…]

Despite the victory, Paxton's troubles are far from over. He faces trial on charges of securities fraud dating back to 2015.

More dangerous to Paxton is a federal investigation that began when the attorney general's senior aides reported him to the FBI in 2020, alleging crimes that mirror the impeachment charges. That case has reached a grand jury in San Antonio. A new criminal indictment carries far higher stakes than impeachment. Campaigning to stay in office is one thing; fighting to remain out of prison is another entirely.

Even in the long, sordid history of Texas political scandals, Paxton stands out. The accusations leveled against him in 21 years of public life ranged from felonious to farcical: that he duped investors to whom he sold stock, profited from inside information on a land deal, made false claims in court about the 2020 presidential election, and purloined another lawyer's expensive pen.
I don't claim any expertise in the particulars of Texas' impeachment process but the main features mirror that of the Federal version: the House is responsible for impeachment, the issuance of formal charges, and the Senate for voting whether to convict and remove, with a two-thirds supermajority is required. In both instances, while the charges ostensibly involve criminal conduct, the determination of "guilt" and removal is ultimately political.
It would be extraordinary, indeed, for a Senate controlled by either party to vote to remove an impeached member of their own party. In the Federal context, there have been four presidential impeachments: Andrew Johnson, Bill Clinton, and Donald Trump (twice). In the cases of Johnson and Clinton, both Democrats, not a single Democratic Senator voted to convict. Trump made history in not only being impeached twice but in getting a smattering of Republican "convict" votes in both instances. But, crucially, these votes were pro forma in that those casting them knew the outcome would fall well short of removing him. It's doubtful, indeed, that they would have had the courage to do so otherwise.
The end result is a process that's not only feckless but corrupt. Not only do high officials get away with gross misconduct, their inevitable escape means they get to claim that the very charges against them were politically motivated. And, while it's unlikely to succeed, we're now seeing the natural result of this: a transparently political process to begin an impeachment inquiry into President Biden on absurdly thin pretenses—almost certainly as retribution of the Trump impeachments.