Trump Impeached Once More with Feeling
The 45th President will go down in infamy, setting a record that's unlikely to be broken.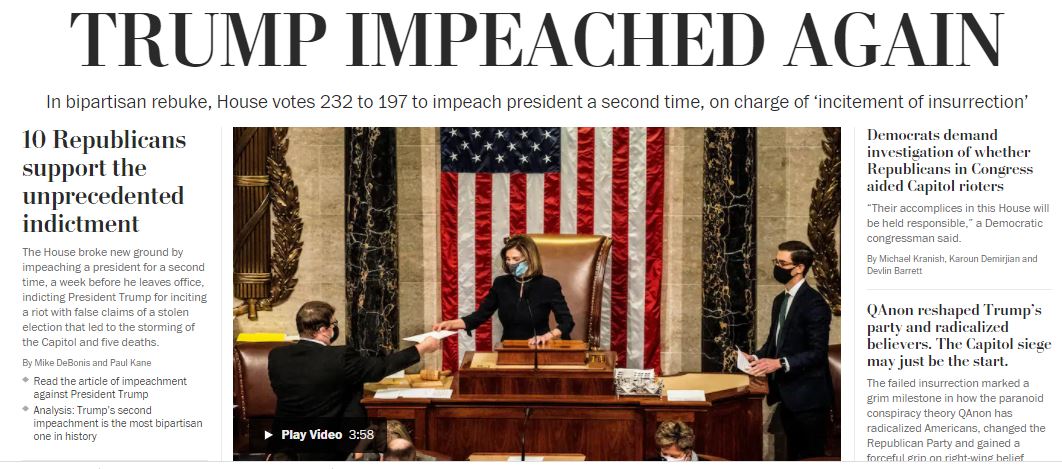 Above is a screenshot of the Washington Post website. Aside from the blaring headline broadcasting the historic second impeachment of a single president—in a single term, no less—there are sidebar stories on whether Republican Congressmen gave direct support to the Capitol rioters and the degree to which a lunatic fringe conspiracy theory has reshaped said party. And that's just above the proverbial fold.
The main story, by Mike DeBonis and Paul Kane, is headlined "House hands Trump a second impeachment, this time with GOP support."
The House made history Wednesday by impeaching a president for a second time, indicting President Trump a week before he leaves office for inciting a riot with false claims of a stolen election that led to the storming of the Capitol and five deaths.

Unlike Trump's first impeachment, which proceeded with almost no GOP support, Wednesday's effort attracted 10 Republicans, including Rep. Liz Cheney, the No. 3 party leader in the House. The Senate now appears likely to hold a trial after Trump's departure, an unprecedented scenario that could end with lawmakers barring him from holding the presidency again.

The final vote was 232 to 197.

One of the final dramas of a tumultuous presidency, the impeachment unfolded against the backdrop of near-chaos in the House and uncertainty about where Trump's exit leaves the GOP. Democrats and Republicans exchanged accusations and name-calling throughout the day, while Trump loyalists were livid at fellow Republicans who broke ranks — especially Cheney — leaving the party's leadership shaken.
Dan Balz's companion piece is titled "Trump is impeached, again, with the country even more at war over his presidency."
President Trump fixed a place in history once again Wednesday as the first president to be twice impeached. But the background and circumstances of this latest rebuke are likely to be remembered as much as or more than the vote itself — set against a country seething with anger and with the streets of the capital patrolled by thousands of troops ahead of the coming transfer of power.

Over the nearly six-year span encompassing Trump's entry into politics and the life of his presidency, the country has been changed dramatically, but never as much as in the time between the two impeachment votes. When Trump's term ends, he will leave behind a country not just divided and in disrepair but one that has been seeded with combustible obstacles in the path of President-elect Joe Biden.

There will be no clean break from one administration to another. The effects of Trump's presidency will spill over into the early days — and perhaps longer — of Biden's administration, from a Senate impeachment trial to threats of violence and unrest that have shown no real sign of easing since last week's attack on the Capitol by an armed mob inspired by the president himself.
Seung Min Kim and Paul Kane follow with "McConnell breaks with Trump, says he'll consider convicting him in Senate trial."
The bipartisan impeachment vote in the House against President Trump on Wednesday set up a politically explosive reckoning for Senate Republicans, who spent four years enabling Trump's behavior but in the wake of last week's Capitol riot are grappling with how — or whether — to punish him with just seven days left in office.

The most striking position came from Senate Majority Leader Mitch McConnell (R-Ky.), who said Wednesday that he will consider convicting Trump on inciting the attempted insurrection at the Capitol on Jan. 6 — a remarkable break between the two men who worked in lockstep for four years, even as the majority leader continually deflected questions about Trump's untoward conduct and rhetoric.

It was also a dramatic shift from his position during Trump's first impeachment a year ago, when he publicly stressed that he was "not an impartial juror" and privately worked in concert with White House officials to map out the president's eventual acquittal in the Senate.

"While the press has been full of speculation, I have not made a final decision on how I will vote and I intend to listen to the legal arguments when they are presented to the Senate," McConnell said in a message to his colleagues, an excerpt of which was released by his office.
To the surprise of no one, Philip Rucker, Josh Dawsey and Ashley Parker report "Trump is isolated and angry at aides for failing to defend him as he is impeached again."
When Donald Trump on Wednesday became the first president ever impeached twice, he did so as a leader increasingly isolated, sullen and vengeful.

With less than seven days remaining in his presidency, Trump's inner circle is shrinking, offices in his White House are emptying, and the president is lashing out at some of those who remain. He is angry that his allies have not mounted a more forceful defense of his incitement of the mob that stormed the Capitol last week, advisers and associates said.

Though Trump has been exceptionally furious with Vice President Pence, his relationship with lawyer Rudolph W. Giuliani, one of his most steadfast defenders, is also fracturing, according to people with knowledge of the dynamics between the men.

Trump has instructed aides not to pay Giuliani's legal fees, two officials said, and has demanded that he personally approve any reimbursements for the expenses Giuliani incurred while traveling on the president's behalf to challenge election results in key states. They said Trump has privately expressed concern with some of Giuliani's moves and did not appreciate a demand from Giuliani for $20,000 a day in fees for his work attempting to overturn the election.

As he watched impeachment quickly gain steam, Trump was upset generally that virtually nobody is defending him — including press secretary Kayleigh McEnany, senior adviser and son-in-law Jared Kushner, economic adviser Larry Kudlow, national security adviser Robert C. O'Brien and Chief of Staff Mark Meadows, according to a senior administration official.

"The president is pretty wound up," said the senior administration official, who, like some others interviewed, spoke on the condition of anonymity to be candid. "No one is out there."
Over at the New York Times, Peter Baker rightly terms this as "A Preordained Coda to a Presidency."
Not since the dark days of the Civil War and its aftermath has Washington seen a day quite like Wednesday.

In a Capitol bristling with heavily armed soldiers and newly installed metal detectors, with the physical wreckage of last week's siege cleaned up but the emotional and political wreckage still on display, the president of the United States was impeached for trying to topple American democracy.

Somehow, it felt like the preordained coda of a presidency that repeatedly pressed all limits and frayed the bonds of the body politic. With less than a week to go, President Trump's term is climaxing in violence and recrimination at a time when the country has fractured deeply and lost a sense of itself. Notions of truth and reality have been atomized. Faith in the system has eroded. Anger is the one common ground.

As if it were not enough that Mr. Trump became the only president impeached twice or that lawmakers were trying to remove him with days left in his term, Washington devolved into a miasma of suspicion and conflict. A Democratic member of Congress accused Republican colleagues of helping the mob last week scout the building in advance. Some Republican members sidestepped magnetometers intended to keep guns off the House floor or kept going even after setting them off.

All of which was taking place against the backdrop of a pandemic that, while attention has drifted away, has grown catastrophically worse in the closing weeks of Mr. Trump's presidency.
While I'm skeptical there are enough Senate Republicans with the necessary backbone to vote to convict Trump, this is a fitting end to a nightmare presidency that should never have been. Donald Trump is an international pariah. None of his close supporters emerged with their reputations intact; indeed, most are untouchable in polite society. The party that allowed him to use their brand as a vehicle for his agenda is in tatters. And he has been abandoned by pretty much everyone. And, of course, he's stiffing his lawyers.
It would all be just and fitting if the country didn't pay such a high price. Aside from likely irreparable damage in our global reputation, Trump's incompetence and solipsism have us approaching near-World War II levels dead from a virus that he spent most of a year downplaying. We're losing well more than 9/11 attack levels a day now and that won't magically stop in six days when Joe Biden takes the baton.