Trump Wants Dept. Of Justice To Investigate Source Of Anonymous Op-Ed
President Trump wants Jeff Sessions and the Justice Department to investigate the anonymous Op-Ed published earlier this week even though there doesn't appear to have been a crime committed.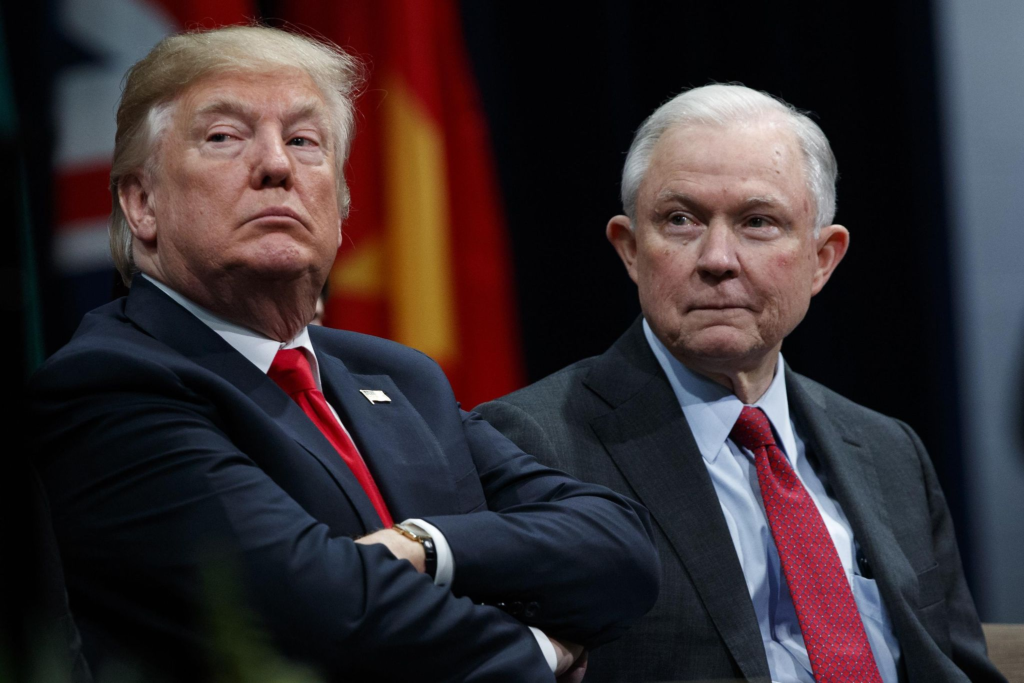 In response to the anonymous Op-Ed published earlier this week in The New York Times regarding what some have described as an internal rebellion inside the Administration, President Trump is calling on the Department of Justice to investigate:
WASHINGTON — President Trump intensified his attack Friday on an anonymous Op-Ed essay published in The New York Times, declaring that he wanted Attorney General Jeff Sessions to investigate the source of the article, which he has condemned as an act of treason.

Mr. Trump said he was also considering action against The Times, though he did not elaborate. Prosecutors said it would be inappropriate for the Justice Department to conduct such an investigation, since it was likely that no laws were broken, while The Times said it would be an abuse of power.

Speaking to reporters on Air Force One as he traveled to Fargo, N.D., Mr. Trump said, "I would say Jeff should be investigating who the author of that piece was because I really believe it's national security."

The president has raged against the essay since The Times published it on Wednesday afternoon, setting off a frenzy of speculation in the capital about the identity of the author and prompting a parade of denials from cabinet members and other prominent officials in the Trump administration.

Mr. Trump's latest remarks indicate that he wants to use the machinery of the government to root out the source of the Op-Ed, which described some administration officials as being in a state of near mutiny against a president they view as dangerous and untethered from reality.

"We're going to take a look at what he had, what he gave, what he's talking about, also where he is right now," he said.

While the president suggested that the anonymous writer was not a senior official, he said that the person might nonetheless have a security clearance that allows him or her to attend sensitive national security meetings involving China, Russia or North Korea.

"I don't want him in those meetings," Mr. Trump said.

To set an investigation into motion, the White House counsel's office would normally contact the Justice Department. It is not clear whether the White House has done that. A spokeswoman for the department said it does not confirm or deny the existence of investigations.

"For the Justice Department to investigate, you need a good-faith belief that a federal statute has been violated, and I can't think of a law that would be violated by sharing information — that is not classified — in an Op-Ed," said Barbara L. McQuade, a former United States attorney for the Eastern District of Michigan.

(…)

The Times's editorial page department identified the writer as a "senior official in the Trump administration" — a classification that could apply to hundreds of government employees.

Mr. Trump said he was open to the idea of administering lie detector tests to members of his staff to determine the identity of the source. But he added, "Eventually the name of this sick person will come out."

After a week of damning disclosures, Mr. Trump has struggled to contain the sense that he sits atop an out-of-control administration. He insisted that the White House was a well-oiled machine and blamed a vengeful, corrupt news media for the appearance of disarray.

At a rally Thursday night with supporters in Billings, Mont., he complained that the cloak of anonymity made it difficult to discredit the author. "It may not be a Republican, it may not be a conservative," he said. "It may be a deep state person that's been there a long time."

"It's very unfair to our country and to the millions of people that voted really for us," Mr. Trump said.
Trump also responded to the Op-Ed on Twitter:
TREASON?

— Donald J. Trump (@realDonaldTrump) September 5, 2018
Are the investigative "journalists" of the New York Times going to investigate themselves – who is the anonymous letter writer?

— Donald J. Trump (@realDonaldTrump) September 6, 2018
Does the so-called "Senior Administration Official" really exist, or is it just the Failing New York Times with another phony source? If the GUTLESS anonymous person does indeed exist, the Times must, for National Security purposes, turn him/her over to government at once!

— Donald J. Trump (@realDonaldTrump) September 5, 2018
Based solely on what is contained in the Op-Ed it's not clear at all what it is the President would have the Justice Department investigate. The article doesn't set forth any classified or otherwise secret information, nor does it allege any activity that could really be considered illegal. At its worst, the piece describes a group of people inside the Administration who, although they support the policy goals that the President and Republicans on Capitol Hill may have in mind, are concerned about the manner in which this President is governing and the decisions that he might make if he weren't restrained by some of the advisers around him. While this may be considered disloyal, and the President would be well within his rights to fire the person or persons who might be behind the article, there doesn't appear to be any crime being committed here. Without that, there would be no justification for the Justice Department, the Federal Bureau of Investigation, or any other law enforcement agency outside the White House to open an investigation. Of course, as I've noted before, respect for the Rule of Law isn't exactly a strong point for this President so it isn't surprising that he would be making a call like this.
Even more absurd than the idea that the anonymous Op-Ed is somehow a violation of the law is his claim that it is somehow a threat to national security. The Op-Ed does not reveal anything secret, doesn't compromise the nation's negotiating position with respect to anything going on in North Korea, the Middle East, or elsewhere in the world, and does not reveal any military secrets. All it does is reveal that there are people inside the Administration who are concerned that this President is acting in a manner that may not be in the best interests of the United States and attempt to reassure people that there are those inside the West Wing seeking to restrain his impulses. As I've said earlier this week, I'm not sure that this is the best strategy for people in this position to be following and the idea of the kind of "soft coup" described in the Woodward book is disturbing and entirely inappropriate, but the Op-Ed itself doesn't appear to me to violate any law and it would be entirely wrong.
The most disturbing thing about all of this, of course, is the fact that it is yet another example of the President attempting to use the Department of Justice to go after his political enemies. This, of course, is precisely what President Nixon was accused of doing during Watergate and was one of the grounds of impeachment that would have been voted out against him had he not resigned from office. While it's still far too early to know if Trump will suffer a similar fate, the fact that this is his first instinct is both telling and profoundly disturbing. Hopefully, Attorney General Sessions will continue to resist these calls to politicize his department.