Trump's Approval Rating Higher Than Obama's at This Juncture
A startling statistic that hides a more comforting reality.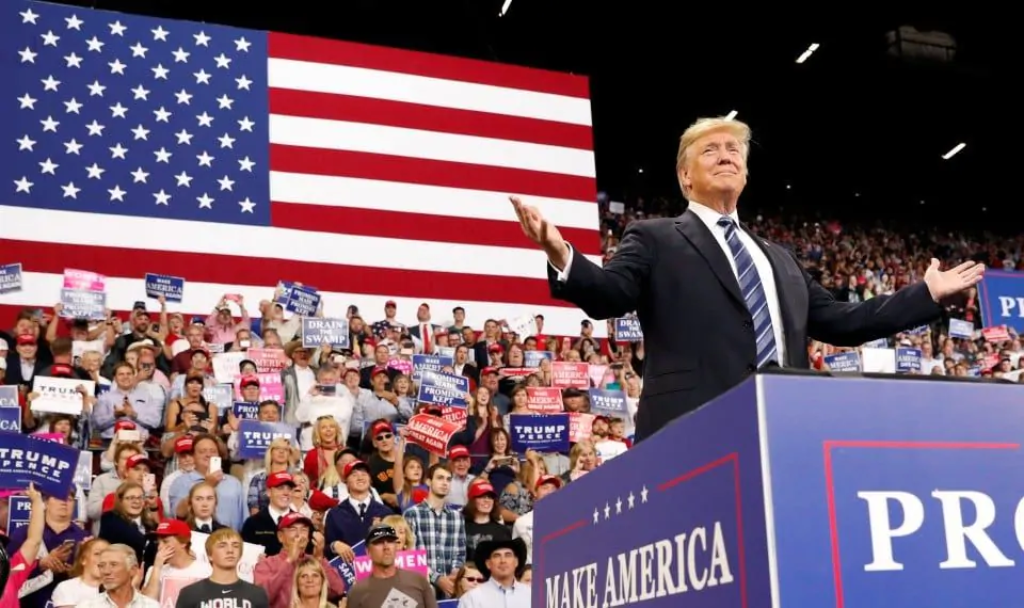 The news overnight that the whistleblower case against President Trump involves Ukraine, coupled with Trump lawyer Rudy Guiliani sought to have the Ukrainian government investigate Joe Biden, should be troubling even for Trump supporters. Doug Mataconis has a post on that set to publish. I must confess, I'm still trying to wrap my head around the legal issues.
This latest scandal comes as Newsweek alerts us that "DONALD TRUMP'S APPROVAL RATING SURPASSES OBAMA'S, NOT JUST ON RASMUSSEN REPORTS."
President Donald Trump's job approval rating this week averaged across major polls surpassed that of his predecessor President Barack Obama at the same time eight years ago, giving some actual good news to Trump who is known to cite only conservative-leaning polls to bolster his image.

Trump's approval rating on Wednesday was 44.3 percent, according to a Real Clear Politics average of more than a half-dozen major polls. That is higher than Obama's average approval rating of 43.9 percent on September 18, 2011, by the same measure.

The 45th president's average approval rating surpassed that of his predecessor on Monday and stayed on top for the next two days. Trump's average approval rating on Monday was 44.1 percent compared to Obama's 43.9 percent on September 16, 2011, and 44 percent on Tuesday compared to Obama's 43.8 percent on September 17, 2011.
At first glance, this is surprising, indeed. Looking into the numbers, though, we see that, not only does Trump remain substantially underwater (his disapproval rating is 53.2 percent) but he's not doing particularly well even by his own standard: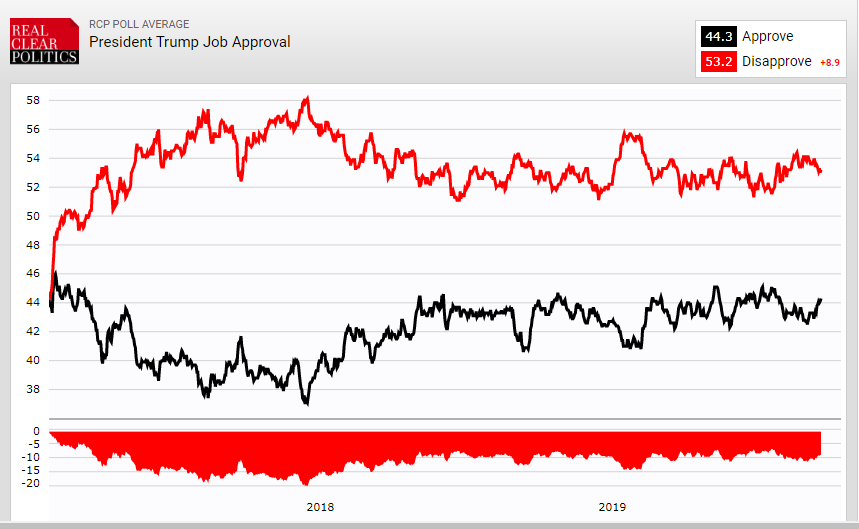 As you can see, while he's nowhere near his historic lows, he's had higher approval ratings at multiple times, including recently.
Thus, the comparison must have more to do with how Obama was doing at this juncture. And, indeed: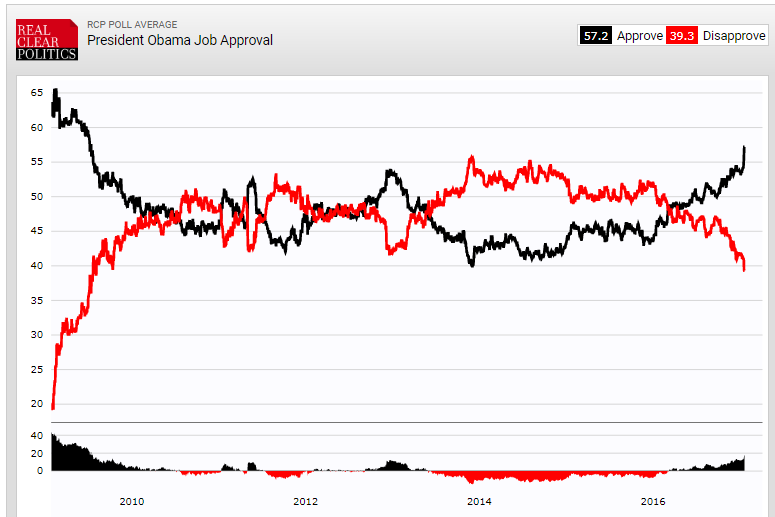 It's a bit hard to see in this static capture but this period in 2011 and late November 2013 are the low water marks of Obama approval.
Looking back at our September 2011 archives, it's easy to see why. There was bad economic news, the Solyndra and Fast and Furious brouhahas were unwinding, a government shutdown fight was ending, and the Republican race for 2012 was underway.
Presumably, Newsweek wants us to remember that Obama went on to be easily re-elected and think that Trump could do the same. And it's certainly possible. But these ratings were short-lived blips for Obama, who was generally as popular as a President is going to be in our polarized era. Trump, by contrast, has been underwater for essentially his entire presidency and appears likely to stay that way.