Trump's Attacks On Biden Turn Crude, Rude, And Unpresidential
The President of the United States behaves like a child.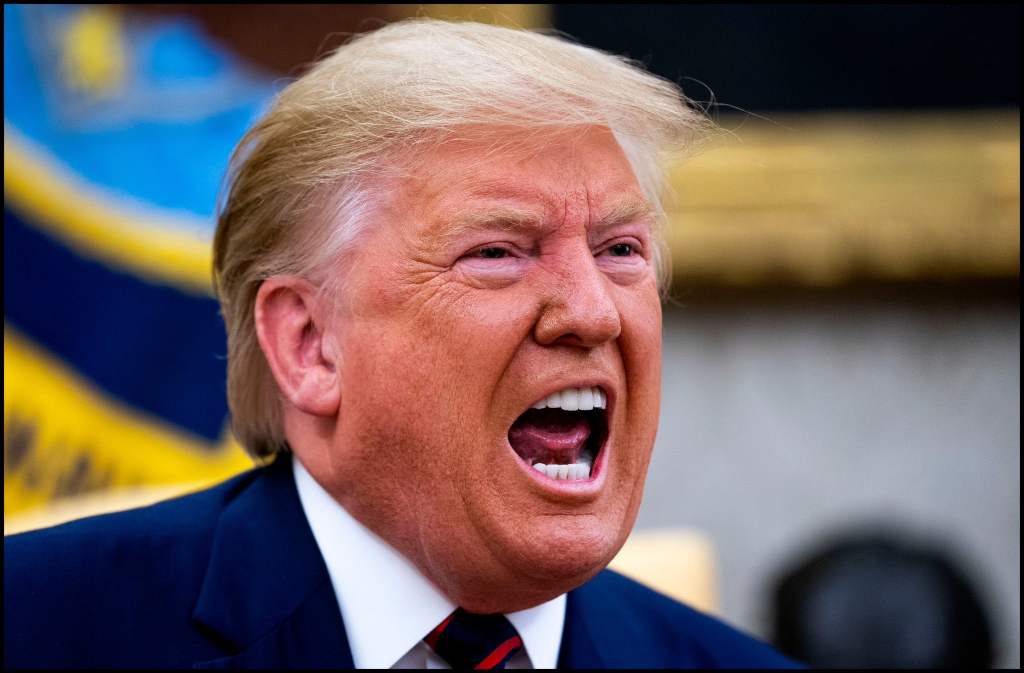 Last night during his rally in Minneapolis, President Trump renewed his attacks on the potential 2020 rival former Vice-President Joe Biden, using language best left to a middle-school student on a playground:
President Trump leveled some of his most personal attacks yet against Joe Biden and his family at his first campaign rally since House Democrats launched their impeachment inquiry, highlighting unsubstantiated claims about his potential 2020 rival's son and using profanity to describe Biden's tenure as vice president.

At the Target Center here, Trump repeated his dubious claims that Hunter Biden secured $1.5 billion for an investment fund in China while his father served as Barack Obama's vice president, and he mocked Hunter Biden's personal problems, including his discharge from the Navy after he tested positive for cocaine use.

"Hunter, you know nothing about energy, you know nothing about China, you know nothing about anything, frankly," Trump said to a near-capacity crowd. "Hunter, you're a loser."

(…)

Mocking Hunter Biden's lack of public appearances, Trump bellowed: "Whatever happened to Hunter? Where the hell is he? . . . I have an idea for a new T-shirt . . . Where's Hunter?"

(…)

During the raucous rally — interrupted frequently by pro-Trump chants, cheers and boos as protesters were hauled out of the arena — the president ramped up his attacks on Biden and paid scant attention to other potential 2020 Democratic challengers, even as the former vice president has faltered lately in polling.

Biden "was never considered smart," Trump said. "He was never considered a good senator. He was only a good vice president because he figured out how to kiss Barack Obama's ass."

Trump's own vice president, Mike Pence, has been criticized for being too obsequious to the president.

"I'd love to run against him, to be honest," Trump said of Biden.

Biden responded late Thursday after a town hall meeting in Los Angeles, writing in a Twitter post addressed to Trump: "I spent my night at the HRC [Human Rights Campaign] forum talking about the fundamental respect every human being deserves. You spent yours showing how little respect for anyone else you have. America is so much stronger than your weakness."
Here's the video:
This is what our political rhetoric has been reduced to in the Trump Era. A President who uses taunts that you'd expect from pre-teens on a playground while his mind-numbed adoring crowd cheers him on. I'd say it's sickening or surprising, but it's basically par for the course at this point and it's one of the many reasons why this country desperately needs a change, regardless of whether that comes about via impeachment and removal or a decisive loss at the ballot box.
This is why the Democrats need to be careful about who they pick for their nominee. Rising above ideology, they need a candidate who can both take the attacks that Trump will inevitably unleash on them and give back as good as they get. That doesn't mean they have engage in the same childish rhetoric that this President does, but it does mean finding a candidate who can stand up to Trump and not back down. Joe Biden is clearly one of those candidates, as he has proven throughout the past three-or-so weeks of attacks from the President. While the former Vice-President hasn't even come close to using the same ignorant rhetoric as the President, he has in his own way effectively fended those attacks off. Were the two men locked in a head-to-head battle, I personally don't have any doubt about Biden's ability to give as good as he has gotten, and will continue to get.
Perhaps that's what frustrates the President most of all about Biden. Unlike the previous targets of his attacks — including former Republican targets such as Lindsey Graham, Ben Carson, Rand Paul, Ted Cruz, and all of the other Republicans who ran against him — Biden has not backed down and he's been able to keep up with the attacks. That, perhaps, is why the President is now acting like a child. Because he's got nothing left.