Trump's Campaign Says He Now Believes Obama Was Born In The U.S.
Donald Trump's campaign is apparently finally acknowledging reality, although its claim that birtherism originated with the Clinton campaign in 2008 does not comport with the facts.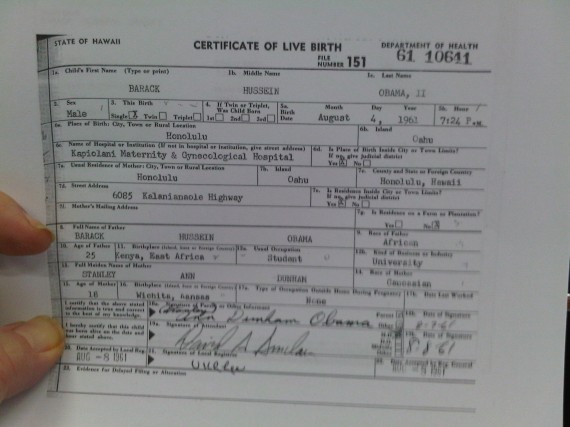 Seeking to put behind them an issue that the candidate himself was aggressively pushing, a spokesman for Donald Trump now says that the candidate now believes that President Obama was born in the United States:
Donald Trump's campaign says the billionaire now believes President Barack Obama was born in the United States — but the Republican nominee still can't bring himself to say it out loud and in public.

Instead, the Republican nominee turned to an adviser late Thursday to release a statement attempting to finally lay to rest the birtherism crusade that effectively launched Trump's rabble-rousing political career five years ago.

"Having successfully obtained President Obama's birth certificate when others could not, Mr. Trump believes that President Obama was born in the United States," said Jason Miller, Trump's senior communications adviser.

Obama was born in Hawaii in 1961.

Whether Trump says anything himself could change Friday. People around the candidate are pushing him to say in his own words that Obama was born in the US, a source familiar with the situation tells CNN. The expectation is that Trump will likely do so Friday.

Miller portrayed the move as the logical result of an altruistic attempt by Trump to seek the truth about the President's birthplace that he claimed was first raised by Hillary Clinton in the 2008 campaign.

But the statement appeared steeped in political motivations, just over 50 days before the presidential election and with Trump moving into a margin of error race with the Democratic nominee in national polls and in some swing states.

Trump clearly was hoping to take the issue of Obama's birthplace and legitimacy off the table by the time of the crucial debate with Clinton on September 26, though the campaign statement seems certain to dominate the next few days.

Trump has made strenuous attempts to improve his dismal standing among minority voters and moderate Republicans in recent weeks, many of which see birtherism as racially motivated and an insult to Obama.

In a wider sense, his misinformation campaign about Obama's birthplace also amounted to an attempt to delegitimize an elected American President. In a stunning final twist to a bizarre and unprecedented saga, Trump now stands a reasonable change of succeeding Obama in office. The birtherism episode is one reason why there is such deep antipathy towards the Republican nominee in the President's inner circle.

The Clinton campaign immediately seized on the fact that Trump didn't issue the statement himself.

"Trump needs to say it himself. On camera. And admit he was wrong for trying to delegitimize the country's first African American President," Clinton spokesman Brian Fallon wrote on Twitter.
As noted, Trump has spent the majority of the 2016 campaign dodging the issue of his birther past. Generally, he has declined to answer reporter's questions about what he believes now and whether he was wrong to raise the issue four years ago with the response that he doesn't talk about that issue any more. As recently as an interview yesterday with The Washington Post, Trump again declined to say for sure that he believed the President was in fact born in Hawaii notwithstanding the overwhelming evidence in favor of that proposition. It was that statement that apparently prompted his campaign to issue a statement that purports to finally acknowledge the President's legitimacy in office, while at the same time using the statement as an opportunity to rehash the claim that the birther issue is something that the originated with the Clinton campaign, a claim that does not withstand scrutiny:
"Hillary Clinton's campaign first raised this issue to smear then-candidate Barack Obama in her very nasty, failed 2008 campaign for President. This type of vicious and conniving behavior is straight from the Clinton Playbook. As usual, however, Hillary Clinton was too weak to get an answer. Even the MSNBC show Morning Joe admits that it was Clinton's henchmen who first raised this issue, not Donald J. Trump.

In 2011, Mr. Trump was finally able to bring this ugly incident to its conclusion by successfully compelling President Obama to release his birth certificate. Mr. Trump did a great service to the President and the country by bringing closure to the issue that Hillary Clinton and her team first raised. Inarguably, Donald J. Trump is a closer. Having successfully obtained President Obama's birth certificate when others could not, Mr. Trump believes that President Obama was born in the United States.

Mr. Trump is now totally focused on bringing jobs back to America, defeating radical Islamic terrorism, taking care of our veterans, introducing school choice opportunities and rebuilding and making our inner cities safe again." – Jason Miller, Senior Communications Advisor
The assertion that the Clinton campaign was the origin of the birther story is one that Trump and his supporters, as well as Republicans generally, have been pushing for years in what can only be characterized as an effort to avoid any responsibility for keeping the story alive as long as it was notwithstanding the fact that the President and his supporters had provided sufficient evidence of his citizenship and place of birth long before Donald Trump came along. this assertion has been examined by both Politifact and FactCheck.Org as well as several bloggers who took it upon themselves to debunk birtherism in the years it was at its height, have found, while it is true that the accusations were spread in some part by fringe sources who identified themselves as Clinton supporters there is no evidence at all that the Clinton campaign was involved in pushing the issue or that the claims about the President's citizenship were part of an official campaign strategy of any time. Additionally,, the first online mention of the core argument of the birther, that the President's mother traveled to Kenya at some point when she was still pregnant with him and gave birth to him there is an accusation that appears to have originated in a thread on Free Republic, a conservative website. More importantly, the claim that birtherism was started by the Clinton campaign ignores the fact that, regardless of its origin, it was a story that was quickly picked up on by far-right elements in the Republican Party and that it was anti-Obama forces on the right that kept it alive after the President took office. It is true that the Clinton campaign engaged in some sleazy campaigning in which it questioned the President's identity, but as CNN notes, the campaign never questioned the fact that the President was born in the United States.
Donald Trump will apparently be addressing this issue later today, and it's expected that he will adopt the statement that his campaign issued last night. In the process of doing so, he will no doubt repeat the claim that the whole birther story originated with the Clinton campaign. That, however, simply isn't true and in bringing it up Trump will obviously be attempting to deflect from his own responsibility for fanning the flames of a conspiracy theory with no supporting evidence four years ago. He shouldn't be allowed to get away with it.