Trump's First Choice To Replace Mike Flynn Turned Him Down Due To Chaos In Administration
Chaos inside the Trump Administration is causing people to turn down lucrative positions.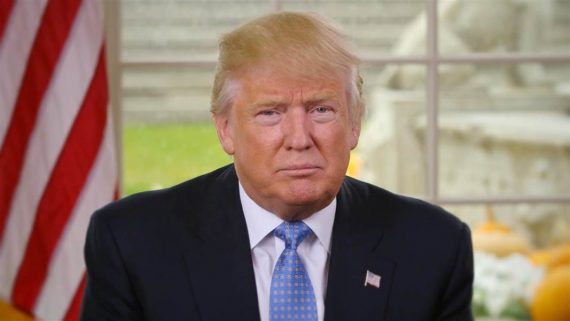 President Trump's first choice to replace Lt. General Michael Flynn turned the job offer down:
WASHINGTON — Robert S. Harward, the retired vice admiral and former Navy SEAL who was President Trump's top choice to replace his ousted national security adviser, on Thursday turned down the post in the latest setback for a White House already in turmoil.

"This job requires 24 hours a day, seven days a week focus and commitment to do it right," Mr. Harward said in a statement. "I currently could not make that commitment."

He added that since retiring from a 40-year military career, he now had "the opportunity to address financial and family issues that would have been challenging in this position."

Two senior administration officials, who spoke on condition of anonymity because they were not authorized to speak publicly about the matter, confirmed that Mr. Harward cited family and financial considerations in turning down the post.

But his decision reflected the continuing upheaval in Mr. Trump's White House, which was rocked this week by the resignation of Michael T. Flynn, the national security adviser, quickly followed by the abrupt withdrawal of Andrew Puzder, his nominee for secretary of labor.

White House officials had scrambled to head off the refusal, asserting as late as Thursday evening that Mr. Harward, who is close to Defense Secretary Jim Mattis, was still in the running to become Mr. Trump's national security adviser.

Current and former national security officials familiar with the situation, who spoke on condition of anonymity because they were not authorized to comment, said Mr. Harward had harbored strong reservations from the beginning about taking the post because of Mr. Trump's unpredictable style and the level of chaos that has engulfed his White House. Those were only underscored this week in the politically charged aftermath of Mr. Flynn's ouster, despite the attempts of Mr. Trump's inner circle to allay his concerns.

One person briefed on the discussions said that Mr. Harward, who had been interviewing for a different administration post when he was tabbed for the N.S.C., had been startled by media accounts of Mr. Trump telling the deputy national security adviser, who was close to Mr. Flynn, that she could stay in her post. It added to his concerns about working for a mercurial president.

Mr. Trump suggested earlier Thursday that he had demanded Mr. Flynn's resignation on Monday partly because of enthusiasm about an unnamed person he had in mind to replace him. The president had known since last month that Mr. Flynn had misrepresented conversations he had with the Russian ambassador to the United States, before Mr. Trump was inaugurated, about American sanctions on Moscow.

"I have somebody that I think will be outstanding for the position," Mr. Trump said at a news conference on Thursday. "And that also helps, I think, in the making of my decision."

But by then Mr. Harward, who is a top executive at Lockheed Martin, had decided he was not willing to take the post. He wrote to Mr. Trump and Mr. Mattis conveying his decision, two of the officials said.
Late yesterday, Harward issued a statement in which he cited family considerations as the main reason for turning down the job:
Vice Admiral Harward statement: pic.twitter.com/Vxfh1Ub4l6

— Jake Tapper (@jaketapper) February 17, 2017
However, other sources indicated that he apparently was also motivated by other considerations:
A friend of Harward's says he was reluctant to take NSA job bc the WH seems so chaotic; says Harward called the offer a "shit sandwich."

— Jake Tapper (@jaketapper) February 17, 2017
In other words, Admiral Harward took a look at the way the Trump Administration has been operating just in its first month in office and decided he didn't want or need to be a part of that mess. A conclusion that others have no doubt reached as well. As it stands, reports this morning indicated that Trump was leaning toward offering the position to retired Lt. General Keith Kellogg, who is currently in the role on an interim basis after Flynn's resignation. Presumably, Kellogg will accept the offer given that he stayed after Flynn's departure. No doubt General Kellogg will fill the position skillfully and, given the fact that he lacks the questionable ties to Russia that Flynn was plagued with, it is perhaps for the best that Flynn is out and he is in as the placement as National Security Adviser. Additionally, the fact that Flynn was apparently woefully unprepared for the task he was given suggests that perhaps Kellogg should have been the first choice all along.
Notwithstanding Kellogg's qualifications, though, the fact that someone of Harward's stature turned down an important position because of the chaos inside the Trump Administration is obviously concerning. Harward's attitude is certainly understandable, of course. As I've noted in repeated posts since Inauguration Day, the Trump Administration seems to be having particular problems adjusting to the White House, in no small part because the transition process seems to have been rather rushed and disorganized. Because of that, we've had a bizarre at best communications strategy, policy rollouts that have been bungled to say the least, and of course a President who continually throws the entire Administration off message just by picking up his (unsecure) phone and tweeting away the night or early morning. Why would someone who seems to be enjoying his retirement after serving honorably in uniform for decades want to sign up for such a mess? I certainly wouldn't. At the same time, though, the fact that Trump hasn't been able to attract top talent notwithstanding his pre-election claims to the contrary makes it inevitable that we're like to see more of the same chaos that has marked the first four weeks of this Administration. Indeed, at this rate, one wonders how long it will be before the Trump Administration has what can objectively be called a good week. So far, there hasn't been one, and I don't see one in the near future.