Trump's Stranglehold on Republican Voters
The base is remaining loyal to the only candidate they think can beat Biden.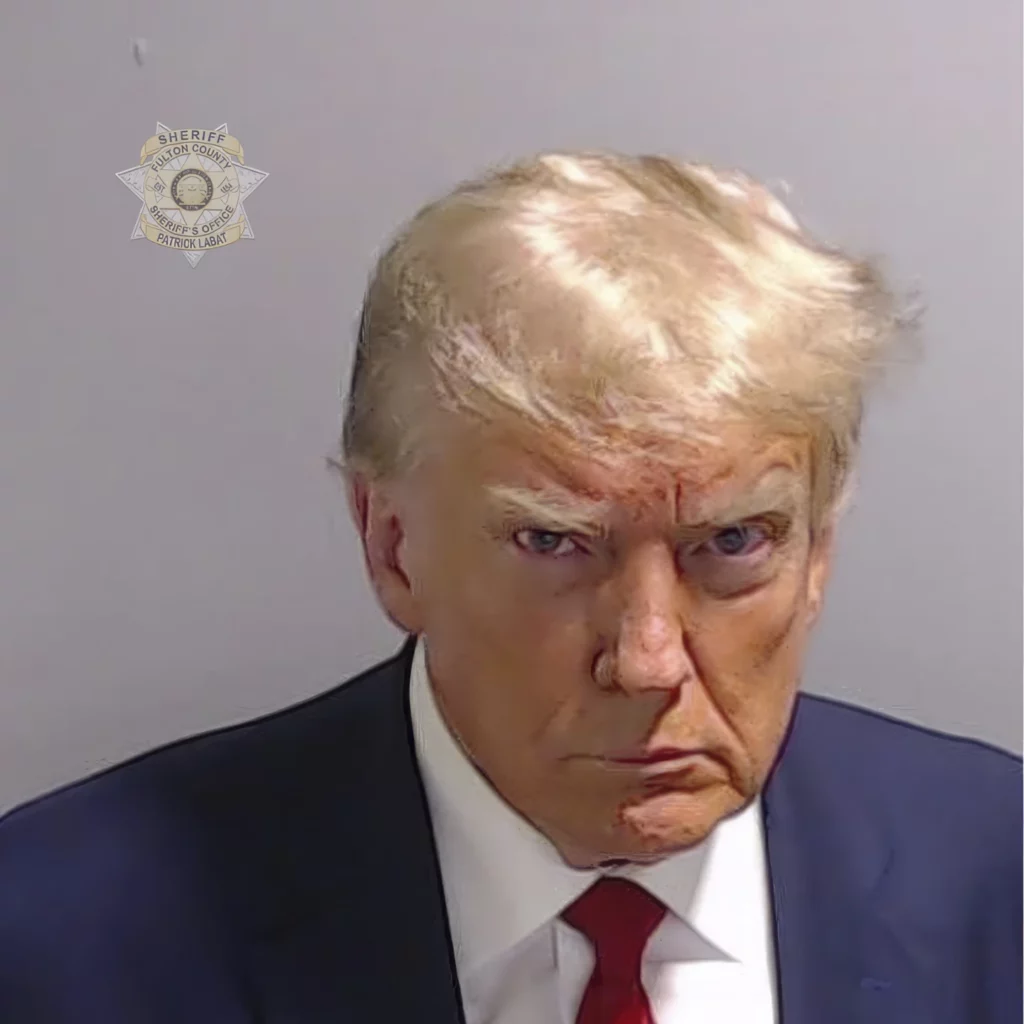 Taegan Goddard points me to two related polls.
WSJ ("Trump Is Top Choice for Nearly 60% of GOP Voters, WSJ Poll Shows," September 2)
Donald Trump has expanded his dominating lead for the Republican presidential nomination, a new Wall Street Journal poll shows, as GOP primary voters overwhelmingly see his four criminal prosecutions as lacking merit and about half say the indictments fuel their support for him.

The new survey finds that what was once a two-man race for the nomination has collapsed into a lopsided contest in which Trump, for now, has no formidable challenger. The former president is the top choice of 59% of GOP primary voters, up 11 percentage points since April, when the Journal tested a slightly different field of potential and declared candidates.

Trump's lead over his top rival, Florida Gov. Ron DeSantis, has nearly doubled since April to 46 percentage points. At 13% support, DeSantis is barely ahead of the rest of the field, none of whom has broken out of single-digit support.
Morning Consult ("GOP Primary Electorate Sees Trump as More Electable After Georgia Arrest, First Republican Debate," August 29)
According to our Aug. 24-27 survey, 62% of potential primary voters said they think Trump has the best chance of beating the Democratic incumbent. That is up 9 percentage points over the previous week, and matches a high in Morning Consult's tracking of the question since April.

Their belief tracks with the Republican front-runner's continued standing against Biden in a head-to-head test among the overall electorate. Despite his escalating legal troubles, which he's embraced with his campaign's monetization of his mug shot, our daily tracking shows that Trump continues to poll neck-and-neck against Biden while Florida Gov. Ron DeSantis trails the incumbent.

On that note, just 13% of voters who indicated they plan to vote in a Republican primary or caucus in their state said DeSantis is most electable against Biden — matching a tracking low — while the share who said the same of entrepreneur Vivek Ramaswamy fell from 10% to 6% following his high-profile appearance in the debate.
The accompanying graphic shows the persistence of this belief: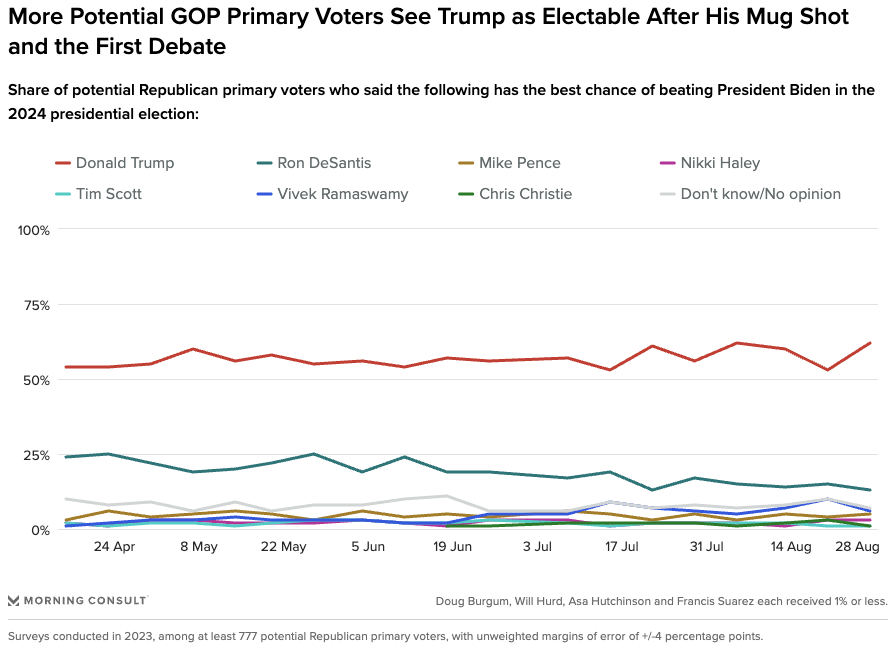 Also interesting:
Ramaswamy, who remains the No. 3 contender for the Republican presidential nomination with 10% support, saw a boost in awareness among the GOP's electorate following the first televised matchup, during which lower-polling rivals each lobbed fiery attacks on his credentials.

While Ramaswamy continues to be the third-most popular candidate among potential GOP primary voters, the share with negative views increased following his debate appearance as more voters became aware of him.
That would be more heartening if not for this:
Roughly 1 in 5 potential Republican primary voters have unfavorable views of Ramaswamy, up from 12% before the first debate. This trend isn't exclusive to Ramaswamy: Both former Arkansas Gov. Asa Hutchinson and North Dakota Gov. Doug Burgum — two candidates with low name recognition — saw their unfavorability increase post-debate.

By contrast, more established candidates like DeSantis and former Vice President Mike Pence didn't see a shift in their favorability ratings after appearing in the debate.
All of this gets at a point that my co-blogger Steven Taylor has been seeking to make the in his Sunday discussion questions the last two weekends.
[V]oters want their team to win, because they have decided, for any number of reasons (some rational, some emotional, some identity-driven, and so forth) that their team winning is better for them than some other team winning.

This is especially true when there are only two teams of consequence that are competing. When there are only two teams, compromise becomes difficult, if not impossible, and changing teams means behaving traitorously. It is also vital to understand that if you only have two teams, then those teams are coalitions, not monoliths.

The deeper the polarization, the more each side will rationalize its own virtues as well as the vices of the other side. And also the more that some members of the coalition will be willing to tolerate, ignore, or even wish away, repugnant elements of other members of the team.

[…]

[T]he pesky truth is, the calculation for Rs is: who is more likely to beat Biden? And the answer at the moment is Trump. That was the point of my question last week. Moreover, the motivation for most people who identify as R's is to rationalize away Trump's downside. It is just how this works, especially when there is no viable alternative that also results in their side winning
There are, of course, quite a number of us who left the Republican coalition—and a smaller number of us who went a step further and actually voted for the other side—because we saw Trump as a threat to the Republic. But, frankly, most who fell into that camp were professionals who had become increasingly poor fits with the Republican coalition for years.
Religious conservatives who saw abortion and "traditional values" as their core political identity really had no viable alternative once Trump was the nominee. Voting for Hillary Clinton or even Joe Biden was simply unthinkable. And, while Trump personally is the antithesis of said values, he has been effective in publicly espousing the frustrations his base feels over losing the public and legal fights over these issues. And, of course, after four decades of Republican politicians using abortion as a rallying cry but achieving no results, Trump delivered.
I strongly suspect that there's a very large chunk of Republican voters who would dearly love to find a replacement candidate. But DeSantis has proven not to be that guy. The Ramaswamy boomlet, thankfully, seems to be over. And everyone else is seen as having next to no shot at regaining the White House for the party.
Oh: while polling this far out is next to meaningless, Trump has a slide lead over Biden in the above-linked WSJ poll. And here are the lastest polls aggregated by the folks at FiveThirtyEight: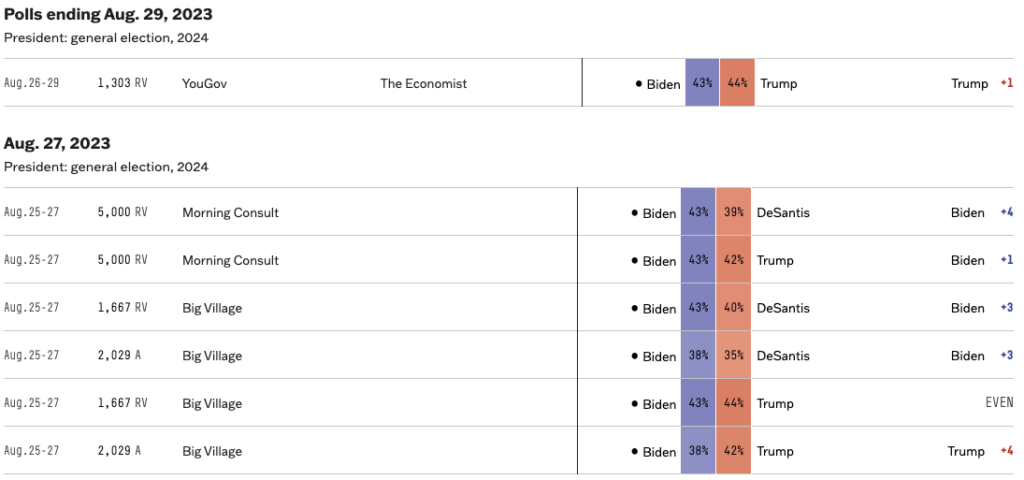 Bizarre though it may seem, Trump is extremely competitive—and DeSantis less so.