TSA Tries To Confiscate Chewbacca's Light Saber Shaped Cane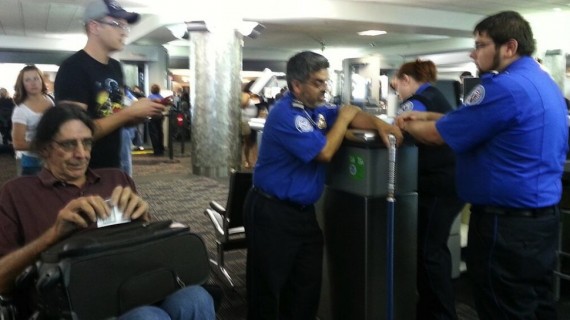 Peter Mayhew, the actor who portrayed Chewbacca in Star Wars, recently had some trouble while flying out of Denver International Airport last week:
DENVER (AP) — Not even Chewbacca and his light saber get a free pass with airport security before being cleared to travel.

Transportation Security Administration agents in Denver briefly stopped "Star Wars" franchise actor Peter Mayhew recently as he was boarding a flight with a cane shaped like one of science-fiction's most iconic weapons.

Airport officials say they wanted to inspect the huge walking stick before allowing Mayhew, who is more than 7 feet tall, on the plane.

Mayhew tweeted "Giant man need giant cane" from his verified Twitter account when the incident happened June 3. He also posted photos showing a TSA agent holding the replica laser sword, which comes up to his chest.

Many subsequent media reports made it seem as though security officials buckled to pressure from Chewie's fans in allowing the actor to board the flight to Dallas with the cane, but officials say that characterization is inaccurate.

"Because of the unusual weight of the passenger's cane, a security officer alerted a supervisor. Less than five minutes later the passenger and cane were cleared to travel. Social media played no role in the determination," the TSA said in a brief statement released to The Associated Press on Saturday.
The only question, of course, is why Han wasn't there to give Chewie a ride home. And, oh yea, Chewie is on Twitter.
Via Facebook and Gawker