Tucson, Political Rhetoric, And Where We Go From Here
There is a problem with political rhetoric in this country, but telling people to be nicer to each other isn't going to cool it down.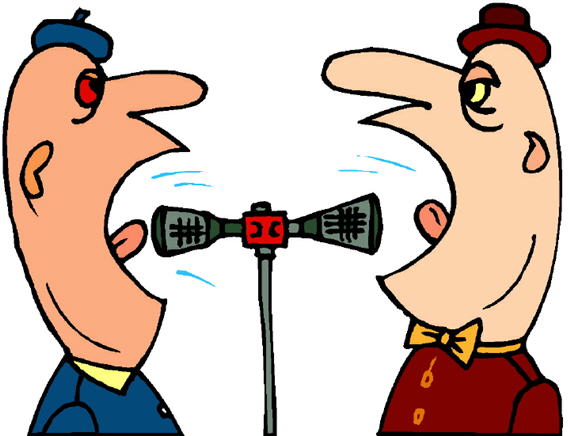 David Frum has an excellent article up at The Week that tries to make some sense out of the events last Saturday in Tucson, and the debate about political rhetoric that we've had over the past week.  In the article, Frum identifies what he believes are the three truths about the past week:
Truth 1: It's important to be clear about what the problem is. The problem is not military metaphors. It's not Glenn Beck joking about poisoning Nancy Pelosi's wine or Paul Krugman hanging Joe Lieberman in effigy at a party.

The problem is, rather, the construction of paranoid narratives that might justify violence to a violent-minded person.

(…)

What does do damage to the fabric of democracy is the charge made by prominent conservative broadcasters that the president is deliberately wrecking the U.S. economy to advance his scheme to overthrow the constitution and transform the nation into a Marxist or Leninist or even Maoist tyranny.
Not just broadcasters, Sarah Palin made this same charge just days before the shootings in Tucson, and while no serious person accepts the argument that there is an sort of causal connection between the rhetoric of talk radio and the actions of Jared Loughner,  it cannot be doubted that it has contributed to the general tenor of political debate in the country over the past several years.
Frum's second truth, that the opposition party tends to behave more poorly than the party in power seems axiomatic. Partly because of the nature of our system, the part that is out of power has the incentive to be more vituperative not only because that's one of the only ways to get noticed, but also because it is the most effective way to rally the base.
Frum's final point, however, is likely to prove controversial on the right:
It's worse.

It's worse today under Obama than it was under George W. Bush, worse under Bush than under Bill Clinton, worse under Clinton than under Ronald Reagan.
Frum doesn't offer any evidence for this proposition, probably because he doesn't think he needs to, but he cites four factors as contributing to the increasing coarsening of political discourse:
The rise of talk radio, 24/7 cable, and the internet
Migration pattens that make it more likely that Republicans will live in predominantly Republican areas and Democrats will live in predominantly Democratic areas
The weakening of the major political parties and the rise of the grassroots candidate
A decade of government incompetence, financial scandals, wars, and general decline in public confidence in government at all levels.
It's certainly no doubt that political rhetoric in the United States is mean spirited in a way that it hasn't been in recent memory. When you have the most prominent conservative on talk radio saying he hopes the President fails before he even took office, or a Member of Congress saying that the Republicans wanted Americans to die, it's pretty obvious that the state of public debate is pretty bad. I'm not sure, though, whether it's actually worse than it used to be, or just louder. If talk radio, cable, and the internet had existed during the Reagan years, does anyone doubt we would have been hearing a lot more from the  elements of the left wing who spent the 1980s spreading conspiracy theories that the Reagan Administration was important cocaine into the United States would have been far more prevalent? And I don't know how anyone who lived through the Clinton Administration can say that Republican opposition to Bill Clinton was really more civil than the opposition to Obama has been to date. The difference is that it wasn't on a repeating, always accessible 365/24/7 loop that does nothing but reinforce the idea that the President is not just wrong, but evil.
On both sides of the political aisle it seems clear that people are mostly talking at each other, rather than with each other. They are also mostly only exposing themselves to sources of information that already confirm their beliefs, rather than allowing those ideas to be challenged, tested, and possibly changed. It's always seemed rather boring to me, to be honest, but then I am not a regular viewer of most programming on either MSNBC or Fox News Channel after 5pm on weekdays and I haven't listened to talk radio on a regular basis in years. The idea that someone would want to call themselves a "Dittohead," and do so proudly, is rather inconceivable to me. The point is this, if you only expose yourself to sources that reinforce what you already believe, you lose your ability to think critically, and you start to mindlessly accept what you're told, whether that comes from Beck, Limbaugh, or Hannity, or Matthews, Schultz, or Olbermann.
It's also worth noting in any of these discussions about political discourse that, as bad as things seem today thanks to the rise of technology, they are still not as bad as they've been in the past. The rhetoric that was employed in the Election of 1800, or during the years leading up to the Civil War, or during the populist era makes anything other than the most extreme fringe material today seem positively mild by comparison. That's not to say that today's political culture is healthy but, at the moment at least, it seems far healthier than it was at other points in American history.
Nonetheless, I don't think our political system can go on much longer with the partisan divide and rancor being as stark as it has become over the past several years. Something is going to have to change, but telling people that they have to be nicer to each other isn't the answer, and neither is the utterly silly No Labels movement that Frum is a part of. The rhetoric is heated for the simple reason that people are upset, and Frum himself detailed some of the reasons they're so angry:
The frustrations of more than a decade of poor governance. Since 1999, Americans have endured (among other setbacks):

• The huge losses for small savers inflicted by the collapse of the internet bubble
• The failure to prevent the 9/11 attacks
• Two prolonged and inconclusive wars stagnating incomes even during the 2003-2007 economic expansion
• The mishandling of Hurricane Katrina
• An influx of millions of illegal immigrants with government seeming either unable or unwilling to stop it
• Financial crisis and bank bailouts
• An $800 billion stimulus that has not made any difference to unemployment as far as most people can see

No surprise that voters have lost confidence in their government — and that they are receptive to radical explanations of their government's malperformance. And precisely because the voters are so receptive, it becomes even more important that people in positions of responsibility refrain from inciting anger and exploiting fear for political and financial gain.
Until those underlying problems are addressed, we're going to continue to see a political culture where people are angry, and upset, and likely to answer the siren call of the demagogue.